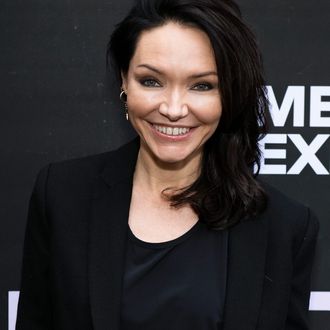 Lenk at the opening of
Betrayal
on Broadway.
Photo: Jenny Anderson/Getty Images
Katrina Lenk is no stranger to gender-bending Broadway. (If you haven't seen this excellent video of her performing "If I Were a Rich Man" and accompanying herself on a damn violin, watch it now.) The Tony winner — she won for Best Lead Actress in a Musical for The Band's Visit in 2018 — will play Bobbie in a gender-swapped Company coming from London to Broadway in March 2020. Specifically, March 22, 2020 … composer Stephen Sondheim's 90th birthday. Bobbie, usually Robert, is a 35-year-old still trying to figure out her life as all her friends have settled comfortably into their own.
Lenk will be starring alongside Patti LuPone, who plays Bobbie's pal, Joanne. Vulture caught up with Lenk at the Broadway opening of Betrayal (in which Tom Hiddleston both acts and looks real good in a blue crewneck sweater) to chat about the role. "It feels both so exciting and like it's still so far away," Lenk said. "It feels like maybe it's a dream or it won't ever happen because we don't start till January." Rumors of Lenk's casting floated around Twitter and the theater world in the weeks and days prior to the official announcement. "It's nice that it's out in the open," she said. "I've been sitting on the news for a while so it's nice to be able to confess."
Lenk said she did not see the London run, which starred Rosalie Craig in the role she'll be stepping into. "I've listened to the soundtrack and of course I knew of it, but it's a whole new thing," she said of the gender-swapped casting. "It's fascinating. It really stimulates all of the synapses." The first time she sang the show's iconic finale, "Being Alive," Lenk said she felt, "what you'd imagine … freaking out and nervous and stressed and but loving it," she said. "It's so simple yet complex. It keeps building and building." "It's just a little easy song," Lenk joked. "This little thing."
As for taking the stage alongside Patti thee LuPone, Lenk had a similar energy. "I'm so excited to work with her. I've met her a couple of times just briefly and already I was enamored," she said. "What things am I going to learn?" What are we all going to learn, indeed. Only seven months till we find out.