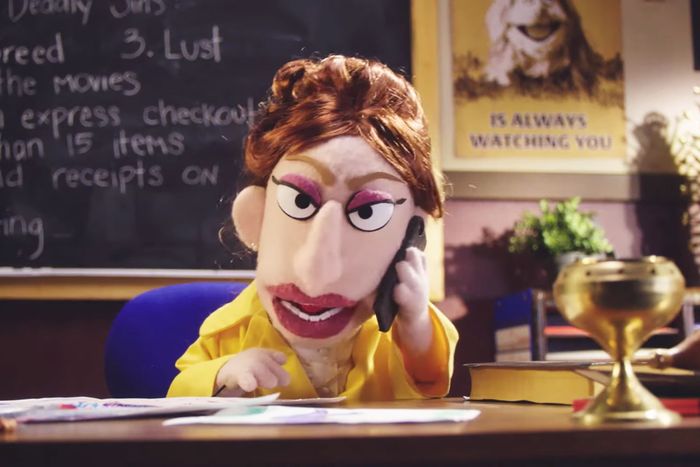 Crank Yankers.
Photo: YouTube
The digital revolution has left plenty of once-beloved formats broken and twitching on the floor, from CDs and newspapers to brick-and-mortar retail chains. But one thing that's remained surprisingly resilient in the face of technological change is the prank call.
A practical joke that grew organically out of the first telephone lines more than a century ago, prank calls are as established a format in comedy as stand-up or sketch. And yet only a sliver of people have carved a career out of prank calling, and you can probably count them on one hand: the platinum-selling but still underappreciated Jerky Boys, the Crank Yankers crew, and the drive-time jockeys who followed Howard Stern's career path — mostly raunchy dudes looking for button-pushing, adolescent thrills.
"It's just improv, really, with an unwitting audience of one, and that's what I love," says Jimmy Kimmel, Crank Yankers' co-creator and producer. Kimmel, who still keeps a few Crank Yankers puppets in a makeshift shrine in his office, traces the beginning of his prank-call obsession to age 10, when he began making them with best friend Cleto Escobedo III (now his bandleader on Jimmy Kimmel Live!) in Las Vegas. "I'd sleep over at his house pretty much every night — 30 nights in a row one summer — and we'd spend the whole night just trading off calls," said Kimmel. "I always wanted him to make the call because it's more fun to listen in." Kimmel and Escobedo connected a tape recorder to a suction cup from Radio Shack to make low-quality recordings from their phones, which they would then play back for friends.
Now, those same late-night sessions are conducted over YouTube and Twitch with the aid of voice-changing software that masks the caller's IP address. With a new generation of digital pranksters leading the way, a Crank Yankers reboot on Comedy Central, and a documentary on Colorado underground prank-legend Longmont Potion Castle making the rounds this year, a revival of the humble prank call suddenly seems plausible.
But that assumes prank calls are even still relevant. Because honestly: How the hell do you make a prank call in 2019? Things have changed drastically since their 1990s and early 2000s heyday. Blocked numbers and ignored voicemails are routine. The U.S. government's own, actual propaganda chokes news feeds, while swatting, doxxing, and deep fakes are increasing fixtures of online life. A format that has always depended on static technology now finds itself grappling with the endless, not-so-funny ways in which it can be subverted.
"It's not like we don't communicate anymore," says Jonas Larsen, Comedy Central's executive vice-president of talent and development. "We just communicate differently than we used to. We obviously don't use landlines much, but with cell phones and social media and text and e-sports and all these other platforms, it just felt like there was a huge universe to tap into."
That's why Crank Yankers will return with tweaks that acknowledge the 12 years since it went off the air. Like most reboots, the tropes it formerly leaned on — topical references and catchphrases, technologically specific jokes — have grown wobbly with age.
For most of their existence, audio-only pranks occupied a space somewhere between juvenile lark ("Excuse me, but is your refrigerator running?") and surreal social experiment (Orson Welles's 1938 radio hoax War of the Worlds). With no barrier for entry except access to a telephone and the ability to speak, nearly anyone could pick up a receiver, dial a number, and harass Wendy's employees, cops and, occasionally, the odd world leader.
"Whoever invented the prank call was braver than today's bored teens," wrote Cara Giaimo in Atlas Obscura, referencing the work of historian Paul Collins. "All [early] calls were routed through operators," Collins wrote in 2011, "and the most anonymity one could get was in the payphones prominently displayed in drugstores and hotel lobbies."
The anarchic spirit of the mid-20th-century counterculture movement — which infused popular culture with previously unthinkable challenges to authority — encouraged the raspberry-blowing aesthetic of prank callers. But even as comedy LPs helped popularize prank calls beginning in the 1970s and pirate radio turned to them for programming, they remained an underground inside joke, with musicians, comics, and sports reporters trading choice recordings to pass the time in tour vans, green rooms, and bullpens. Only a handful of people ever really listened to the seminal Tube Bar prank calls, which purportedly inspired Bart's calls to Moe's Tavern on The Simpsons, but their format was instantly familiar: setup, punch line, angry or confused response, and then satisfaction (on the caller's part, at least) before the kiss good-bye.
Then it got complicated: Phone technology, which hadn't changed much over the decades, began to lurch forward in the 1980s with the first affordable cellular phones, call-waiting, caller ID, and other advances that seemed to spell the end of pranking (but that are now quaint compared to the average smartphone). Those — along with the career lure of the '80s comedy-club boom, the popularity of cable TV, and the rise of personality-driven talk radio — pushed a new generation of kids into experimenting with phone pranks. The result was a mainstream heyday starting in the early '90s that included platinum-selling Jerky Boys recordings (8 million and counting), Howard Stern's omnipresence, and his countless morning-DJ clones.
As suburban teenage boys stumbled through their best Adam Sandler impressions and the Jerky Boys reached the limits of their fame (a terrible 1995 film, followed by poorly received solo albums), hipsters, writers, and the odd musician began jumping into the game and releasing their work on indie-rock labels (think Neil Hamburger on Drag City, or later, Earles & Jensen on Matador). The aforementioned Longmont Potion Castle became the de facto reference for in-the-know fans who championed cerebral confusion over punchy insults, and it finally seemed prank calls' cool factor had hit an all-time high.
As phone technology got smaller and smarter in the late '90s and early 2000s, pranking took on newly sinister dimensions — a trend paralleled by the gleeful exploitation of shows like Ashton Kutcher's Punk'd. Anonymous phone calls can carry lethal portent, horror film after horror film warned, from Scream to The Ring to Don't Hang Up. Characters that once made sense on prank calls suddenly seemed more suited for podcasts, where they could yammer uninterrupted on Comedy Bang! Bang! And why strive for anonymity when you can just be your own stupid self and get famous for it, as Johnny Knoxville, Steve-O, and their buddies discovered with Jackass?
That's part of why Crank Yankers felt like a breath of fresh air in 2002: Sarah Silverman, Tracy Morgan, Fred Armisen, Wanda Sykes, Dave Chappelle, and others took a back-to-basics approach that resonated in both its creative commitment and clever production values. Like the Jerky Boys' bite-sized calls a decade prior, Crank Yankers cracked the code on making pranks palatable for their format, running for 70 episodes and four seasons between 2002 and 2007. "[The puppets] added a childlike element that softened it a bit," says Comedy Central's Larsen. "You'll see an updated show in many ways with [season five], but there's a certain aesthetic and feeling you get with puppets. So we're thinking if it ain't broke, don't fix it."
And that's the problem in 2019: Now that any pissed-off Call of Duty player can track down their virtual enemy and send the cops to their house (a.k.a. swatting), prank calls are no longer such an innocent impulse, taking on explicitly criminal, and possibly lethal, dimensions. Where's the line between misrepresentation and disinformation, ribbing and revenge?
Instead of feeling paralyzed, the new vanguard is looking to dance over these minefields. "Caller ID was bad. Texting is bad, because people don't really pick up the phone anymore," Kimmel says. "But then there are things that are good, because they're basically new ways to talk. People have conversations over video-game headsets, and what are those except people you don't really know in real life? So we just have to approach it in a different way. I'm not a big gamer, but I have a lot of adult friends who are, and the stories are always so funny. They're getting in arguments with 11-year-olds or somebody's husband or wife or mom is yelling at them in the background. The mics are really sensitive and you can hear everything going on in the house. It reminds me of prank calls we did on the radio where we'd pretend to have gotten into a car accident, or we were in room full of animals that escaped from the zoo."
Prank calls can also live indefinitely (copyright willing) on YouTube, where channels like Ownage Pranks and YouTubers such as Skai Jackson put their spin on classics by calling up fast-food restaurants and celebrities under false pretenses. But even as Nathan Fielder, Jena Friedman, and others take deadpan, concept-heavy humor to dizzying new heights, some of prank calling's best-known characters are being asked to stay in the past.
When the new season of Crank Yankers premieres tonight (strategically positioned after South Park's season 23 debut), you'll see dating apps and competitive gaming and social media. But you won't see Special Ed (voiced by Jim Florentine), the mentally disabled, headgear-wearing, googly-eyed character from the original series. "It was a different world we lived in back then when those characters were created, and we have a different temperament about those things today," Larsen says. "We have no plans currently to bring back that character or characters like him without having some sort of real context for it. It's got to be defensible, and we're not looking just to offend for the sake of offending. There's a lot of outrage in this world, but I think there's room for a show like this if we take a smart angle on it."
The current angle for Comedy Central is to bring back some of Crank Yankers' original cast, including Kimmel, Silverman, and Morgan. The new version will also feature names that would have been unrecognizable during much of the original run, like Tiffany Haddish, Lil Rel Howery, Aubrey Plaza, and Abbi Jacobson. The question is whether they can inject this new act with the creativity and entertainment that history's best prank calls have always had.
As Neil Hamburger, Longmont Potion Castle, and others have proven, prank calls need not be mean-spirited or traumatic to be funny. Pranking has always had a casual, low-stakes appeal that makes it ideal for entry-level practitioners — whether calling or simply listening in — and its biggest proponents don't want to see that change.
"We mostly call people like optometrists and undertakers," Kimmel says. "Any place where somebody answers the phone and basically has to talk to you. Most of the time it's people who have a lot of free time on their hands, and 99 percent of the people are very tickled by it and excited to sign the release afterward. It's very rare that somebody doesn't want to be part of it."