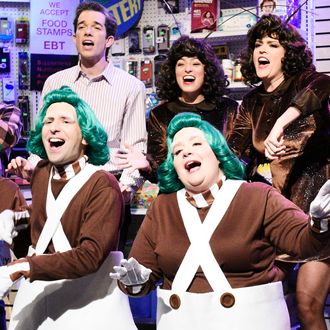 Photo: NBC/NBCU Photo Bank via Getty Images
The first of two nights for the Creative Arts Emmy Awards occurred on Saturday, and, as the avid TV watchers we know you all are, you definitely want to scroll category-by-category for five minutes and thoroughly analyze every winner. James Corden's well-oiled Carpool Karaoke machine took home three awards, including Outstanding Variety Special, while Queer Eye was awarded with four, culminating in Outstanding Structured Reality Program. Saturday Night Live (three wins), RuPaul's Drag Race (three wins), and Free Solo (seven wins) also faired well, as did national treasures Rachel Bloom and Norman Lear.
As for Sunday's winners, Game of Thrones dominated the evening, taking home awards from Outstanding Casting for a Drama Series to Outstanding Main Title Sequence. Luke Kirby and Jane Lynch won Outstanding Guest Actor and Actress in a Comedy Series, respectively, for their turns in The Marvelous Mrs. Maisel, while Outstanding Guest Actor and Actress in a Drama Series went to Bradley Whitford and Cherry Jones for The Handmaid's Tale. And yes, Chernobyl won for that incredible score. You can read the full list of Creative Arts Emmy winners, which we will continue to flesh out as Sunday's awards roll in, below.
Saturday Night Winners
Outstanding Variety Special (Live)
Live In Front Of A Studio Audience: Norman Lear's All In The Family And The Jeffersons
Outstanding Variety Special (Pre-Recorded)
Carpool Karaoke: When Corden Met McCartney Live From Liverpool
Outstanding Production Design For Variety Special
RENT
Outstanding Production Design For Variety, Reality or Competition Series
Saturday Night Live, Host: John Mulaney, Host: Emma Stone
Outstanding Structured Reality Program
Queer Eye
Outstanding Short Form Variety Series
Carpool Karaoke: The Series
Outstanding Short Form Animated Program
Love, Death & Robots, "The Witness"
Outstanding Picture Editing for a Nonfiction Program
Free Solo
Outstanding Narrator
Our Planet, "One Planet"
Outstanding Music Composition for a Documentary Series or Special (Original Dramatic Underscore)
Free Solo
Outstanding Music Direction
Fosse/Verdon, "Life Is A Cabaret"
Outstanding Original Music And Lyrics
Crazy Ex-Girlfriend, "I Have To Get Out/Song Title: Antidepressants Are So Not A Big Deal"
Outstanding Creative Achievement In Interactive Media Within An Unscripted Program
Free Solo, 360
Outstanding Interactive Program
NASA And SpaceX: The Interactive Demo-1 Launch
Outstanding Technical Direction, Camerawork, Video Control for a Limited Series, Movie or Special
The Late Late Show Carpool Karaoke Primetime Special 2019
Outstanding Technical Direction, Camerawork, Video Control for a Series
Last Week Tonight With John Oliver, "Psychics"
Outstanding Short Form Nonfiction or Reality Series
Creating Saturday Night Live
Outstanding Writing for a Variety Special
Hannah Gadsby: Nanette
Outstanding Writing for a Nonfiction Program
Anthony Bourdain Parts Unknown, "Kenya"
Outstanding Choreography for a Variety or Reality Programming
World of Dance, Routines: "Piece by Piece," "Don't Wanna Think," "Fix You
Outstanding Individual Achievement In Animation
Age of Sail
Outstanding Innovation In Interactive Programming
Artificial
Outstanding Motion Design
Patriot Act with Hasan Minhaj
Outstanding Exceptional Merit In Documentary Filmmaking (TIE)
RBG
The Sentence
Outstanding Informational Series or Special
Anthony Bourdain Parts Unknown
Outstanding Documentary or Nonfiction Special
Leaving Neverland
Outstanding Documentary or Nonfiction Series
Our Planet
Outstanding Makeup for a Multi-Camera Series or Special (Non-Prosthetic)
Saturday Night Live, Host: Adam Sandler
Outstanding Hairstyling for a Multi-Camera Series or Special
RuPaul's Drag Race, "Trump: The Rusical"
Outstanding Costumes For Variety, Nonfiction Or Reality Programming
RuPaul's Drag Race, "Trump: The Rusical"
Outstanding Directing for a Reality Program
Queer Eye, "Black Girl Magic"
Outstanding Casting For A Reality Program
Queer Eye
Outstanding Directing for a Documentary/Nonfiction Program
Free Solo
Outstanding Directing for a Variety Special
Springsteen On Broadway
Outstanding Animated Program
The Simpsons, "Mad About The Toy"
Outstanding Character Voice-Over Performance
Family Guy, "Con Heiress"
Outstanding Picture Editing For Variety Programming
Last Week Tonight With John Oliver, "The Wax & The Furious"
Outstanding Picture Editing for an Unstructured Reality Program
United Shades Of America With W. Kamau Bell, "Hmong Americans And The Secret War"
Outstanding Picture Editing for a Structured Reality or Competition Program
Queer Eye
Outstanding Sound Mixing for a Variety Series or Special
Aretha! A Grammy Celebration For The Queen Of Soul
Outstanding Sound Mixing for a Nonfiction Program
Free Solo
Outstanding Sound Editing for a Nonfiction Program (Single or Multi-Camera)
Free Solo
Outstanding Lighting Design/Lighting Direction for a Variety Special
RENT
Outstanding Lighting Design/Lighting Direction for a Variety Series
Saturday Night Live, Host: John Mulaney
Outstanding Host for a Reality or Competition Program
RuPaul, RuPaul's Drag Race
Outstanding Unstructured Reality Program
United Shades Of America With W. Kamau Bell
Outstanding Cinematography For A Nonfiction Program
Free Solo
Outstanding Cinematography For A Reality Program
Life Below Zero
Sunday Night Winners
Outstanding Guest Actor in a Comedy Series
Luke Kirby, The Marvelous Mrs. Maisel
Outstanding Guest Actress in a Comedy Series
Jane Lynch, The Marvelous Mrs. Maisel
Outstanding Guest Actress in a Drama Series
Cherry Jones, The Handmaid's Tale
Outstanding Guest Actor in a Drama Series
Bradley Whitford,The Handmaid's Tale
Outstanding Special Visual Effects
Game of Thrones
Outstanding Fantasy/Sci-Fi Costumes
Game of Thrones
Outstanding Contemporary Costumes
Russian Doll
Outstanding Period Costumes
The Marvelous Mrs. Maisel
Outstanding Prosthetic Makeup for a Series
Star Trek: Discovery
Outstanding Make-Up for a Single-Camera Series (Non-Prosthetic)
Game of Thrones
Outstanding Stunt Coordination for a Drama Series
Game of Thrones
Outstanding Stunt Coordination for a Comedy Series
Glow 
Outstanding Main Title Design
Game of Thrones
Outstanding Actor in a Short Form Comedy or Drama
Chris O'Dowd, State of the Union
Outstanding Actress in a Short Form Comedy or Drama
Rosamund Pike, State of the Union
Outstanding Music Composition for a Limited Series
Chernobyl
Outstanding Music Composition for a Series
Game of Thrones
Outstanding Casting for a Limited Series
When They See Us
Outstanding Casting for a Drama Series
Game of Thrones
Outstanding Casting for a Comedy Series
Fleabag
Outstanding Multi-Camera Picture Editing for a Comedy Series
One Day At A Time, "The Funeral"
Outstanding Single-Camera Picture Editing for a Limited Series or Movie
Chernobyl, "Please Remain Calm"
Outstanding Short Form Comedy or Drama Series
State Of The Union