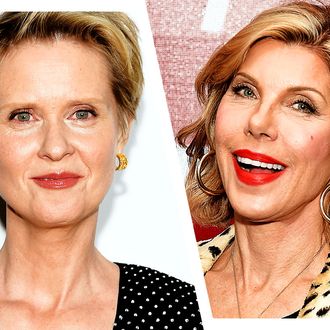 They're gonna give
The Gilded Age
everything they want.
Photo: Getty Images
Years of being stuck in development hell have finally paid off for the Downton Abbey creator Julian Fellowes's new period drama The Gilded Age, because it's getting one hell of a cast. Per The Hollywood Reporter, the great Cynthia Nixon and the equally great Christine Baranski are starring in the drama as two inevitably fabulous costume-wearing sisters. Baranski is playing Agnes van Rhijn, "a proud and stubborn aristocrat who will never accept the world has changed and old values are being replaced by new ones. She found herself penniless as her parents' plantation was foundering even before the Civil War but managed to catch a husband just in time. She worships her son Oscar, but the ardor isn't mutual." Nixon, meanwhile, is Ada Brook, "another victim of the old South, but unlike sister Agnes, she didn't find a way out until it was too late and was forced back on her sister's charity. Not naturally confrontational, she's nonetheless capable of standing up for what she believes." The series centers on a character named Marian Brook, their niece, "the orphaned daughter of a Southern general, who moves into the home of her rigidly conventional aunts," and Peggy Scott, an African-American woman "masquerading as her maid." Both of those roles are yet to be cast, but yes, you can rest easy knowing you will get to watch Baranski and Nixon bicker with each other across large, expensive dinner tables, which is pretty much what people want from a Julian Fellowes show (and yes, the politics seem potentially iffy, which is also what you get from a Julian Fellowes show).
Nixon and Baranski both appeared in Addams Family Values, though this would be their first time working together on TV, and also marks a surprise reunion of the 1983 Broadway production of The Real Thing, where Baranski played Nixon's mother, and during which Nixon famously would also race down the street to appear in another play, Hurlyburly. We just wanted to get you started on one inevitable Gilded Age press-campaign talking point.
Filling out the show's cast is Amanda Peet, who will play a character named Bertha Russell, a woman from a middle-class background who's married to George Russell, a "classic robber baron of his time," played by Morgan Spector. The Gilded Age came to HBO thanks to the new WarnerMedia chief Bob Greenblatt, who also brought Smash from Showtime to NBC. Let's hope this show is less of a hot mess than that one, but we wouldn't mind it if Baranski got to sing.