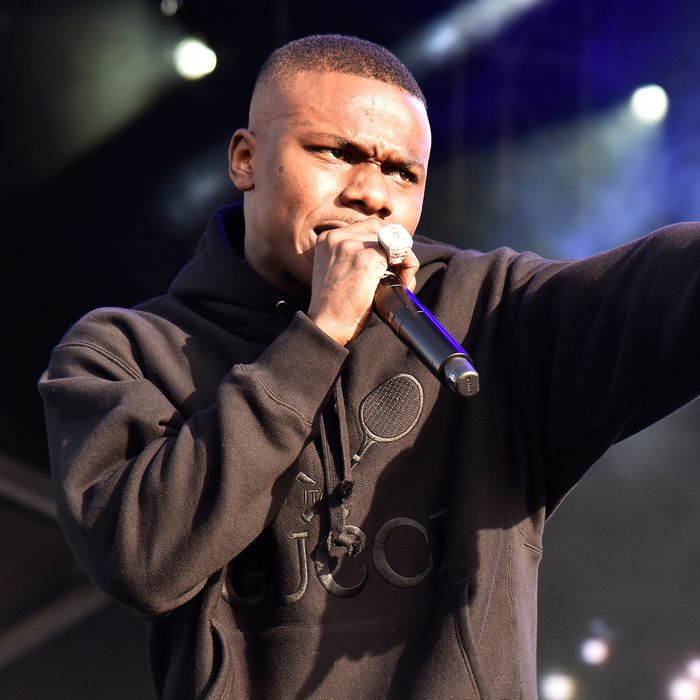 Coronations like these occur every year or so in hip-hop.
Photo: Tim Mosenfelder/Getty Images
Charlotte rhymer DaBaby's breakout hit "Suge" is like a tiny Hadron Collider, all light-speed bars racing through claustrophobic space. It shouldn't work; like those skeletal middle aughts Neptunes tracks, it seems like assembly was achieved with pieces missing. The rapper keeps time, filling out spaces in the drum programming. Capable rhymers ride the beat, locking into cadences that play off patterns laid out by a producer. But Baby's the bucking bronco in "Suge." It's more like the beat is riding him. He's off to the races in the first six seconds; you're lost if you even blink. This is true of the star-making string of guest appearances that has rocketed the artist, born Jonathan Kirk, to the top of his class. He stole the show on Post Malone's album, eclipsed Chance on his own song, and matched North Carolina big dog J. Cole for bars on Revenge of the Dreamers III. This year's XXL Freshman cypher gave him two whole minutes to show out. Coronations like these occur every year or so in hip-hop. (See also: Megan Thee Stallion's breakout year.) A single catches, and a tipping point happens. Suddenly, a local talent is a national one.
What happens next is always fascinating: Either the artist surrenders to the expectations of the audience and gloms onto the network of producers, singers, engineers, and fellow rappers needed to make the next record most likely to succeed, or the artist attempts to scale the sound of the early mixtapes to work at radio. There's albums like Travis Scott's Rodeo-Birds-Astroworld trilogy, where the objective is serving every possible demographic, and there's albums like the Migos' Culture, a short, smart distillation of the hypnotic simplicity that made the trio's early tapes great. There's Cardi B crushing killer trap tunes on Invasion of Privacy, and there's Tekashi 6ix9ine lost among the wan hooks and megawatt guest spots on his own debut Dummy Boy. On KIRK, DaBaby's second album this year after March's gold-certified Baby on Baby, he mostly sticks to the fleet, two-minute fight songs that made him popular, but the collaborations in the album's midsection point to an interest in growing out of his signature sound.
The Kevin Gates team-up "Pop Star" stresses these concerns out loud: "They'll prolly tell you I went pop / Until a n**** play with me and he get popped." DaBaby is on the cusp of his first No. 1 album in the country, but he wants us know he still loves to fight. (The sooner the chaotic energy around him cools, the better.) This kind of thing is KIRK's bread and butter, these impossibly fast punchline raps about capers DaBaby plans to pull on you and your girlfriend. In "Bop," he's weighing options for major label deals while kicking dudes out of the club for asking for pictures. "There He Go" is your textbook "Back then they didn't want me" rap, spiced with snark for label executives sniffing around rappers because their daughters like the guys making the music. Passive-aggressive bars like these only work if your form is on point. At his best, DaBaby mixes the side-splitting rudeness of early Ludacris, the playful-but-still-imposing image of Busta Rhymes, and the melodic sensibilities of Kevin Gates. (Baby is more of a chameleon than his signature flow might suggest; he nails Gates's gruff melodic phrasings on "Pop Star," gets thoughtful trading lines with Chance on "Gospel," and ramps up jokes and triplet flows with the Migos on "Raw Shit.")
In cuts like "Bop" and "Off the Rip," KIRK paints DaBaby out to be the kind of rude but powerful asshole superhero you might see in a series like The Boys, but there's more to the record and the artist than that. The album's dedicated to the rapper's father, who passed away in spring, as painstakingly recounted in "Intro": "Thinking 'bout my grandmama and shit / I got the No. 1 record, they acknowledged the jit / They going crazy when they play it, head-bobbing and shit / And I'm just somewhere fucked up thinking 'bout my father and shit." "Gospel" stresses out about how life changes when you come into money: "I ain't had time to think, I ain't had time to breathe / I've been praying to the Lord, I've been talking on my knees / I been thinking 'bout my pops, I been thinking about my opps." In "XXL," which revisits the verse from the freshman list freestyle series, Baby boasts about simple pleasures like coming home to a happy family and treating them to steak dinners and beach getaways. He's got range, but he also has pet sounds.
"Suge" producer JetsonMade's stark and menacing style gives KIRK its blueprint. His beat for "Bop" is a dizzying loop that wheels around Baby like a Rube Goldberg machine. "Off the Rip," "Vibez," and "Prolly Heard" favor bass drums that revisit the blown-out speaker vibe that made "Suge" hit harshly next to the busier music heard alongside it on playlists and radio. DaBaby is developing a sound that's identifiable but not yet limiting. Rap fan chatter's harsh but mostly good spirited: one listener said the beats "sound like when fat villains be tiptoeing in cartoons," and last week, Miami New Times motioned in earnest to call this music "fart rap." KIRK works at branching out by adding players like London on da Track and Kenny Beats to the expected array of grimy beats by JetsonMade and Sean da Firzt. Paradoxically, it's on cuts like the "Raw Shit" and "Really," return trips to the minimalist smirk of "Suge," that he seems to be having the most fun. Thing is, the songs about sex and fighting start to run together after a while; a 35-minute album shouldn't have room for filler. You wonder what DaBaby might accomplish if the hard, introspective honesty of "Intro" was the rule rather than the exception. Until then, these punchlines will do.