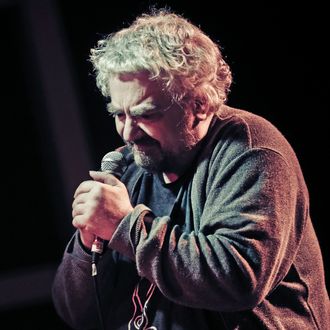 Photo: Simone Cecchetti /Corbis via Getty Images
Daniel Johnston, a prolific singer-songwriter and artist within the alternative-music community, has died at the age of 58. His former manager confirmed his passing to the Austin Chronicle, citing a heart attack. Johnston had been open in the past about his diagnoses of schizophrenia and bipolar disorder. In the early '80s, Johnston began releasing music cassettes of his soulful work (one lost album was even recently uncovered) while living with his parents in rural West Virginia, before moving to Austin, Texas, and ascending to cult status. He would go on to count Kurt Cobain and Tom Waits as admirers, particularly after the release of his seminal 1983 album, Hi, How Are You. Johnston's final album, Space Ducks, was released in 2012.
Johnston's family released a statement in remembrance of his life and legacy. "Daniel was a singer, songwriter, an artist, and a friend to all," the statement read. "Although he struggled with mental health issues for much of his adult life, Daniel triumphed over his illness through his prolific output of art and songs. He inspired countless fans, artists, and songwriters with his message that no matter how dark the day, 'the sun shines down on me' and 'true love will find you in the end.'" The family encouraged fans to learn more about Johnston's nonprofit, the Hi, How Are You Project, which aims to destigmatize and educate people about mental illness.