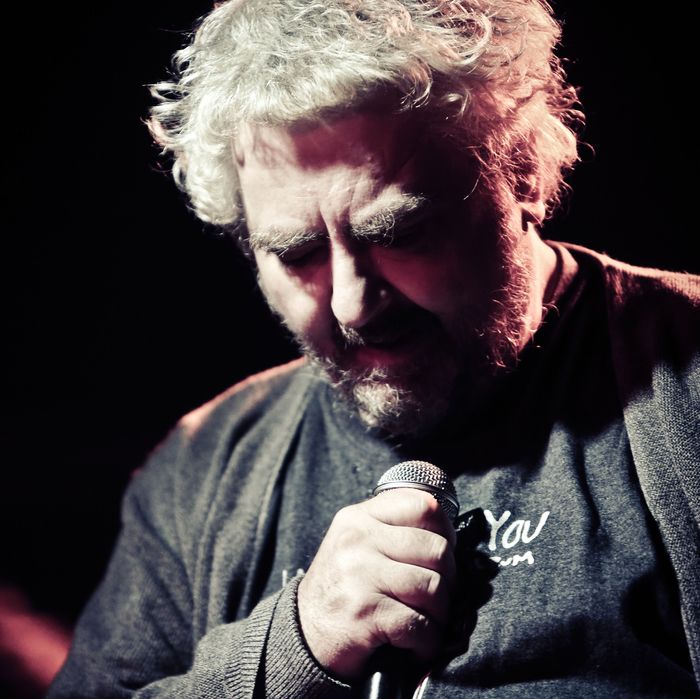 His music could feel silly and sincere, diaristic and voyeuristic, sometimes even in the space of a single line.
Photo: Simone Cecchetti/Corbis via Getty Images
Daniel Johnston greeted me (and tens of thousands of others) when I first moved to Austin in the mid-'90s for college. Or rather, a grinning frog with extended alien eyes that Johnston rendered in black spray paint on the side of the old Sound Exchange at 21st Street and Guadalupe beckoned to me: "Hi, How Are You." Texans can be known for their gentle friendliness, but something about Johnston's greeting felt different, unguarded and maybe even a little nervous. It wasn't quite a question so much as an entreaty, a desire to reach out and find a connection with a stranger, from one of Austin's strangest, most endearing, and most misunderstood musical icons, Daniel Johnston, who died this week of natural causes at the age of 58.
If you were a native Texan, you were maybe already acquainted with Jeremiah the Innocent (as its own dedicated Yelp page describes the frog), as well as any number of Daniel Johnston characters, like the empty-headed Joe, Joe the Boxer, a flying eyeball, Captain America, and of course, Casper the Friendly Ghost. They could always be seen on the hand-drawn covers of his self-released cassettes, for sale at the front counter of the local record stores. These cassettes had songs with titles like "I Am a Baby (in My Universe)," "Don't Let the Sun Go Down on Your Grievances," "I'm Nervous," and "I'll Do Anything But Break Dance for Ya, Darling." Over the years, they've been lovingly covered by the likes of Tom Waits, Yo La Tengo, Death Cab for Cutie, the Flaming Lips, and Beck.
Johnston was born in Sacramento but grew up in West Virginia, the youngest of five children in a Christian fundamentalist household. He was taken with drawing and became obsessed with the Beatles. "When I was 19, I wanted to be the Beatles," he would later recall in a 1989 interview. "I was disappointed when I found out I couldn't sing." That didn't stop Johnston from sitting in his parents' basement and pouring his heart and quavering emotions into a $60 Sanyo boom box, first while attending an art program at a branch of Kent State and then in Houston, where he worked at the River of No Return ride at AstroWorld by day and recorded songs on a detuned guitar, piano, and chord organ into the wee hours.
When he landed in Austin in the mid-'80s, he found kindred spirits in weirdos like the Butthole Surfers and Glass Eye. He passed out tapes at the local McDonald's he worked at or on the Drag across the street from the University of Texas. "Hi, how are you?" he'd say. "I'm Daniel Johnston, and I'm gonna be famous." Texas Monthly's Michael Hall recalled an early performance from Johnston at this time, bursting out from the busboy's closet — not as an act of showmanship, but rather deep fear and shyness — appearing "so nervous he looked like he was about to cry" before winning the crowd over in the span of a single song, "I Live My Broken Dreams." He couldn't sing like the Beatles, but he could sing like someone who had huffed helium and was trembling with a fear akin to asking a crush out for the first time, ready to detail how he was feeling in embarrassing, but sincere detail.
Daniel Johnston's songs might not get spun immemorially at a café or public space — they feel far too raw, awkward, and intimate for that. His songs could be simultaneously off-putting and endearing, unfailingly sweet even as they verged on the questionable (Spin called his major-label debut, Fun, "ultra-lo-fi stalker ballads"). There were well-crafted verses and choruses even as they began to wobble and spiral ever wider, with more lines and details crammed into them. Even when he was ranting about the chicken head-biting (and child-eating) perils of smoking marijuana, his pathos felt real when he got to the chorus ("You wanted to be somebody / But you ain't nobody / You ain't got no body / You're just a head"). He could natter on about bicycle safety, but he also reproduced the thrill of speed on "Speeding Motorcycle." Johnston's songs were fragile in a way that could disarm even the most cynical of us. His enthusiastic yip and uncanny knack for soaring choruses was undeniable no matter the low fidelity. The music could feel silly and sincere, diaristic and voyeuristic, sometimes even in the space of a single line.
It's the only way to explain the glorious triumph of a song like "Walking the Cow." Since covered by the likes of Pearl Jam and TV on the Radio, it's simple and jumbled, full of confusing feelings that instantly slip away from Johnston. He's jostled by the wind, riddled with fear, and yet undeterred, delivering the undeniable sweetness in an image like "Lucky stars in your eyes / I am walking the cow."
MTV featured him in the mid-'80s on the show The Cutting Edge, and he found favor with the likes of Sonic Youth and Dead Milkmen. But as he crept toward fame — or at least a bigger audience and more professional recording setups — he had a number of nervous breakdowns and was ultimately diagnosed with bipolar disorder and schizophrenia. But if you were a kid in the '90s, you might have seen Jeremiah the Innocent in a most auspicious place, onstage at the 1992 MTV Video Music Awards. Broadcast to an audience of millions, Kurt Cobain wore a T-shirt emblazoned with the cover art from Johnston's 1983 album Hi, How Are You: The Unfinished Album. A co-sign from the most powerful band on the planet meant a major-label bidding war soon followed for Johnston, never mind that he was still in a mental hospital. The end result was Johnston's unlikely appearance on Atlantic Records' Fun (1994), which Spin once ranked as the second weirdest album of the post-Nevermind era, notoriously selling in the neighborhood of 12,000 copies (or about .004 percent of what Nirvana sold).
But even without much fame or success, Johnston's influence began to spread. His drawings caught notice in the world of outsider art and galleries. His songs comprised a rock opera. He wound up in the Times art section and his drawings at the Whitney, but even during that time, a 2006 Pitchfork profile noted: "If you saw him on the street, you might assume he was homeless." The moving 2005 documentary The Devil and Daniel Johnston captured the many contradictions of the man. His health issues mounted but he also found himself collaborating with the likes of Sparklehorse's Mark Linkous, and on at least one occasion counted Wilco's Jeff Tweedy as a member of his backing band.
The same man who gazed out in childlike wonder at the world also faced very serious consequences of his mental disease. Stories abound about how he nearly killed himself and his father on a flight. And in one disturbing incident, Johnston believed an elderly woman was possessed by Satan and broke into her home, making her leap out of a window and break both legs. At times when such mental illness can become tragic and violent (and not just harmless and quaint), Johnston's work and life continue to resonate. The nonprofit Hi, How Are You Project was established to help cast light on mental illness, and Austin last year declared January 22 to be "Hi, How Are You?" Day. Johnston outlived the likes of Cobain and Linkous, while his mural not only outlasted the record store that commissioned it back in 1993, but almost every other business on the Drag. His music and his message will continue to greet the dispossessed and depressed, those unable to say how they are feeling or even what they are feeling. In that way, Daniel Johnston will continue to welcome the most fragile of us.