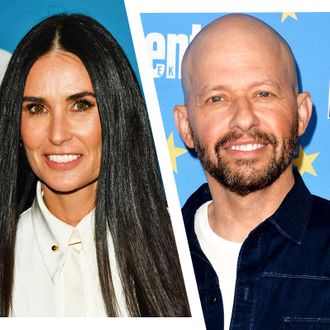 Demi Moore and Jon Cryer.
Photo: Getty Images
Demi Moore's press tour for her new memoir, Inside Out, has mostly consisted of making her ex-husbands look like a bunch of tools, but a new excerpt has, somehow, birthed a legend who's been walking among us for years: Jon Cryer, Sex Antihero. Per the New York Post, Moore wrote that Cryer lost his virginity to her while they were filming the 1984 dramedy No Small Affair, and that she somewhat regretted the events surrounding their horizontal mambo session. "It pains me to think of how callous I was with his feelings," she wrote, "that I stole what could have been such an important and beautiful moment from him." However, in an incredible moment of transparency on social media, Cryer responded that, no, he didn't actually lose his virginity to Moore — he was just, uh, pretty terrible at sex. His words, not ours.
"While I'm sure she was totally justified making that assumption based on my skill level, and the stunned look on my face at the time, I had actually lost my virginity in high school," Cryer explained. "But she's right [with] the other part, I was over the moon for her during a very troubled time in her life. I have nothing but affection for her and not a regret in the world."
Elsewhere in the excerpt, Moore said she started dabbling in some "seriously self-destructive things" during that time period, which included a cocaine addiction and drinking problem. She would later go on to marry Bruce Willis, and then a cute guy from Two and a Half Men who was not Cryer.