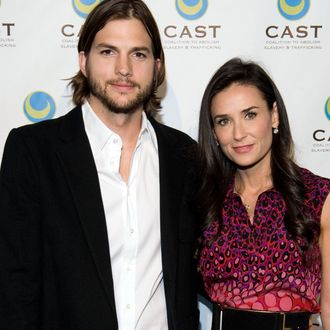 The couple back in 2011.
Photo: Amanda Edwards/WireImage
In his post–That '70s Show, pre-The Ranch years, Ashton Kutcher was very famously married to Demi Moore, until the duo decided to not-so-amicably separate in 2011 — which culminated after a widely publicized cheating scandal by Kutcher. In her new memoir, Inside Out, excerpted by Us Weekly, Moore is now revealing the other threads that contributed to her divorce from Kutcher, the main one being his insistence on constantly exploring threesomes with other women. "I wanted to show him how great and fun I could be," Moore wrote, ultimately agreeing to try the experience. However, she deemed her decision a "mistake" after their second threesome, and she claims Kutcher used those sexual trysts to shame her and "deflect blame" after his cheating became public. "Because we had brought a third party into our relationship, Ashton said, that blurred the lines and, to some extent, justified what he'd done," Moore wrote. "I felt sick to my stomach."
Moore also revealed that she became pregnant with a girl during her first year of dating Kutcher, who she planned to name Chaplin Ray. Sadly, Moore suffered a miscarriage six months into the pregnancy, which she says subsequently contributed to excessive drinking and drug use. She also underwent several fertility treatments in the hopes of becoming pregnant again with Kutcher's child, but all of them were ultimately unsuccessful. Following their divorce, Kutcher would go on to reconnect with and marry his That '70s Show co-star, Mila Kunis, and they have two children.