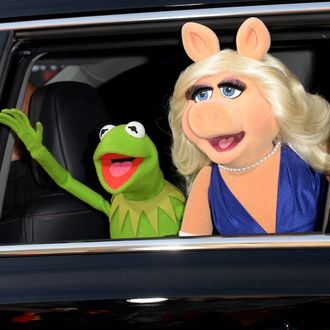 Photo: Jason Merritt/Getty Images
Muppets Live Another Day? More like Muppets Die Another Day. Or, more realistically, Muppets Live Another Day On Some Other Streaming Platform, If Josh Gad Wills It. According to The Hollywood Reporter, the pilot for Muppets Live Another Day, a Muppets TV show being developed by Disney+, is reportedly dead before it hit the ground, much like an actual Muppet when you accidentally drop it. Don't be too sad, though: This series is separate from the previously announced short-form show Muppets Now, which is set to debut in 2020. Disney+ isn't a bunch of fools, after all.
Interestingly, show creators Adam Horowitz, Eddy Kitsis, and Josh Gad allegedly quit the project, described as a scripted series that picks up after 1984's Muppets Take Manhattan, over "creative differences" and an executive change at the Muppets Studios. This is also the exact excuse you'd hear if Missy Piggy just would not stop throwing Champagne bottles at the PAs. Following the trio's exit, Disney+ reportedly stepped away from the project, meaning your gritty, graphic Janice origin drama might still have legs after all.