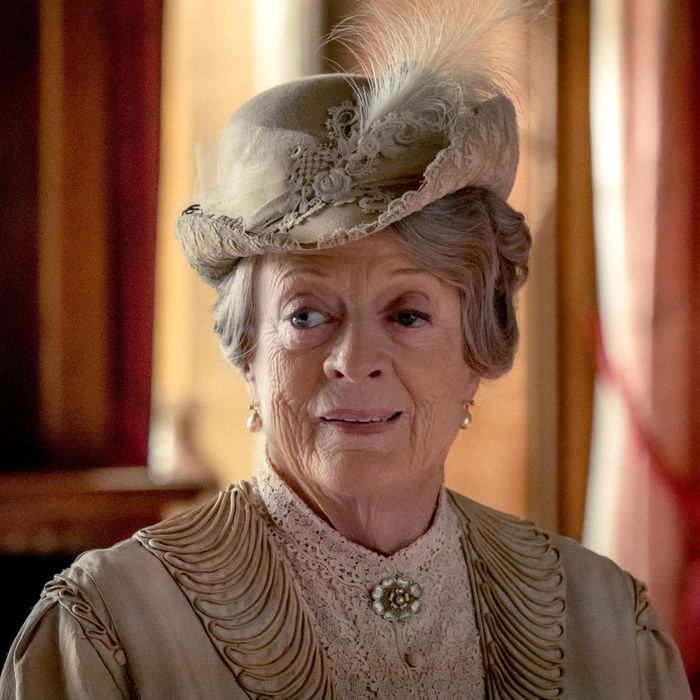 Obvious spoilers ahead for the Downton Abbey movie.
One of the joys of being reunited with the upstairs-downstairs denizens of Downton Abbey, the new film that serves as an opulently soapy continuation of the series, is a total and complete lack of stakes. There are, and we cannot stress this enough, zero stakes. (Carson having a temper tantrum over wine decanters aside. Retirement doesn't change a man!) Except when you start doing some basic math and realize the film jumps ahead to 1927. The following passage-of-time hard truth might wash over you: Oh God, the Dowager Countess is pretty old, innit? Will she … you know … survive? To give you peace of mind, Vulture can definitely, absolutely confirm that the Crawley matriarch (Maggie Smith, a dame to kill for) doesn't die in the film. However, it's implied that her death is imminent, and a new era of Downton will soon be forging forward without her.
To sum up, the Dowager Countess embarks on a trip to London early in the film, and she demures on the sojourn's purpose whenever prompted by someone in the family. That is, until her granddaughter, Mary (Michelle Dockery), sniffs out in one of the final scenes that her dear "Granny" is being unusually coy about her travels, which causes the big revelation to occur: She had numerous medical tests performed, and the results are dire.
"I may not have long to live. It won't be too quick, but of course you can never get a London doctor to be precise," our eternally witty Countess says. "Save your tears for something sad, because there's nothing sad here. I have lived a privileged and an interesting life, and now it's time to go. I'm leaving the family and the place that I treasure in talented hands." In a particularly poignant moment, she tells Mary that she's "the future of Downton," and demands no one else know about her illness for fear of being treated differently. "Our ancestors lived different lives than us, and our descendants will live differently again, but Downton Abbey will be a part of them," she adds. "You'll take over for where I left off. You'll be the frightening old lady, keeping everyone up to the mark. You will, my darling, and you'll do it wonderfully. You're the best of me, and we'll all live on."
"I think I shall prefer to rest in peace," she concludes. May all days be lived like upper-class weekends in her honor.