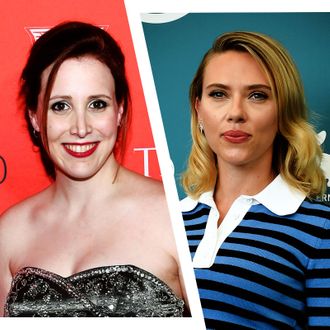 Dylan Farrow and Scarlett Johansson.
Photo: Getty Images
Dylan Farrow — the former stepdaughter of Woody Allen, who has accused the director of sexually abusing her when she was a small child — responded on Wednesday night to Scarlett Johansson's recent defense of Allen, writing on Twitter, "Scarlett has a long way to go in understanding the issue she claims to champion."
In a profile published this week, Johansson told The Hollywood Reporter that, despite Farrow's allegations against him, she "loves" Woody Allen, she believes his denials of the accusations, and she "would work with him anytime."
"I see Woody whenever I can, and I have had a lot of conversations with him about it," Johansson went on. "I have been very direct with him, and he's very direct with me. He maintains his innocence, and I believe him."
In response to a Los Angeles Times tweet about Johansson's comments, Farrow made oblique reference to the #MeToo and Time's Up movements of which Johansson has been a vocal supporter, writing, "Because if we've learned anything from the past two years it's that you definitely should believe male predators who 'maintain their innocence' without question."
She added, "And my apologies in advance for disrupting her google alerts again."
In the wake of the #MeToo movement, and the increased scrutiny it brought to the allegations against powerful men like Allen, many stars have tried, unlike Johansson, to distance themselves from the director. Greta Gerwig, Colin Firth, Kate Winslet, and Timothée Chalamet have indicated they would not work with the accused molester again.