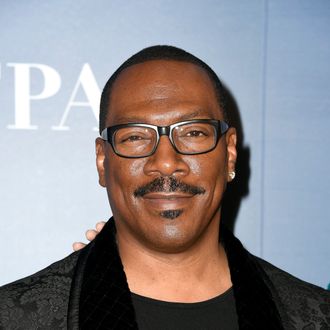 Photo: Frazer Harrison/Getty Images
It may be a comeback, but it's definitely not a reboot. Dolemite Is My Name star Eddie Murphy is making his way back on stage for his first stand-up special in over 30 years. But just because he's back being "ha-ha" funny in front of a live audience doesn't mean he's back to all of his old ways. For starters, he won't be wearing leather like he did in Raw and Delirious, both shot in the 1980s, both done wearing leather suits. "Nah, man, you can't wear a leather suit at 58," he told the New York Times in a recent interview. That is, despite the fact that "if you watched Raw or Delirious," you'd know that Eddie Murphy doesn't sweat.
After being a celebrity for most of his life, Murphy recognizes when it's time to leave something in the past. Speaking on recent controversies over comedians "pushing boundaries," Murphy shrugs. "I went through all that stuff, so this is not scary," he said. "All this stuff they are talking about: 'Hey, welcome to the club.'" In 1996, he apologized for jokes about AIDS and now calls them "ignorant." Not as easy as simply not making bigoted jokes, but is an apology really that hard? We'll all see what Eddie Murphy — with 30 extra years of wisdom — has to say when he heads on tour and releases a special on Netflix in 2020, sans leather.