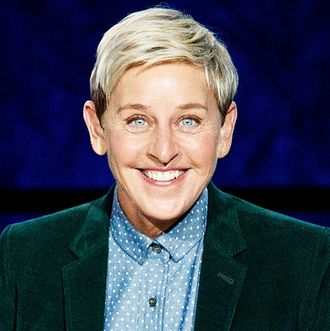 Photo: Andrew Chin/Getty Images
Ellen DeGeneres is teaming up with HBO Max. (HBO Max is not a person, sadly. It's a new streaming service from Warner Media slated to debut in 2020. It's more fun to read things about it, though, if you imagine it's a singular dude named Max. Max and Ellen, hanging out! See? Fun!) DeGeneres's deal includes three straight-to-series shows ⁠— a design show, a dating show, and a children's show ⁠— and one docuseries still in the works. "I'm very excited to bring my new shows to HBO Max. I don't know who Max is, but I can't wait to work with him," DeGeneres said in statement. (I swear I also made this joke before getting that far into the press release. Ellen, let's hang.)
HBO Max has been announcing new projects and collecting shows for weeks now. It's got a Practical Magic prequel in the works. It's getting The Big Bang Theory, if you're into that sort of thing. It's also picking up Friends, which is leaving Netflix. And, now, it's got Ellen.
In Ellen's Home Design Challenge, "design aficionado DeGeneres is giving eight forward-thinking designers the chance to push their creativity to the limit." Her children's program, Little Ellen, is a "2-D animated children's show that explores the world through the eyes of a hilarious and unpredictable seven-year-old Ellen DeGeneres." The show is set in her hometown of New Orleans. First Dates Hotel will see Ellen playing matchmaker. (The show is based on an existing U.K. dating series by the same name.) She's also signed on for Finding Einstein, a docu-series "that will seek out, celebrate and support a fresh generation of Einsteins." HBO Max says it has the Einstein family "stamp of approval."
Hello, yes. HBO Max? While you're on the hunt for geniuses, I'd like to let you know my DMs are open. You saw my Max joke. Brilliant stuff.