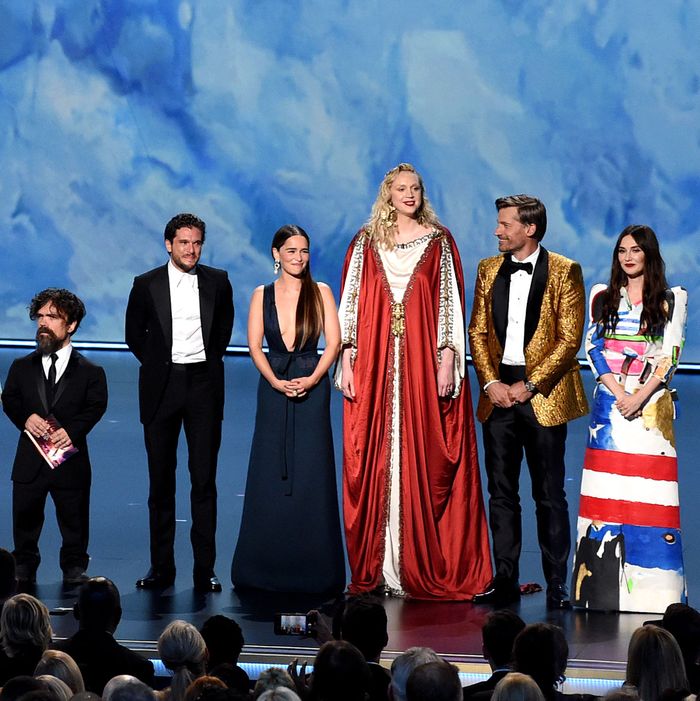 Meet the contestants at the 25th Annual Putnam County Spelling Bee.
Photo: Getty Images
The 2019 Emmys: strange, sometimes funny, often grating, occasionally miraculous. Without a host, there were bumps and awkward moments, transitions that came out of nowhere and montages forced to do heavy emotional lifting they couldn't support. There was an entire dance number meant to define the category of "variety." (The definition was essentially "everything else.") This confusion was also evident in the awards themselves, where there were some surprising upsets, especially in categories where seeming front-runner Game of Thrones had been favored to win. Jason Bateman, for instance, was quite shocked to discover he'd won for directing an episode of Ozark. But a scattershot ceremony can still hit a few bull's-eyes, as seen with wins for Billy Porter in Pose, Jharrel Jerome for When They See Us, and Michelle Williams for Fosse/Verdon. Plus: Best Comedy for Fleabag. Fleabag! Welcome to the Age of Phoebe Waller-Bridge. To help make sense of this deeply chaotic evening, let's break down the highs, lows, and whoas of Emmy night 2019.
LOW: Without a host, the ceremony begins with … Homer Simpson? The broadcast, seemingly desperate to prove it still exists after Disney bought every Fox thing that wasn't the broadcast network, kicked off the ceremony with an animated appearance from Homer Simpson, a pop-culture figure who's definitely still relevant in 2019, and then brought out Anthony Anderson, who brought out Bryan Cranston (congrats, Netflix PR team) to introduce a montage about how television is great. This is what happens when you don't have a host: The montages host! Pity us awards-show viewers, for we have lived through far too many random clip reels scored to sweeping orchestras.
LOW: Ben Stiller hangs out with wax figures. We love natural human interaction.
HIGH: Bob Newhart points out how dumb the wax-figure bit is. And adds, "I hated you, by the way, in Tropic Thunder."
LOW: Ken Jeong tries to enlist the entire audience in helping him make a TikTok clip. If you're gonna make jokes about TikTok, at least bring out the kombucha girl or something. Spiritually, this was our second Simpsons reference of the night, in that it was very much "broadcast network yells at teens."
HIGH: Phoebe Waller-Bridge wins for best writing for Fleabag. There is justice in the world!  "I find writing really, really hard and really painful," Waller-Bridge said, before holding the Emmy award up and saying, "and I do it for this!"
HIGH: Thomas Lennon providing us with some deeply weird segues. From comparing the Emmys to the Jellicle Ball from Cats (therefore implying that winners will die and be sent to the Heaviside layer) to reminding us all that Amazon is funding its comedies with billions of dollars in earnings, Lennon's commentary was an undercurrent of weird energy running beneath the broadcast. We just love that, in lieu of a host, somebody is giving us some context — deeply strange context that also reveals how artificial the whole construct of the show is. Or, as Lennon put it after giving up midway through a weird joke about the Emmys being woke, "This is why people don't do this, because it sucks!"
HIGH: Maya Rudolph and Ike Barinholtz pretend to have had laser eye surgery. First they walked out with enormous black sunglasses, and then they claimed they couldn't read any of the teleprompters, so Rudolph pronounced Michael Douglas as "Mickey Two-Times." This is the only way we will be referring to him now, thank you.
WHOA: Phoebe Waller-Bridge wins again for Outstanding Comedy Actress for Fleabag: "Nooo!" she began her speech, before repeating herself: "I find acting really, really hard and really painful … I do it for this!" It was a delightful moment, though Waller-Bridge made clear that she (and we, and everyone else) expected Julia Louis-Dreyfus to win yet again for Veep, and felt a little awkward about it. Really, she should've just turned to a camera and said, Britishly, "I've found myself in a bit of a jam."
LOW: Everyone from Game of Thrones files out onstage to deliver an obligatory retirement speech. Except for Isaac Hempstead Wright, for some reason, who did not get to go onstage despite the fact that Bran was the one who (if this is a spoiler to you, what are you doing?) won the actual game of thrones. Maybe the producers at Fox were Sansa stans.
WHOA: Gwyneth Paltrow discovers the concept of Game of Thrones in real time.
HIGH: Ben Whishaw, winning Outstanding Supporting Actor in a Limited Series, exclaims, "I'm hungover!"
The context is that his agent took him out drinking, but really, Ben's just expressing the experience of everyone having to attend events at the end of the weekend.
HIGH: Patricia Arquette uses her win to remember her sister Alexis, who died in 2016, and to advocate for trans rights and representation, sentiments she continued to express backstage.
HIGH: Jharrel Jerome wins for Outstanding Lead Actor in a Limited Series. The 21-year-old Jerome gave a shout-out to his mom, who cheered from the audience, paid his respects to "the Exonerated Five," and delivered an excellent neck waggle, in the most wholesome moment of the night.
HIGH: Julia Louis-Dreyfus seizes control of Veep's big tribute moment in character as Selina Meyer. When Tony Hale, as Gary, slipped in a joke that JLD had in fact won the award for Outstanding Actress in a Limited Series, she countered, "No, it's fine, okay drop it." If you don't win the award, show them all you have the best comedic timing.
HIGH: Michelle Williams gives a moving speech about the importance of equal pay after winning for Fosse/Verdon, and notes that the pay discrepancy is even greater for women of color. She also got to hug Busy Philipps, the kind of friendship catharsis that should go along with every big awards-show moment.
LOW: The stage design, featuring enormous images of the winners projected behind them as they accept their awards. This seems like it could've worked out well? Except the images were almost universally unflattering, including Phoebe Waller-Bridge accepting her award in front of her own bleeding nose. Between these images and Thomas Lennon's interstitial commentary, it was almost as if the Emmys were trying to neg themselves?
LOW: Adam DeVine does a song-and-dance ode to the concept of the variety series, complete with Masked Singer contestants and some person with a Meryl Streep mask. We've got Trouble, right here in the Emmys. Trouble with a capital "T" and that rhymes with "D" and that stands for "dumb!"
LOW: The winners in the Variety category are a little too familiar. We hate to suggest that any particular winner is undeserving, especially a show as great as Last Week Tonight. But wow, SNL has won so many Emmys! Last Week Tonight has won so many Emmys! It'd be really nice if they could give someone else a chance? Do the Emmy voters just refuse to watch other variety shows? Colbert's been good this year!
LOW: An "In Memoriam" segment for TV shows that ended this year. A highly selective, spoilerific "In Memoriam" segment that left off shows like Crazy Ex-Girlfriend but did reveal that Claire Underwood got pregnant in House of Cards. Anyway, RIP, The Big Bang Theory, may flights of angels bazinga thee to thy rest.
HIGH: Jesse Armstrong wins best writing for Succession. Have you heard of this show Succession? It's great! The writing is exquisite, and accepting the award also gave Armstrong an opportunity to get bleeped for suggesting that because so many British people were winning awards, the White House might want to consider its immigration policy regarding "shithole countries." Pour one out for the Fox censor who had to decide on the fly whether to cut the sound for someone directly quoting the president.
WHOA: Halsey (of "how great …" A Star Is Born fame) sings a sensuous cover of "Time After Time" for the actual "In Memoriam" segment: A wild choice, though it did at least match the chaotic energy of the rest of the ceremony.
HIGH: Billy Porter announces "the category is … LOVE!" as he wins for Outstanding Actor in a Drama. 
HIGH: FLEABAG WINS! Fleabag won best comedy! It won! Phoebe Waller-Bridge thanked Andrew Scott for being the Hot Priest, and everyone was shocked and overwhelmed. It was a glorious note on which to end the night, a beautiful celebration of fantastic television and glorious gracious winners. Except that it was not quite the end of the night because …
MEH: Game of Thrones wins Outstanding Drama Series. This makes sense. It was shut out of nearly every other award (except for Peter Dinklage's win for supporting actor, once again), and by the time Jason Bateman won for directing, it was clear that everyone was shocked by how little love Game of Thrones had gotten for the night. So yes, a best drama award by the end of the evening felt appropriate. Still, it was a significantly different energy to end the night with, a simultaneous sigh of relief that it had won something significant, with a weird undercurrent of sourness about the critical reaction to the last season. In our minds, we'll just stick with Fleabag as the final award of the evening.