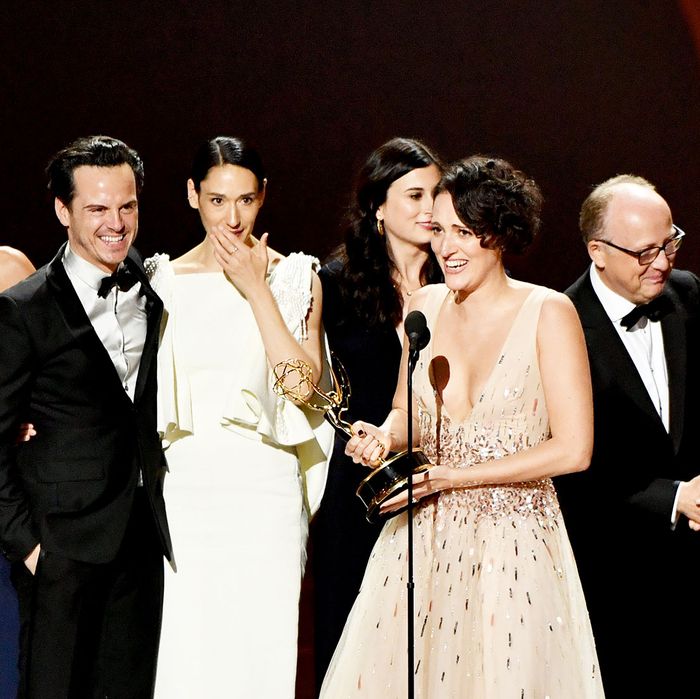 Photo: Amy Sussman/WireImage
Sunday night's Emmy Awards Presented by The Masked Singer broadcast was absolutely touched by chaos, from Homer Simpson's remarkably unanimated intro to Michael Douglas's harried outro. Remember when Lin-Manuel Miranda pulled that sixth-grade B-student trick of starting a speech with "The dictionary defines variety as …" and then Adam DeVine of truly all people sang a song, not one lyric of which I can recall for you at this time? (What, suddenly Thingamajig wasn't available?) Amid all of the mishegoss were some genuinely great wins, even though the acceptance speeches were offset by distracting backdrops of giant, unflattering screen grabs of the winners. These moments include a Fleabag victory tour and monumental wins for Billy Porter and Jharrel Jerome. Below, we've compiled all of the best reaction shots and surprise faces from the proceedings:
Firstly, here's Christina Applegate schooling Jenny McCarthy on the existence of Samantha Who:
Gwyneth Paltrow just barely humoring Jenny McCarthy. Seems like everyone collectively has just about had it, officially, with Jenny McCarthy.
Bran clapping for the basically 50 Game of Thrones cast members that got to go onstage and talk about the show without him.
Sarah Silverman reacting to yet another SNL win.
Alfie Allen's golf clap.
This face Billy Porter pulled when RuPaul won for Best Competition Reality Series, which Porter insists was pure coincidence.
The Pose cast being the cutest cheer squad for Billy Porter!
Jason Bateman reacting to his win in true Michael Bluth fashion.
Natasha Lyonne's reaction to… everything.
If we took one thing away from last night's Emmys, it's that the English are very, very good at winning awards, and they do so with unerring charm. Just look at Jodie Comer's disbelief at her acting win.
Phoebe Waller-Bridge reacting to the sheer weight of carrying all of television on her back.
Busy Philipps, historic best friend and awards date to Michelle Williams, being very proud of Michelle Williams.
Gwyneth Paltrow's lack of a reaction to Game of Thrones.
The whole Roy clan giving a standing O for Jesse Armstrong. The delight on Cousin Greg's face! We love to see it! Though what is with Jeremy Strong's total stone-faced lack of joy?