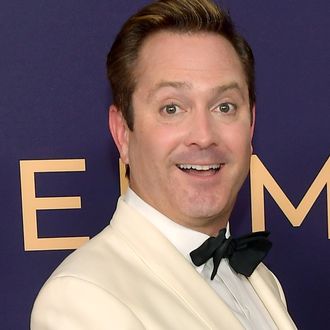 Photo: Matt Winkelmeyer/Getty Images
This year's Emmys might not have had a host, but it did have one through line: writer, producer, and Reno 911! star Thomas Lennon, who served as the evening's announcer, welcoming each winner to the stage to accept their statuette. However, instead of providing, say, personalized trivia or behind-the-scenes facts, Lennon just goofed and goofed hard with his voiceover, delivering joke after joke, each more irreverent than the last. If you loved it, please enjoy this list of Lennon's most sideways goofs from the telecast. If you hated it, hey, the Oscars are just around the corner. And if you're Thomas Lennon, wow, those writers gave you a goddamn workout, didn't they?
On Alex Bornstein, Outstanding Supporting Actress in a Comedy Series for The Marvelous Mrs. Maisel: "They will be setting cars on fire and burning a Wicker Man as Deerfield, Illinois' beloved daughter pockets another 39 millimeters of fake Emmy gold."
On Bill Hader, Outstanding Comedy Actor for Barry: "Third win, 20th nomination for Bill Hader. If he had won all of his Emmy statues, they would be 25 feet long, the length of Roy Scheider's monster in Jaws."
On Ben Whishaw, Outstanding Supporting Actor in a Limited Series for A Very English Scandal: "Ben Whishaw's name is an onomatopoeia for when a handsome British person passed you on a bicycle. Whishaaaaw."
On Jharrel Jerome, Outstanding Lead Actor in a Limited Series for When They See Us: "First nomination and win for Jharrel Jerome, a graduate of LaGuardia High School for Performing Arts, a place where if you want fame, you literally pay for classes in sweat. Bottles of sweat."
On Bandersnatch (Black Mirror), Outstanding Television Movie: "I was 100 percent wrong about this one. Check my Twitter. I called it for Hervé Villechaize all the way. I'm big enough to admit that I was wrong. I was wrong and I'm sorry."
On Peter Dinklage, Outstanding Supporting Actor in a Drama for Game of Thrones: "They'll be sliding down the bannisters for Tyrion Lannister at Bennington College tonight as Dinklage goes double cufflinks with four Emmys, for 24 pounds of solid Emmy gold."
On Jesse Armstrong, writer of Succession's "Nobody is Ever Missing," for Outstanding Writing for a Drama Series: "Succession is loosely based on the Murdoch family, the same Murdoch family that has ordered me to sit here and tell jokes, and it's a real pleasure, an absolute pleasure and I want to thank them. I hope my family's alright."
Throwing to commercial ahead of the Outstanding Variety Talk Series award: "Stick around to see if history is made with the first female or black winner for Variety Talk. Are the Emmys woke? Or is that just something …that was … this is why people don't do this, 'cause it sucks!" Spoiler alert: Last Week Tonight With John Oliver took home the prize.
On Jason Bateman, Outstanding Directing for a Drama Series: "He still wears the same size slacks he wore on Little House on the Prairie. A fourth-level yoga master, he can sleep folded up in a carry-on suitcase."
And finally, on Felicity Huffman, because of, well, you know: "Our producers have asked me to give a special shoutout to any of our previous lead-actress winners who are watching tonight from prison. Hopefully those two weeks are going to fly right by."