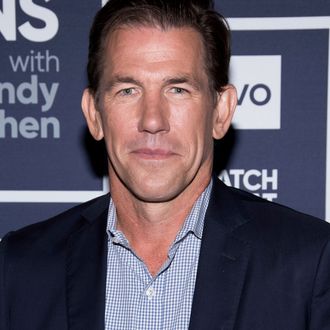 Photo: Bravo/NBCU Photo Bank via Getty Images
On Wednesday evening, Deadline reported that former Southern Charm star Thomas Ravenel pleaded guilty to third-degree assault and battery charges in Charleston, South Carolina. He agreed to a $500 fine and probation, avoiding a 30-day jail sentence.
Ravenel, who starred on Bravo's Southern Charm for five seasons, was accused of assaulting his children's nanny, Dawn Ledwell, in January of 2015. According to Ledwell, Ravenel attempted to kiss her, put her hand on his genitals, and forcibly removed her clothes while she was cleaning his home. Ledwell filed a police report in June of 2018 claiming that Ravenel had committed a "sexual offense" and "forcible rape." Ravenel was arrested that September.
Ledwell is not the first woman to accuse Ravenel of sexual assault. In 2018, real-estate agent and model Ashley Perkins came forward on behalf of her mother, Debbie Holloway Perkins, whom she claimed Ravenel attempted to sexually assault and forcibly penetrate after a Tinder date in October of 2015. Ravenel ultimately settled with Holloway Perkins for $200,000. In the wake of these allegations, Bravo confirmed last year that Ravenel would not return for the sixth season of Southern Charm.