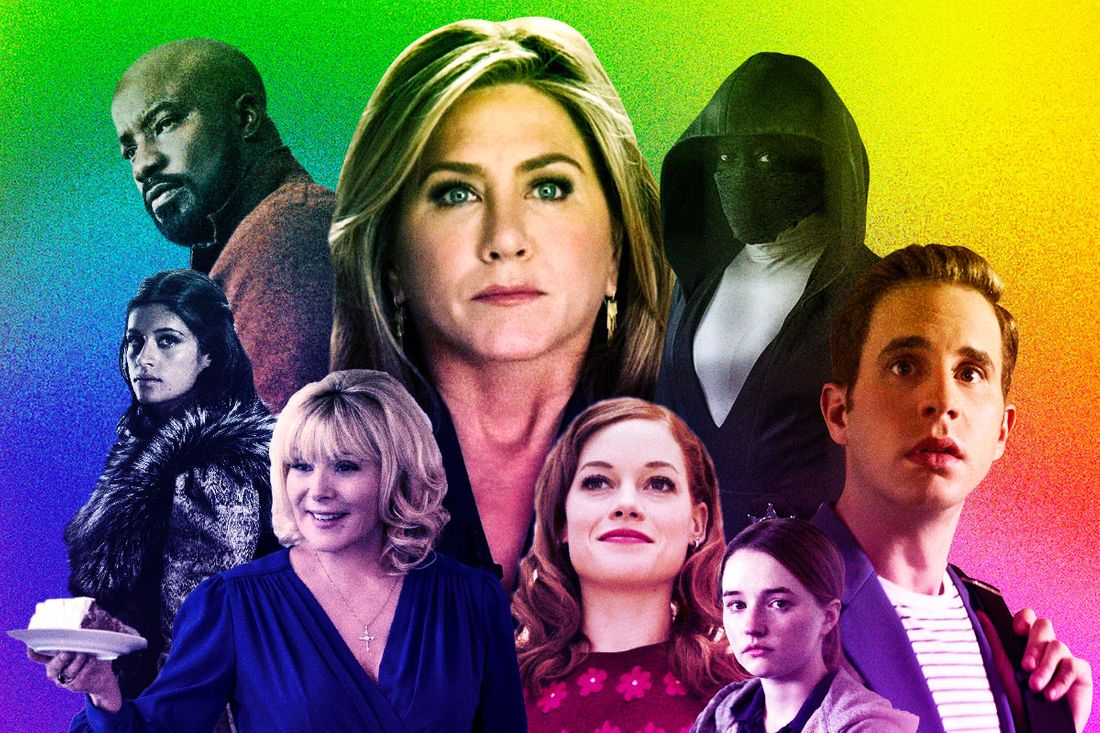 Photo: Courtesy of Networks
The twin forces of Peak TV and the streaming era ensure that a massive TV event is always looming, no matter what month it is. Yet the allure of the traditional fall TV season remains strong, with broadcast networks saving their (potentially) best and brightest for an autumn bow, and streaming purveyors rising to the occasion with their own high-profile shows … or their own high-profile programming slates, as this year sees the addition of two major players to the streaming game.
While much of what Disney+ and Apple TV+ will offer still remains shrouded in mystery, both nascent platforms will launch with attention-grabbing, big-name original series this fall, in the midst of a season with no shortage of attention-grabbing, big-name series. The TV landscape may be massive, but at least there will always be something worth watching. Here's what you should keep on your radar in the months ahead.
What We Think Will Be Great
By Matt Zoller Seitz
September
Bless the Harts (Fox; 9/29)
In the spirit of Bob's Burgers and King of the Hill, this animated sitcom is about a poor North Carolina family whose love for one another helps them weather a brutal American economy. Kristen Wiig stars as the heroine, a single mother and waitress; Maya Rudolph plays her lottery-obsessed mother. Created by former Saturday Night Live writer Emily Spivey (who created the short-lived but very likable parenting sitcom Up All Night, starring Rudolph, Will Arnett, and Christina Applegate).
October
Almost Family (Fox; 10/2)
Adapted from the Australian comedy series Sisters, the plot of this comedy-drama is sparked by the revelation that a fertility doctor (Timothy Hutton) fathered 100 children by various patients without their knowledge or consent. Brittany Snow, Megalyn Echikunwoke, and Emily Osment play half-sisters getting to know each other; the format of the series allows for 97 more half-siblings to appear, not coincidentally matching the minimum number of episodes required to land a decent syndication deal. Executive-produced by Jason Katims (Relativity), this is a series TV fans will want to watch if only to have an opinion on it; when critics pointed out during a summer press-preview event that the doctor's actions constitute a form of rape, the panel seemed blindsided.
Batwoman (CW; 10/6)
Seemingly set in the aftermath of Christopher Nolan's The Dark Knight Rises, this series from Caroline Dries and Greg Berlanti takes place in a Gotham City abandoned by Batman and in danger of being overrun by dark forces. Enter Kate Kane (Ruby Rose), a.k.a. Batwoman, a street fighter and vigilante who also happens to be an out lesbian. The latter detail is particularly bold given the way non-straight characters have been marginalized in movies and TV shows cashing in on superhero mania. Batwoman was introduced in the 2018 "Elseworlds" crossover episode of the CW's DC Comics–based programs, so future crossovers are guaranteed.
Mr. Robot (USA; 10/6)
This apocalyptic hacker drama and social satire from Sam Esmail (Homecoming) was always up front about acknowledging its film-history references, in particular those to New York–based thrillers with a strong dose of paranoia. The fourth and final season, which returns Oscar-winning star Rami Malek to his signature role as Elliot Alderson, cranks the show's meta tendencies up a notch, setting this final leg of episodes at Christmastime in the tradition of Gotham-based classics like Three Days of the Condor and The French Connection. Esmail has referred to the entire 13-episode package, shot during the summer and faked being set in winter, as "a Christmas episode." The bill for tinsel, ornaments, and light strands must have been enormous.
Nancy Drew (The CW; 10/9)
Kennedy McMann stars as the "girl detective" whose adventures fueled a decades-long series of mystery books, ghostwritten by a variety of authors under the pseudonym Carolyn Keene. Although the intrepid teenage sleuth hasn't been seen on American television in 40 years (where she shared a time slot with the Hardy Boys), the timing of her return couldn't be more perfect between the return of the Drew-like Veronica Mars and regular name-checks on such varied current series as Riverdale, Brooklyn 99, and Stranger Things. The executive producers include Josh Schwartz (The O.C.) and Stephanie Savage (Gossip Girl), a positive sign.
TBA
For Life (ABC; fall)
Produced by Without a Trace creator Hank Steinberg and Curtis "50 Cent" Jackson, this legal drama about a convict who becomes a lawyer behind bars was inspired by a true story. Combining journalistic grit with the structural pleasures of a network series, the show follows the hero's ongoing struggle to overturn his own unjust conviction with more self-contained stories about his representation of other inmates. 50 Cent's G-Unit was also responsible for the long-running Starz series Power, which likewise took a sincere interest in crime, prison, and rehabilitation.
What We Think Will Be Big
By Jen Chaney
September
Unbelievable (Netflix; 9/13)
This limited series, based on Pulitzer Prize–winning investigative reporting by ProPublica and the Marshall Project, focuses on a Lynnwood, Washington, rape case in which a young woman (Kaitlyn Dever of Booksmart) is accused of lying about her attack. Not long after, a pair of Colorado detectives (Merritt Wever and Toni Collette) attempt to solve rape cases that could be connected to what happened in Washington. There are many crime shows on TV, but only this one has Susannah Grant, writer of Erin Brockovich, as showrunner, sharing directing duties with Lisa Cholodenko, director of The Kids Are All Right.
The Good Place (NBC; 9/26)
The smartest, most thought-provoking comedy on network television returns for a fourth and final season, complete with one more attempt by Michael (Ted Danson), Eleanor (Kristen Bell), Chidi (William Jackson Harper), Tahani (Jameela Jamil), Jason (Manny Jacinto), and TV's most endearing robot, Janet (D'Arcy Carden), to prove that humans are capable of self-improvement.
Evil (CBS; 9/26)
This new crime-horror drama from Michelle and Robert King, creators of The Good Wife and The Good Fight, has the potential to appeal to the usual CBS procedural crowd as well as those seeking TV that breaks from traditional molds. It focuses on a criminal psychologist, played by Katja Herbers of Westworld, who crosses career paths with a priest-in-training (Mike Colter of Luke Cage) and his colleague (Aasif Mandvi) who investigate possible supernatural occurrences on behalf of the Catholic Church.
The Politician (Netflix; 9/27)
Prolific television producer Ryan Murphy's first Netflix show is this darkly comedic portrait of a teen (Ben Platt of Dear Evan Hansen) who wants to get to the White House someday and is convinced the first step is winning his high school's presidency.
October
Living With Yourself (Netflix; 10/18)
Paul Rudd has never starred in his own scripted series, but that changes with this mind scrambler about a guy named Miles who goes to an exclusive spa that promises to make him a better person. The effects of that visit are — spoiler alert — not what he expected. In the cafeteria of Peak TV, this one would sit at the same table as The Good Place and Amazon's Forever.
Watchmen (HBO, 10/20)
The brilliant comic by Alan Moore and David Gibbons, which was made into a so-so movie back in 2009, gets the TV treatment in a series that uses the source material as a jumping-off point to create its own alternate contemporary reality. Molded by creator Damon Lindelof, that reality is present-day: Regina King, who starred in Lindelof's The Leftovers, is an Oklahoma cop; there's a rising threat from a white-supremacist group whose members wear masks reminiscent of Rorschach's (the character from the comic); and Robert Redford — yeah, that Robert Redford — has been president for several years. If this is as good as it looks, this could be HBO's next big zeitgeist show. (Note: This piece has been corrected to reflect that Redford will be the president in Watchmen, but will not be a member of the cast.)
November
The Mandalorian (Disney+; 11/12)
Disney+ is another major streaming service that's launching this fall, and it's kicking off with The Mandalorian, the first-ever live-action Star Wars television series. Set in the years immediately after Return of the Jedi, the show will focus on a gunfighter in the mold of Boba Fett, portrayed by Game of Thrones and Narcos star Pedro Pascal.
TBA
The Morning Show (Apple; fall)
The launch of Apple's new streaming service, Apple TV+, is going to be a major headline grabber, and this new series will be a big part of those headlines. Inspired in part by Top of the Morning, the book by CNN's Brian Stelter about the morning-TV wars, The Morning Show will follow the internal politics at a network daytime program and star some extremely high-profile actors — Jennifer Aniston, Reese Witherspoon, and Steve Carell — as the talent who smile when the camera is on and snipe at each other when it isn't.
The Witcher (Netflix; fall)
Another contender in the "next Game of Thrones" horse race, this fantasy-drama (based on the books by Andrzej Sapkowski that have spawned, among other things, a video-game franchise) stars Henry Cavill as Geralt of Rivia, who hunts monsters on an ancient continent divided into two kingdoms.
His Dark Materials (HBO; fall)
Or could this be the next Game of Thrones? HBO's next attempt at epic fantasy is this adaptation of the beloved Philip Pullman books. It follows Lyra (Dafne Keen of Logan), a girl with special gifts, who sets out to stop a plot to secretly abduct hordes of children. Keen stars alongside James McAvoy, Ruth Wilson, and Lin-Manuel Miranda.
Full Calendar
Friday, September 6
12 a.m. Elite, Netflix
12 a.m. The Spy, Netflix
12 a.m. Archibald's Next Big Thing, Netflix
12 a.m. Hip Hop Evolution, Netflix
12 a.m. Jack Whitehall: Travels With My Father, Netflix
9 p.m. Titans, DC Universe
10 p.m. Couples Therapy, Showtime
11 p.m. Good Talk With Anthony Jeselnik, Comedy Central
Saturday, September 7
12 a.m. Arthdal Chronicles, Netflix
8 p.m. WoW: Women of Wrestling, AXS TV
9 p.m. Love & Marriage, OWN
Sunday, September 8
8 p.m. Married to Medicine, Bravo
8 p.m. American Monster, Investigation Discovery
9 p.m. Keeping Up With the Kardashians, E!
10 p.m. Deadline: Crime With Tamron Hall, Investigation Discovery
Monday, September 9
9 p.m. The Deuce, HBO
9 p.m. A Very Brady Renovation, HGTV
10 p.m. Our Boys, HBO
10:30 p.m. One of a Kind, HGTV
Tuesday, September 10
12 a.m. Bill Burr: Paper Tiger, Netflix
9 p.m. Ghosted, MTV
10 p.m. Mr. Mercedes, AT&T Audience Network
Thursday, September 12
12 a.m. The I-Land, Netflix
8:30 p.m. Mixtape, AXS TV
9 p.m. Brian Johnson's Life on the Road, AXS TV
10 p.m. Mr. Inbetween, FX
Friday, September 13
12 a.m. Unbelievable, Netflix
12 a.m. Undone, Amazon
12 a.m. The Ranch, Netflix
12 a.m. Top Boy, Netflix
12 a.m. The Chef Show, Netflix
9 p.m. Red Bull Peaking, the CW
10 p.m. Murder in the Bayou, Showtime
11 p.m. Room 104, HBO
Saturday, September 14
7 p.m. Maigret, Ovation
10 p.m. 48 Hours, CBS
Sunday, September 15
8 p.m. Ken Burns' Country Music, OBS
8 p.m. Paul Shaffer Plus One, AXS TV
10 p.m. Comedy Central Roast of Alec Baldwin, Comedy Central
Monday, September 16
8 p.m. Dancing With the Stars, ABC
9 p.m. Live Rescue, A&E
Tuesday, September 17
12 a.m. The Last Kids on Earth, Netflix
9 p.m. The American Game, ESPN
9 p.m. Bering Sea Gold, Discovery
Wednesday, September 18
10 p.m. American Horror Story: 1984, FX
Thursday, September 19
9 p.m. The Greatest, ESPN
9 p.m. Bringing Up Bates, UP
Friday, September 20
12 a.m. Disenchantment, Netflix
12 a.m. Criminal, Netflix
12 a.m. Fastest Car, Netflix
12 a.m. Inside Bill's Brain: Decoding Bill Gates, Netflix
9 p.m. Live PD, A&E
10 p.m. Hot Date, Pop
Saturday, September 21
8 p.m. Escaping the NXIVM Cult: A Mother's Fight to Save Her Daughter, Lifetime
10 p.m. Beyond the Headline: Escaping hte NXIVM Cult With Gretchen Carlson, Lifetime
Sunday, September 22
8 p.m. 71st Emmy Awards, Fox
8 p.m. The Circus, Showtime
Monday, September 23
12 a.m. Team Kaylie, Netflix
8 p.m. 9-1-1, Fox
8 p.m. The Neighborhood, CBS
8 p.m. The Voice, NBC
8:30 p.m. Bob (Hearts) Abishola, CBS
9 p.m. All Rise, CBS
9 p.m. Prodigal Son, Fox
9 p.m. Halloween Baking Championship, Food Network
9 p.m. Someone You Thought You Knew, Investigation Discovery
10 p.m. Bluff City Law, NBC
10 p.m. Bull, CBS
10 p.m. The Good Doctor, ABC
Tuesday, September 24
12 a.m. Jeff Dunham: Beside Himself, Netflix
8 p.m. The Conners, ABC
8 p.m. NCIS, CBS
8 p.m. The Resident, Fox
8:30 p.m. Bless This Mess, ABC
9 p.m. Empire, Fox
9 p.m. FBI, CBS
9 p.m. This Is Us, NBC
9 p.m. Mixed-ish, ABC
9:30 p.m. Black-ish, ABC
10 p.m. NCIS: New Orleans, CBS
10 p.m. New Amsterdam, NBC
10 p.m. Emergance, ABC
Wednesday, September 25
12 a.m. Glitch, Netflix
12 a.m. Abstract: The Art of Design, Netflix
12 a.m. Liza on Demand, YouTube
8 p.m. Chicago Med, NBC
8 p.m. The Goldbergs, ABC
8 p.m. The Masked Singer, Fox
8 p.m. Survivor, CBS
8:30 p.m. Schooled, ABC
9 p.m. Chicago Fire, NBC
9 p.m. Modern Family, ABC
9:30 p.m. Single Parents, ABC
10 p.m. Chicago PD, NBC
10 p.m. It's Always Sunny in Philadelphia, FXX
10 p.m. South Park, Comedy Central
10 p.m. Stumptown, ABC
10:30 p.m. Cake, FXX
10:30 p.m. Crank Yankers, Comedy Central
Thursday, September 26
12 a.m. Creepshow, Shudder
12 a.m. Explained, Netflix
8 p.m. Grey's Anatomy, ABC
8 p.m. Young Sheldon, CBS
8 p.m. Superstore, NBC
8:30 p.m. Perfect Harmony, NBC
8:30 p.m. The Unicorn, CBS
9 p.m. The Good Place, NBC
9 p.m. Mom, CBS
9 p.m. A Million Little Things, ABC
9:30 p.m. Carol's Second Act, CBS
9:30 p.m. Sunnyside, NBC
10 p.m. Evil, CBS
10 p.m. How to Get Away With Murder, ABC
10 p.m. Law & Order: SVU, NBC
10 p.m. Untold Stories of Hip Hop, WE
Friday, September 27
12 a.m. The Politician, Netflix
12 a.m. Transparent: Musicale Finale, Amazon
12 a.m. Bard of Blood, Netflix
12 a.m. Skylines, Netflix
12 a.m. El Marginal, Netflix
8 p.m. Hawaii Five-0, CBS
8 p.m. American Housewife, ABC
8:30 p.m. Fresh Off the Boat, ABC
9 p.m. Magnum P.I., CBS
10 p.m. Blue Bloods, CBS
10 p.m. Van Helsing, Syfy
Saturday, September 28
11:30 p.m. Saturday Night Live, NBC
Sunday, September 29
7 p.m. America's Funniest Home Videos, ABC
7:30 p.m. 60 Minutes, CBS
8 p.m. The Simpsons, Fox
8 p.m. The Durrells in Corfu, PBS
8:30 p.m. Bless the Harts, Fox
8:30 p.m. God Friended Me, CBS
9 p.m. Bob's Burgers, Fox
9 p.m. Halloween Wars, Food Network
9 p.m. Poldark, PBS
9 p.m. Shark Tank, ABC
9:30 p.m. Family Guy, Fox
9:30 p.m. NCIS: Los Angeles, CBS
10 p.m. Godfather of Harlem, Epix
10 p.m. The Rookie, ABC
Monday, September 30
12 a.m. Mo Gilligan: Momentum, Netflix
10 p.m. Halloween Cake-off, Food Network
Tuesday, October 1
12 p.m. Sorry for Your Loss, Facebook
10 p.m. Ink Master: Grudge Match, Paramount Network
10 p.m. Most Terrifying Places, Travel Channel
Wednesday, October 2
8 p.m. All Elite Wrestling, TNT
9 p.m. Almost Family, Fox
9 p.m. SEAL Team, CBS
10 p.m. S.W.A.T., CBS
10 p.m. Total Divas, E!
Thursday, October 3
7 p.m. Chasing the Sun, Ovation
8 p.m. This Old House, PBS
10 p.m. The Holzer Files, Travel Channel
Friday, October 4
12 a.m. Big Mouth, Netflix
12 a.m. Peaky Blinders, Netflix
12 a.m. Raising Dion, Netflix
12 a.m. Goliath, Amazon
12 a.m. Light As a Feather, Hulu
8 p.m. The Blacklist, NBC
8 p.m. WWE Smackdown, Fox
11 p.m. Freakshow Cakes, Cooking Channel
Saturday, October 5
10 p.m. Gary Gulman: The Great Depresh, HBO
11 p.m. Austin City Limits, PBS
Sunday, October 6
8 p.m. Batwoman, the CW
8 p.m. Kids Say the Darndest Things, ABC
8:30 p.m. Back to Life, Showtime
9 p.m. Supergirl, the CW
9 p.m. Get Shorty, Epix
9 p.m. The Walking Dead, AMC
10 p.m. Madam Secretary, CBS
10 p.m. Mr. Robot, USA
10 p.m. Star Wars Resistance, Disney Channel
10 p.m. Press, PBS
10 p.m. Talking Dead, AMC
10 p.m. Witches of Salem, Travel Channel
Monday, October 7
8 p.m. All American, the CW
9 p.m. Black Lightning, the CW
9 p.m. Below Deck, Bravo
Tuesday, October 8
8 p.m. The Flash, the CW
8 p.m. Finding Your Roots, PBS
Wednesday, October 9
8 p.m. Riverdale, the CW
9 p.m. Nancy Drew, the CW
Thursday, October 10
8 p.m. Supernatural, the CW
9 p.m. Legacies, the CW
10 p.m. Temptation Island, USA
Friday, October 11
8 p.m. Charmed, the CW
9 p.m. The Birch, Facebook
9 p.m. Dynasty, the CW
9 p.m. Ghost Nation, Travel Channel
10 p.m. Hometown Horror, Travel Channel
10 p.m. Marriage Boot Camp, WE
Saturday, October 12
8 p.m. The College Admissions Scandal, Lifetime
10 p.m. Beyond the Headlines: The College Admissions Scandal With Gretchen Carlson, Lifetime
Sunday, October 13
10 p.m. Inside the Actors Studio, Ovation
10 p.m. Why We Hate, Discovery
Monday, October 14
12 a.m. Letterkenny, Hulu
9 p.m. These Woods Are Haunted, Travel Channel
Tuesday, October 15
9 p.m. Arrow, the CW
9 p.m. The Purge, USA
10 p.m. Treadstone, USA
Wednesday, October 16
12 a.m. Impulse, YouTube
12 p.m. Limetown, Facebook
Friday, October 18
12 a.m. Looking for Alaska, Hulu
12 a.m. Modern Love, Amazon
12 a.m. Living With Yourself, Netflix
Monday, October 21
10 p.m. The Alaska Triangle, Travel Channel
10 p.m. Catherine the Great, HBO
11 p.m. My Horror Story, Travel Channel
Tuesday, October 22
10 p.m. The Misery Index, TBS
Wednesday, October 23
12 a.m. Castle Rock, Hulu
Friday, October 25
12 a.m. The Kominsky Method, Netflix
Saturday, October 26
10 p.m. Destination Fear, Travel Channel
Sunday, October 27
10 p.m. Silicon Valley, HBO
10:30 p.m. Mrs. Fletcher, HBO
Monday, October 28
9 p.m. The Best Thing I Ever Ate, Cooking Channel
Thursday, October 31
12 a.m. Baroness Von Sketch Show, IFC
Sunday, November 3
9 p.m. Shameless, Showtime
10 p.m. Kidding, Showtime
Tuesday, November 5
9 p.m. Running Wild With Bear Grylls, National Geographic
Monday, November 11
9 a.m. Blue's Clues & You!, Nickelodeon
Tuesday, November 12
12 a.m. The Madalorian, Disney+
12 a.m. Legend of the Three Caballeros, Disney+
12 a.m. High School Musical: the Musical: the Series, Disney+
12 a.m. Encore!, Disney+
12 a.m. Marvel's Hero Project, Disney+
12 a.m. The World According to Jeff Goldblum, Disney+
12 a.m. Forky Asks a Question, Disney+
12 a.m. Sparkshorts, Disney+
12 a.m. 101 Dalmation Street, Disney+
Wednesday, November 13
8 p.m. 53rd Annual CMA Awards, ABC
Friday, November 15
12 a.m. Dollface, Hulu
12 a.m. The Man in the High Castle, Amazon
Sunday, November 17
12 a.m. The Crown, Netflix
8 p.m. Ray Donovan, Showtime
Sunday, November 24
8 p.m. 2019 American Music Awards, ABC
10 p.m. Slow Burn, Epix
*A version of this article appears in the September 2, 2019, issue of New York Magazine. Subscribe Now!