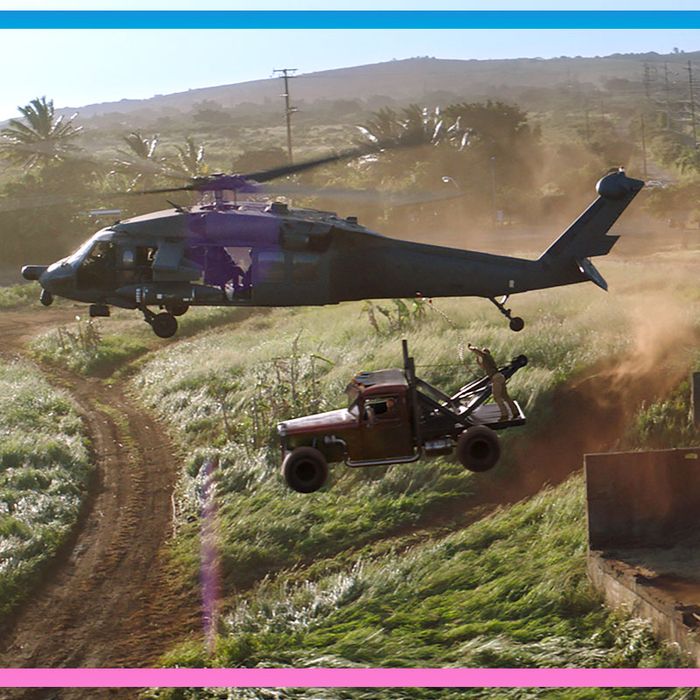 Photo: Vulture and Universal Pictures
Prolific Hollywood helicopter pilot Fred North, veteran of almost 150 films — including Guardians of the Galaxy and Gladiator, as well as franchises like Transformers, Bourne, and the five most recent Fast & Furious films — is in Thailand when I finally catch him on the phone. Days before Hobbs & Shaw is set to hit theaters, he is already working on a new project. Hunkered down in a hotel, he's poring over the many written tests he's required to pass before he can fly in various locations abroad.
"Yeah, it's a pain in the ass," North says, with a French accent and matter-of-fact approach to mortal danger that makes him sound like someone out of a black-and-white caper.
Before he can do things like chase Jason Statham's car from the seat of an airborne eggbeater, North and pilots like him have to make sure they're allowed to fly in the countries where directors want to film. This means filling out worksheet after worksheet, navigating national air-certification details, and taking exams designed for commercial airline pilots. That's his job in a nutshell: stretches of tedious strategizing followed by nerve-racking moments of risk. In his 20 years in entertainment, he's flown straight at all sorts of things you really shouldn't face off with in a helicopter — speeding trains; planes; and many, many explosions — and each time was meticulously planned out.
"It's more dangerous than working at the post office," he tells me of his job. "It's more dangerous than a lot of work, but we try to make it as safe as possible. We need to be able to do 50 times the same thing, again and again and again, in a safe manner. The reason why we get hired by the studio is because we guarantee the safety of the operation. So we push the envelope, but in a safe way."
Like his 143,000 followers on Instagram, I am addicted to watching North pull off stunts. Under the unassuming handle @fred_north, he shares heart-stopping behind-the-scenes footage of helicopters toppling over and spinning like a top on flat land, or spiraling from the sky to the ground in choreographed corkscrews. In one video, a sequence for the upcoming ninth Fast & Furious film, he's flying an orange helicopter so close to the ground that the dust his rotors kick up nearly covers the bottom of the chopper. He's chasing some kind of armored car, which is itself chasing a motorcycle down a dirt road, straight into an extremely dense and not very helicopter-friendly patch of jungle. North glides behind them, pointed straight at the trees. He flies at the trees until what seems like far past the last second, then shoots straight up into the sky and banks deliriously backwards, circling back for another take. The whole thing is over in about ten seconds.
On Instagram, he also responds to fans' unceasing questions about his videos, divulging the mechanics behind simulations and advocating for the movie franchises that take heli-filming as seriously as he does. "Im [sic] curious, do you check visually? Or is there like a setting for the camera that points them out clearly?" one commenter asked recently under a comparatively sedate video of North flying a bright-yellow helicopter down a city street, scouting for wires before an upcoming shoot. His answer was typically sober and detailed: "We scout them from the ground, then put them on a map to count them and understand their orientation and elevation then we fly scout and put 2 spotters at key places to help me when I'm flying." That reply is just one of more than a dozen from him on the same post. Two days later, he was answering questions about how much his helicopter weighs ("depends … but max weight is 2.6 ton"). He tags specific gyro-stabilized and aerial camera systems in his posts, and includes hashtags like #pilotlife and the less inspired #helicopter. On the platform, he's the rarest kind of influencer: a helicopter influencer.
"There's only five guys in the world doing what I'm doing," North says.
The 58-year-old North, who is solidly built and has a head of salt-and-pepper hair, says his unusual career started in 1985, when he was living in France and working as a commercial helicopter pilot. He decided that what he really wanted to do was break into film and TV, so he devised a plan. He bought a bunch of sophisticated aerial camera equipment not readily available in France and began renting it out to studios with a catch: If a renter wanted his equipment, they had to hire North as a pilot on their project, too. "You need to have a name," he explains, "because producers and directors are not going to call you out of the blue."
Slowly, his name did get out, and after a few years, he was able to charge for his services as a pilot alone. "But it took me a while," he emphasizes. His services span three primary roles: He can fly the helicopters moviegoers see onscreen — those are called "picture helicopters." He can fly the helicopters that photograph the action, called "camera helicopters." Then there's the third role he fulfills, called "aerial coordinator," which involves working with a film's director and director of photography to not only identify which shots are possible, but to make sure they're legal to perform in countries like Iceland or the United Arab Emirates or Vietnam. He's become such a rare and vital source for filmmakers that they often refuse to work without him. When Michael Bay learned North would be unable to personally shoot a scene for his movie 6 Underground in Rome, the director hesitated to work with another pilot. "No way!" Bay said to North, "I designed that sequence for you to do your thing."
On the sets of the Fast & Furious franchise films, North typically embodies the latter two roles: He's responsible for many of the franchise's most iconic shots. His specialty is safely shooting from a helicopter while flying through narrow spaces just a few feet from the ground — a standard vantage point in the F&F universe. That scene in Furious 7 when the cars shoot out of a transport plane? He was the only helicopter camera catching the action. The sequence in The Fate of the Furious that involves a car chase across a frozen lake? Same. The race through Havana in that same movie? Ditto.
"I love car chases! I love everything that goes fast and close to the ground," North says. "It's where I can be like myself. That is where my art comes to place. There is no room for error, everything is maxed out."
His penchant for flying close to the ground can be seen in Hobbs & Shaw. When I asked him about the most difficult stunt he filmed for that movie, I was sure he'd cite the sequence in which a series of cars latch themselves to each other in order to weigh down an airborne helicopter, and are then lifted off the ground as the centipede of vehicles winds down a cliffside road in Samoa. Instead, he names a car chase through an abandoned nuclear power plant in England.
"It was extremely confined," he says. "We had 150 feet by 150 feet, and there was a lot of speed and chase in that area … literally the tail of my helicopter was six to seven feet from the cooling tower, and the camera was maybe five feet from the car. And I had to spin 360 [degrees] around that at high speed with a twin-engine helicopter. It is not super-comfortable for me. That was hard." Jason Statham captured the moment in a photo he posted to his Instagram, in which you can see North's helicopter slipping between two huge concrete structures, seemingly feet from the ground. He captioned it, in part, "@FredNorth for making the impossible possible."
The most difficult scene from his career, however, occurred out in the open, on that frozen lake featured in 2017's Fate of the Furious. You can see him, in his helicopter, around 00:12 in this video, following close behind a fleet of around 30 vehicles, including armored personnel carriers, trucks, snowmobiles, and an orange Lamborghini. "I don't know if you ski, but if you ski on a cloudy day you can't really see, you don't have depth perception," he says. "We have the same issue, which means if it's cloudy, I don't really see if the snow or ice is close to me or not. You can get confused. It's extremely dangerous … and on the ice, and you have no reference whatsoever on the ground."
North possesses the ability make threading his helicopter through a pair of skyscrapers sound simple, and filming a car chase almost sleepy. But if one subject gets him worked up, it's drones. The quality and availability of drones — small, unmanned flying machines that are also very good at aerial photography — has increased exponentially in recent years. But North isn't ready to lose his job to a robot just yet.
"It's impossible," he says. "First of all, before I go there, the drone does not … You don't have a human being inside that can see the shot. Okay? The guy's on the ground. There's a disconnect between the camera and the person operating the camera. The drone will always be behind the action, because it doesn't see it. It can only do the preplanned shots. There's no magic to that."
Then there are the functional setbacks. Good lenses and camera stabilizers can run well over 200 pounds, but drones usually have a weight limit of around 55. Lenses matter, and North's Instagram is a good reminder of this. His account has more in common with makeup influencers or fashion brands than "beautiful photography" accounts like National Geographic: If you like what you see, there's a way you can buy it. It's why I shelled out almost $30 to see Hobbs & Shaw in 4DX, so I could experience the whooshes of air and camera dives teased on his Instagram. It took me out of myself for at least a little while — I switched off and was thrilled and transported. As it turns out, this is a gift North usually can't get for himself.
"When I do the stunt I am so focused I don't … No, I don't enjoy anything. [In between takes], then I'll enjoy the scene," he said. "I don't necessarily love before, but I love after."