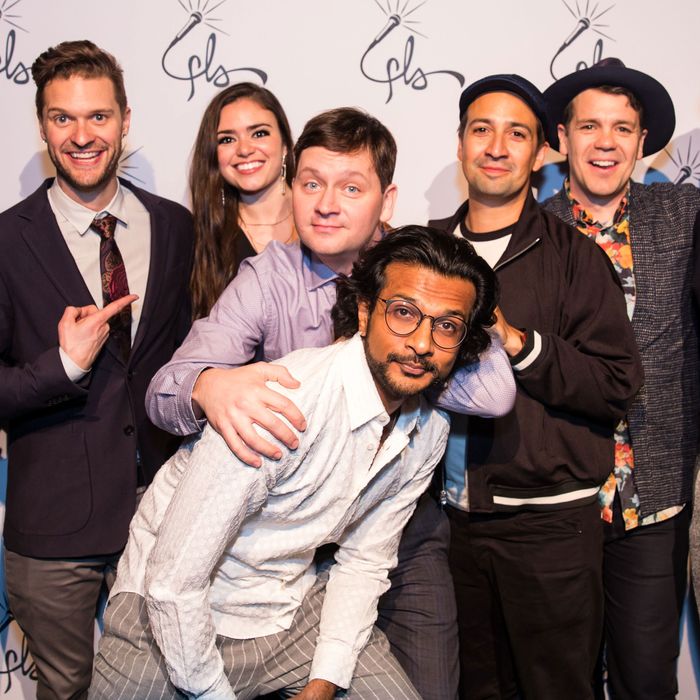 From left to right: Arthur Lewis, Andrew Bancroft, Ashley Pérez Flanagan, Chris Sullivan, Utkarsh Ambudkar, Lin-Manuel Miranda, Anthony Veneziale, and Christopher Jackson.
Photo: Courtesy of Freestyle Love Supreme
Back in the days before the madness that surrounded Hamilton, or even In the Heights, there was Freestyle Love Supreme, the improvisational rap group created by Thomas Kail, Lin-Manuel Miranda, and Anthony Veneziale that first performed together in 2003, and had their first official run in 2004. Since then, the group has grown in size, as each of its members has also gotten a lot more famous. Looking back at the group's history, Kail jokes that you can date photos by "how tired Lin is," back before he had the "weight of the world on his shoulders" thanks to Hamilton. Looking back at Freestyle Love Supreme's history, as it turns out, was exactly what we asked Kail to do, walking us through a miniature history of the group by way of photos they took over their decade and a half together.
Before we get to that, a little basic information: This fall, after a successful run Off Broadway, Freestyle Love Supreme is reuniting on Broadway starting September 13 at the Booth Theatre, with a core cast that includes Andrew Bancroft, a.k.a. "Jelly Donut"; Arthur Lewis, a.k.a. "Arthur the Geniuses"; Bill Sherman, a.k.a. "King Sherman"; Chris Sullivan, a.k.a. "Shockwave"; Anthony Veneziale, a.k.a. "Two-Touch"; and Utkarsh Ambudkar, a.k.a. "UTK." There will also be special guests, including Lin-Manuel Miranda, Christopher Jackson, Daveed Diggs, James Monroe Iglehart, Wayne Brady, and Ashley Pérez Flanagan, who show up in photos along the way. Now, let's get to the digital archives.
As Kail remembers it, Freestyle Love Supreme first came together after he and Miranda started working on In the Heights in 2002. "Lin and Anthony [Veneziale, a.k.a. "Two-Touch"] would be freestyling during our breaks from rehearsal for In the Heights," Kail says. "I would say, 'Anthony, will you stop distracting him?'" Through that show, they got together with actor Christopher Jackson and composer slash producer slash keyboardist Bill Sherman, while Arthur Lewis and Miranda were friends from high school.
The promo art above, as Kail tells us, is "from early days because Bill Sherman is still playing the saxophone." The mock-up album cover gives a sense of the nicknames that are crucial to the group, though as Kail points out, "Lin was not yet Lin-Man and Chris Jackson was not yet C. Jack and Bill Sherman was apparently not yet King Sherman." Shockwave (Chris Sullivan), as Kail remembers, introduced himself with a nickname already intact when the group was first performing at the Peoples Improv Theater. "He said, 'My name is Shockwave. You need a beatboxer.' Shockwave came fully monikered."
This picture hails from Freestyle Love Supreme's time at Ars Nova in 2004, which Kail describes as "life-changing" for the group, since it was the first time he or Miranda had been paid to perform. "We were doing it five or six times a week," Kail says. "We took this one-off show we were doing and then we had to create a structure that could be solid and then also evolve. The shape of the show started to emerge then." For instance, when the group did its opening number there, most audience members wouldn't believe it was made up on the spot, so the group came up with a bit dubbed "foundations of freestyle" where they'd solicit nine or ten words from the audience and work them into a performance to showcase their flexibility. "That was the kind of thing in that small space that we were finding and perfecting," Kail says. "We still haven't perfected it, of course."
As the group grew in recognition, it moved between the comedy and theater worlds, appearing at the Aspen Comedy Festival in 2004, and the Edinburgh Fringe Festival in 2005. That's where Miranda and Jackson are above, goofing off in their free time. "Because we really started Ars Nova as this intersectional space, and we went straight to the comedy world with the act, and then we went to Edinburgh. Edinburgh can be anything. You're right next to the contortionists," Kail remembers. "You're right next to the people that are doing their high-school Shakespeare production from Tennessee. Literally anything goes. Then we went back to the comedy stuff for Melbourne and then the Just for Laughs in Montreal, but then in New York, we were playing a lot of these much more traditional music spaces. That was fun. It was fun being able to bounce around like that."
As they bounced around, the group incorporated new members, including Utkarsh Ambudkar and James Monroe Iglehart. "James and Utkarsh both came through the same audition rehearsal," Kail remembers. "They met on that day."
The group was less active as a whole during the latter half of the 2000s, considering that many of its members were getting busy elsewhere, particularly with the Broadway run of In the Heights. After In the Heights opened on Broadway in 2008, the group started to play for larger audiences, such as at Irving Plaza in 2011, as pictured above. "I remember we sold out Irving Plaza after we were on Broadway for a little while with Heights," Kail says. "It was the first understanding that we had of, 'Oh, there's a larger audience now.'"
Freestyle Love Supreme also got together for a TV show that ran on Pivot. "What was really cool about it is they gave us a lot of space and room," Kail says. They shot a promo for it in 2012, the source of the photo above, and based the plotlines for the TV series around ten live shows they performed at Ars Nova.
"There's an episode called 'Eat Me.' The whole runner becomes the guys looking for ramen," Kail says. "That came from a show we had done two weeks ago where someone suggested ramen." As the group grew, it also started to work with Wayne Brady, a friend of Christopher Jackson's, with whom they'd filmed an Adult Swim pilot in 2012.
In 2013, ESPN sent the group down to New Orleans to film material for SportsNation, including building improv around the different celebrities. That meant a clip with Eli Manning, seen above, as well as one bit about Cris Carter, which ended in the refrain "Put the damn man in the Hall of Fame" (something that happened that year). In New Orleans that year, the group also performed with Daveed Diggs, and as Kail remembers, it was when he and Diggs talked about the next big thing they'd do together. "Daveed first heard about Hamilton waiting to go on," Kail remembers.
This picture comes from Freestyle Love Supreme's Off Broadway run earlier this year, though the tattoos didn't all get inked at once. "They each got their tattoos at different times. I don't remember when or who. I don't remember why also, but that's another question," Kail says. "The last episode of the Pivot television show is Bill Sherman getting his tattoo. The episode is called 'Do No Arm,' which we thought was pretty funny."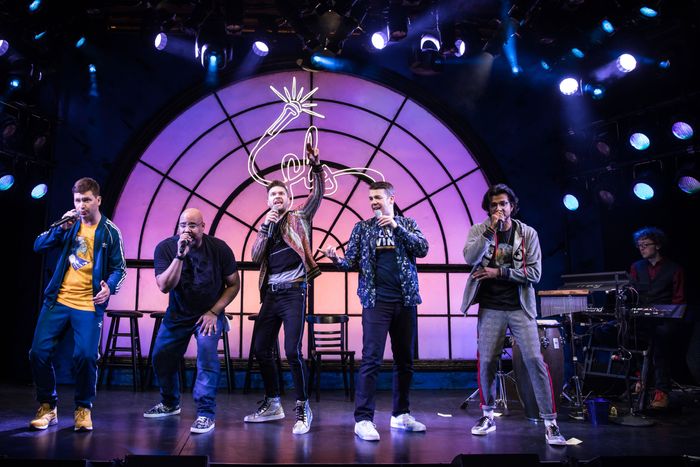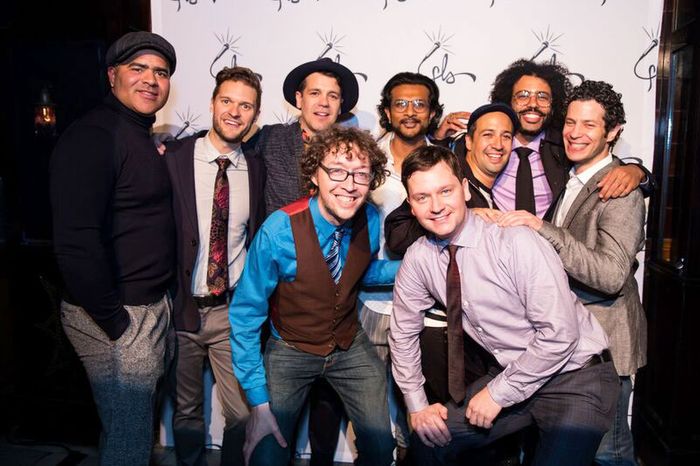 The idea for an Off Broadway run itself was spurred when Ars Nova found a new space downtown at the Greenwich House Theater, and Kail offered to see if he could get the group together for a set of performances, and got in touch with the rest of the group. "We are all on a big group text, which means GIFs, but every now and then some work gets done," Kail said. "I sent out a flare about it, and in 24 hours I had enough of a core group that I could have enough people if we rotate it in to bring them back … I don't think any of us necessarily thought we'd get a chance to then do the show on Broadway," he added. "I think as some of us have gone on to do some other things, there's something about being connected to this, the spirit of who we were then and what the show was then, that is quite rejuvenating."