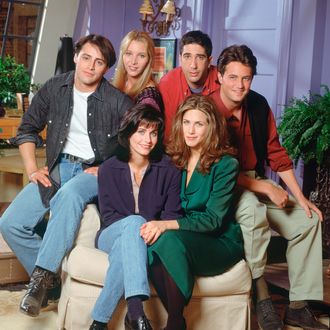 So young!
Photo: NBC/NBC via Getty Images
Over the past few years, almost all of Friends' stars have offered their points as to why a reboot or reunion of the show would be a very bad idea. Now, the showrunners themselves are also banishing the idea, à la "the Rachel" in season three. (Or, uh, Marcel.) Speaking at Friends' 25th-anniversary panel at the Tribeca TV Festival on Friday evening, Marta Kauffman and David Crane confirmed that they'll never, ever be seduced by a large payday to revive the show. It's really done, folks! Just watch it on Netflix while you still can!
"We will not be doing a reunion show, we will not be doing a reboot," Kauffman said. "There are two reasons for that. One of them is, the reason we won't be doing a reunion is this is a show about that time in your life when your friends are your family, and once you start having family, that changes. It wouldn't be at what's at the heart of the show. The other reason is, it's not going to be what we did."
"We did the show we wanted to do," Crane added. "We got it right and put the bow on it that we wanted to put. As Marta says, if you visited those characters now, it would just have a different DNA and it would just not be the same show. Chances are it wouldn't be as good of a show. This feels like this is the show, so why go back to the well?" The last time the cast reunited, in the basic sense of the word, was back in 2016 when 83.3 percent of them appeared (and fielded questions) at a tribute for director James Burrows. Sometimes they hang out on Instagram and look really cute, though.