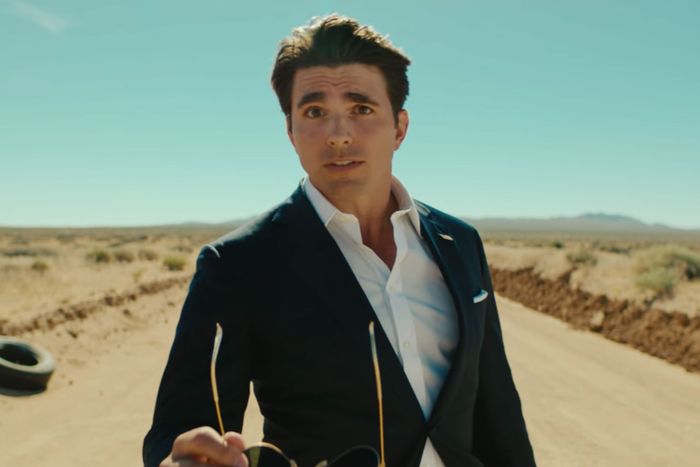 Miles Fisher in
Tom Cruise 2020.
Photo: YouTube
Beginning this month, the "This Week in Web Videos" column will be appearing once every four weeks as a roundup of the most noteworthy work that's crossed our Twitter feeds, in-boxes, and browsers during that time. This month, we've got a lovely little potpourri of old faithfuls and brand-new voices, featuring live-action, animation, theater performances, and high-production-value short films. Oh, and Tom Cruise. Basically.
Tom Cruise 2020 (Presidential Campaign Announcement), by Miles Fisher
The first time I watched this video, I honestly thought it might be Tom Cruise, and I was confused why actor Miles Fisher had sent it to me (I didn't know at the time that he'd played Cruise before, in Superhero Movie and Entertainment Tonight). That's how good Fisher's Cruise impression is. In this faux 2020 presidential campaign ad, Fisher's every intonation and movement is pitch-perfect. It's not like we're talking about low-hanging fruit like Christopher Walken or Morgan Freeman here. Tommy's tough to do, and this short deserves all the attention it's getting. Oh, for another mindblower and a little trot down memory lane, check out his Christian Bale.
Recording Booth, by Dad's New Apartment
There's nothing wrong with a looping misdirect sketch — you know, one of those in which a character thinks they're doing something right, only to find out they're actually doing it wrong, and, try as they might, it keeps happening again and again and again. These sorts of little comedy puzzles can be downright magical if executed right. Sketch group Dad's New Apartment has indeed executed with a recording-studio sketch in which Edgar Winter (Jacob Gerstel) lays down undeniably strong vocals for his hit "Free Ride," only to have the audio engineer (Courtney Paige Barnett) and record exec (Griffin Patrick Davis) tell him his performance needs work … even though they appear to be absolutely loving it when he's singing. Get what a looping misdirect sketch is now? Good, because I just made up that term. Sort of makes sense though, yeah?
Fosse Bomb Squad, by House of Birds
New York–based UCB Maude team House of Birds imagines what it'd be like if a bomb beeping on the twos and fours confounded the city bomb squad and could only be diffused by — you guessed it — a team of Fosse-trained jazz dancers familiar with that two-four time beat. Delight as much in Nate Bennett's writing as Iman Richardson's impressive moves and Mary Cait Kelly and Brian Morabito's bumbling bomb-diffuser shticks.
Concealer, by Kristine Gerolaga
Part of an Amazon FireTV and ATTN co-produced short-film initiative, Concealer seems like it may only be available to people who have Prime memberships, which admittedly is kind of annoying. We're including it because it introduced us to writer-director-actor Kristine Gerolaga who, in an impressively stylized effort, has crafted a short about beauty-product pyramid schemes that features one of the best short performances this year, thanks to a turn from Stacie Gancayco-Adlao as an unhinged "Cherry Cheeks" makeup saleswoman. Is this the Filipinx Get Out? Probably not, but it's really fun and establishes Gerolaga as a creator to watch.
The Good Samaritan, by Felipe Di Poi Tamargo
Felipe Di Poi Tamargo is no stranger to our column, and videos like The Good Samaritan should clear up why. With a rapier wit and the illustration skills to create worlds that terrify as much as they entertain, Tamargo is a treasure in waiting. In this one, a mild-mannered Scandinavian man leaves increasingly alarmed voice-mails for a person he's never met, letting them know that he's found their phone number on a slip of paper and will not, under any circumstances, lose said number. What happens when he does? All hell breaks loose. Well, in a mild-mannered Scandinavian way.
Luke Kelly-Clyne is executive producer and head of development at Big Breakfast and a watcher of many web videos. Send him yours @LKellyClyne.