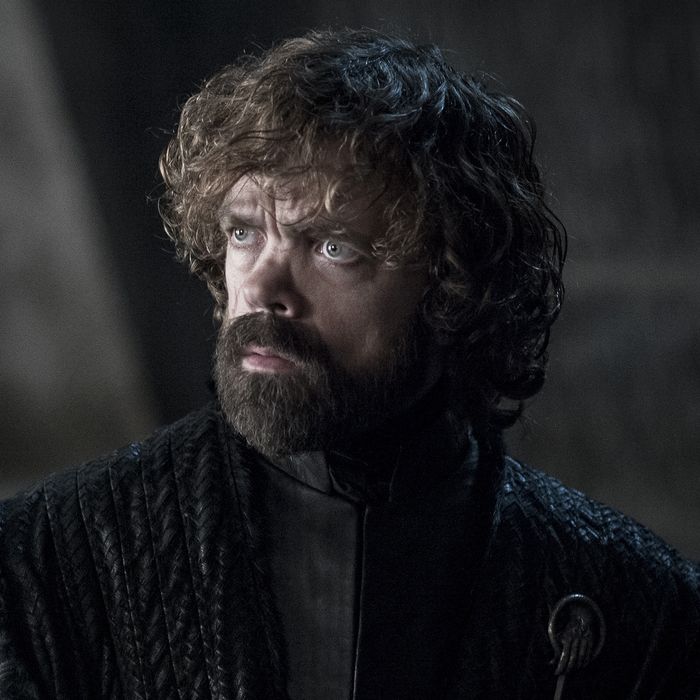 Don't look at me like that, Peter Dinklage, you have plenty of Emmys!
Photo: HBO
Game of Thrones wasn't just the biggest show of the last TV season, it defined a whole era of television. When network executives talk about looking for a big hit, it's framed as trying to find "the next Game of Thrones." It seeped into the zeitgeist in an inescapable way, becoming a lens through which to view almost everything to do with culture and politics. No one will ever be able to talk about what happened to television in the first part of the 21st century without talking about Game of Thrones.
But that doesn't mean that Game of Thrones needs to win any more Emmys. And although it almost certainly will win a bucketful of statues at this weekend's ceremony — to add to the ten (yes, ten) it already snapped up at last weekend's Creative Arts Emmys — I wish it wouldn't.
This is not a knock on Game of Thrones, a show whose dominance is so indubitable that trying to claim it's not worthy of Emmys would be like trying to argue that the sun doesn't rise in the morning. Of course it's Emmy-worthy! We all know that already, because it has been nominated for 160 Emmys, and it's won 57 of them. I assume when they deliver the GOT awards to the HBO offices every fall, a truck backs up to the building and dumps them in a giant pile in the parking lot. The fact that Game of Thrones is an Emmy-winning show is now so overdetermined that each new award has diminishing returns. At this point, giving Game of Thrones an award feels more like a shrug than it does a cause for celebration.
Especially for the final season of a major show, a congratulatory round of last Emmy awards can feel like a required farewell wave. The acceptance speeches are like valedictorian addresses, or even worse, a retirement-party speech. The resulting applause is less about raucous excitement and more about knowing nods. They are awards of inevitability.
Wouldn't it be nice if, rather than this year's awards becoming a rote, unsurprising victory lap for a show that's already smashed Emmy records, the award for Outstanding Drama Series could go to a new show? Imagine if it went to Pose. It'd be a way of celebrating how fantastic that show is, while also acting as a larger statement about TV's crucial and still-incomplete embrace of marginalized voices. Imagine if it went to Better Call Saul, one of the best shows on TV that's also gotten criminally little recognition. Imagine if it went to Succession, a show that, yes, is actually a comedy, but is so amazing that it frankly deserves the drama award anyhow. Giving the major Emmy awards to anything other than Game of Thrones could turn them into actual statements that might help define a new understanding of what great TV is. Giving those awards to Game of Thrones only reinforces dusty conventional wisdom.
Okay, so yes, this is also a knock on Game of Thrones. Neither of the season-eight episodes nominated in the directing and writing categories were the best of the season (it was "A Knight of the Seven Kingdoms," hands down). In fact, one of the episodes nominated for best directing was also famously impossible for many TV viewers to even see. The show's series finale, "The Iron Throne," is nominated for best writing, and although it is an overwhelming show of CGI spectacle, the writing is … not its best quality. It's certainly not a more impressive script than Better Call Saul's "Winner," or Succession's "Nobody Is Ever Missing." For as era-defining as Game of Thrones has been, the final season is just not the best of the series.
I will, however, offer one caveat to this argument. Only one actor on Game of Thrones has ever been recognized for his work (Peter Dinklage). If Game of Thrones must continue winning Emmys, they should go the actors who've been playing these characters for years, and they should especially go to Emilia Clarke and Gwendoline Christie. Christie's performance in "A Knight of the Seven Kingdoms" is heartbreakingly great (and she had to submit herself for the nomination!). Emilia Clarke as Daenerys was primarily responsible for what did work about the show's shaky last episodes. The script may not have given her much support, but Clarke sat on top of that CGI dragon and sold the heck out of her role. She deserves to win.
Otherwise, though, the time for a grand Game of Thrones awards sweep has come and gone. It's gotten plenty of Emmys. It's gotten plenty of recognition, and it does not need any more gold statues. Let someone else have a chance, and let the Emmys reward the future rather than looking to the past.