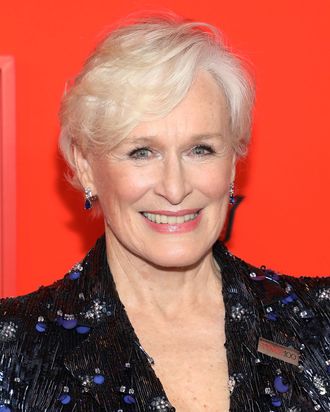 Photo: Taylor Hill/FilmMagic
Glenn Close's infatuation with Instagram is truly the gift that keeps on giving. Who could forget Glenn's poetic musings on the Notre Dame? Who among us didn't shudder with terror when we couldn't tell if we were watching Glenn Close or Woody Harrelson? On Wednesday night, Glenn Close's Instagram gave the world yet another gift by featuring the actress slapping a magician across the face with no explanation whatsoever.
The video captioned "Fun with Derren Brown!" features Glenn Close and British mentalist Derren Brown engaging in a slap-off of sorts. It begins with Glenn Close gingerly slapping Brown across the face and then — quite shockingly — Brown slapping Close right back. Don't fret, because Glenn gets the last and most palpable hit before letting out what can only be described as a truly maniacal laugh. "I'm tough. That was really good," Glenn says, as Derren Brown laughs and nods along while he massages his face. The video ends somewhat mysteriously with the phrase "To Be Continued …" appearing onscreen with both the "To" and the ellipses partially obscured.
What forces of nature brought these two individuals together to slap each other silly? Who is sitting in the audience off-screen, laughing along as Derren Brown gets absolutely rocked by Glenn Close? Why didn't Glenn Close take the time to properly fit "To Be Continued …" into the final frame of her Instagram video? We may never know the answers to these questions, but we do know that we're incredibly grateful that all of this occurred. It's now clearer to us than ever that if the Academy gave out Oscars for Instagram usage, Glenn would not be empty-handed.