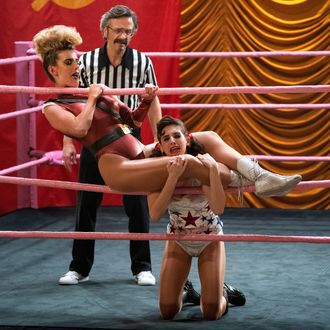 Photo: Ali Goldstein/Netflix
It's the final countdown … to the end of GLOW. The Emmy-winning women's-wrestling comedy-drama will return for a fourth season, Netflix said Friday, but it will also be the show's last. While GLOW has generated strong reviews and buzz, Netflix of late has leaned toward ending well-received shows after as little as two or three seasons — sometimes without giving creators a chance to properly wrap things up. Against that new reality, ending GLOW after four seasons doesn't come as a major shock, and the advance notice means showrunners Liz Flahive and Carly Mensch will be able to give their '80s creation a well-planned farewell.
GLOW, loosely inspired by an actual TV show from the Reagan years, began as the story of estranged friends and Los Angeles actors Ruth (Alison Brie) and Debbie (Betty Gilpin), whose respective career trajectories found them taking gigs on an upstart women's-wrestling show headed up by a struggling B-movie director (Marc Maron). The series quickly expanded its focus to include the show's larger, mostly female ensemble. Season three debuted on Netflix last month.
There's no official word yet on when GLOW will drop its final season, but the series has stuck to a summer-premiere pattern since its 2017 debut, so a summer-2020 return is certainly conceivable (though by no means guaranteed, given the increasing habit of cable networks and streamers stretching the space between seasons to as much as two years). In addition to Mensch and Flahive, Jenji Kohan, Tara Herrmann, and Mark Burley are all set to return as executive producers of the final season.