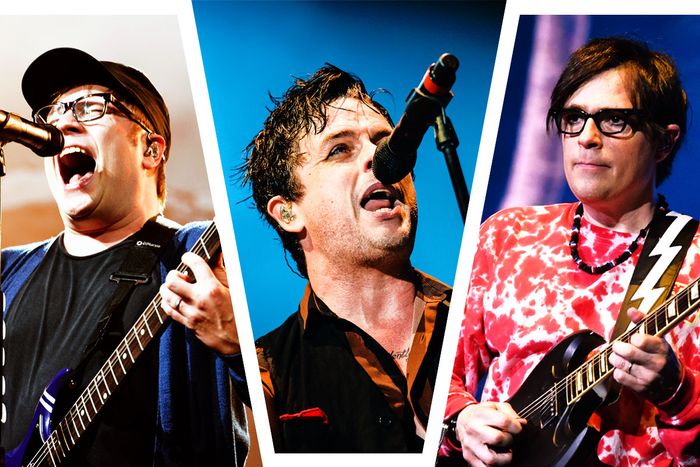 Photo: Vulture and Getty Images
How has a Weezer, Green Day, and Fall Out Boy joint tour not happened outside of our dreamscape? The three legendary rock bands are joining forces across the globe on the Hella Mega Tour. Not just mega, hella mega and that's because on top of performing classics as crowd members recall their lost youth, all three bands are taking brand-new albums on tour. And the fun starts today. Each band released brand-new singles to kick off the chaos. Green Day's track, "Father of All … " (ellipses included) is the lead single from their forthcoming album of the same name. The song comes with a little poem from Billie Joe Armstrong himself. "Me mike and Tre of the Green Day cut through the bullshit," reads the YouTube description. "That's how it's always been for us." Father of All … arrives February 7, 2020.
Meanwhile, Fall Out Boy served up their song "Dear Future Self" (featuring Wyclef Jean) on a cone, with an ice cream–focused music video. Their album Greatest Hits: Believers Never Die - Volume Two is the first of the three albums to arrive, dropping on November 15. Last but definitely not least, Weezer released a full music video for their single "The End of the Game" from Van Weezer. The album won't be out until May 15, but Weezer "might release it sooner" just 'cause. Rules don't apply when you're actively going down in history. Tickets to the Hella Mega Tour go on sale September 20 via Ticketmaster and performances kick off June 13, 2020 in Paris. Recuperate from all of this info by listening to the new singles below.