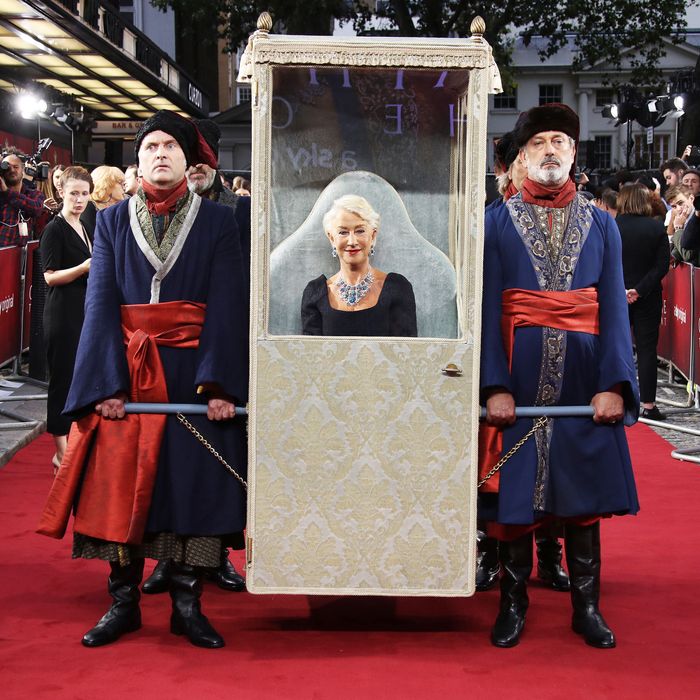 Photo: Mike Marsland/WireImage
What does the word "sedan" mean to you? If it conjures images of sensible four-door family cars and squishy Uber Pools, I regret to inform you that you are, in fact, a pleb. Now kiss the ground that Dame Helen Mirren walks on floats above! For she appeared in true royal fashion to the Wednesday night London premiere of her HBO limited series, Catherine the Great, carried in a proper sedan, which is to say, an enclosed chair suspended on poles, held aloft by peasants. When it comes to an actress as peerless as Mirren, who has portrayed such distinguished characters as the Queen in The Queen and Mother Ginger in The Nutcracker and the Four Realms, it is difficult to tell whether or not this grand entrance was an example of Mirren arriving "in-character" or whether this is just, you know, how she gets around.
Mirren is not the only celebrity to be carried across a red carpet by manservants in 2019. Remember Billy Porter on a velvet palanquin at the Met Gala? These footmen are, erm, not that, because no one can detract from Mirren's shine. You can watch her talk about the role, get carried in, and do a little dance here.
Watch these belled sleeves and sleepy old cartoon-man Santa caps be everywhere on red carpets and Strategist posts next season. Mirren looks the appropriate amount of bored here. Clearly, that Hundred-Foot Journey across the red carpet would have been entirely too much.
Who's this joker on the left? How very dare you side-eye your queen? Is Mirren signaling to a different henchman to chop off his head right now? Or is she finger-wagging along to theme music? The sedan is transparent, but Mirren remains sphinxlike and elusive!
This is living art. This looks like an unboxing of the most opulent limited-edition Barbie doll ever made. This looks like promo art for Life Size 3.
A serve!