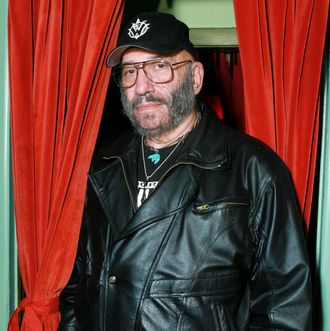 Photo: Alex Berliner/BEI/Shutterstock
Shortly after being involved in an unspecified accident earlier this month, actor Sid Haig died over the weekend. His wife, Susan L. Oberg, posted to his Instagram that the actor was recovering from some sort of incident, but she did not go into detail about what happened. Days later, she posted an update that he was "winning the fight" but made the announcement today that he'd died on Saturday. "My light, my heart, my true love, my King, the other half of my soul, Sidney, passed from this realm on to the next," Oberg wrote in the photo caption. "He has returned to the Universe, a shining star in her heavens. He was my angel, my husband, my best friend and always will be. He adored his family, his friends, and his fans. This came as a shock to all of us." She concluded by saying, "Goodnight, my love. We will find each other again, next time. I love you."
Haig started acting in the 1960s, appearing on various television shows and in films like Blood Bath and the science-fiction classic THX 1138. His most high-profile role came after he started collaborating with Rob Zombie, taking the role of the mad clown Captain Spaulding in House of 1,000 Corpses, a defining entry in the hardcore-horror era of the 2000s. He reprised that role in the sequel, The Devil's Rejects, and was meant to play a starring role in Zombie's final film in the trilogy, 3 From Hell, but his health prevented him from being able to participate beyond a cameo role.
Zombie said of Haig's condition around the time of that film's production, "The movie that I prepped to make, and was getting ready to start shooting, it was Captain Spaulding, Otis, and Baby, the three originals," the director explained. "But three weeks out from shooting, I got a call from Sid Haig. He had been in the hospital, and he had just had surgery, and he was now recovering in a rehabilitation facility. I'm like, holy shit, this is a serious business. So I went to see him, and he had changed drastically from the last time I saw him. Because Sid, he's big and burly, and now he's tiny as a skeleton. So I was like, oh man. I kind of realized, yeah, he's in rough shape."
Haig was beloved in the horror community and a familiar presence on the festival and convention circuit. He was 80 years old.