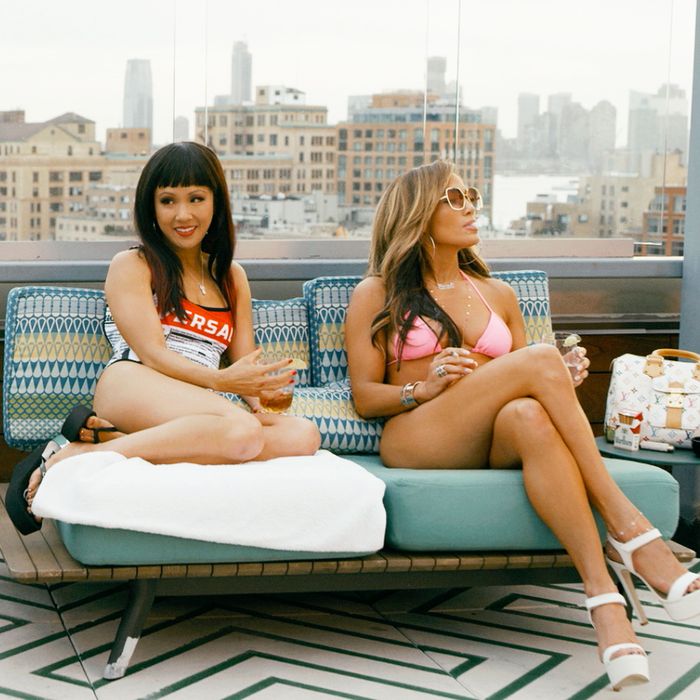 In the scam saga Hustlers, Jennifer Lopez, Constance Wu, Lili Reinhart, and Keke Palmer portray a quartet of pole-dancing strippers who devise a scheme to drug and dupe Wall Street bros out of hundreds of thousands of dollars. Over its opening weekend in theaters, the film (developed from a 2015 New York article by Jessica Pressler, "The Hustlers at Scores") made off with an unexpectedly robust $33.2 million at the box office, surpassing prerelease tracking estimates by more than $8 million. On the astronomically high heels of ecstatic reviews out of the Toronto International Film Festival, where Hustlers premiered last Saturday night, that debut stands as J.Lo's biggest non-animated movie opening to date, as well as the strongest bow for any film green-lit by Hustlers' five-year-old distributor, STX Entertainment.
"The unexpected success of Hustlers is exactly what the industry needs after a summer of disappointing performances by non-franchise, adult-driven dramas that seemingly could not rise above the noise and bombast of their big-budget, franchise-powered counterparts," says Comscore senior media analyst Paul Dergarabedian. "The film's marketing campaign has been solid from the start. But it's the rave reviews, star power, and, most importantly, the Zeitgeist buzz that have taken Hustlers to the next level and have made it the rare non-franchise event film."
Although the $20 million comedy-drama — which features Cardi B and Lizzo as fellow strippers — couldn't steal the top spot from It: Chapter Two ($40 million over its second weekend in release), Hustlers' success arrives as a striking reversal of fortune for a film that came perilously close to not getting made at all. Initially set up at Annapurna Pictures with filmmaker Lorene Scafaria (The Meddler, Seeking a Friend for the End of the World) attached as screenwriter, the project was dumped when the Megan Ellison– studio hit a financial rough patch in October 2018. Scafaria (who wanted to direct the film), Lopez (who was also attached as a producer), and her producing partner Elaine Goldsmith-Thomas had to set off, hats in hand, around Hollywood, pitching new backers on their all-women Robin Hood–meets–Ocean's 11 crime romp.
Outside of 2012's Magic Mike (and, to a lesser extent, The Full Monty), films plotted around strippers haven't fared well at the box office. But thanks to Lopez and Goldsmith-Thomas's preexisting relationship with STX (which had released the Lopez-starring 2018 dramedy-romance Second Act), the trio found a receptive audience in the studio's chairman Adam Fogelson. He realized Hustlers' potential to connect at the multiplex, where so many other male movie executives did not. "We were intrigued by the opportunity for a female writer-director, primarily female producers, and an almost exclusively female cast to take a based-on-a-true-story look at this world," Fogelson says. "Whether it's The Wolf of Wall Street or GoodFellas, people tend to love entertaining crime stories. The fact that the likable criminals were women and not men struck us as only a positive."
STX's unique business formula involves making movies featuring big stars "for a price" (that is, a low price), then tightly focusing their marketing efforts to spend about half of what other studios have shelled out to promote comparable female-centric films like Ocean's 8 or Girls Trip. To get Hustlers in front of the widest possible audience this weekend, STX took a four-pronged approach:
Playing the Cardi B Card
Although real-life stripper-turned-rapper Cardi B only delivers a supporting performance, the filmmakers and studio executives felt her participation would play a key component in both establishing Hustlers' cultural credibility and marketing the film. In Vulture's oral history of the film, Lopez explained how she personally called the multiplatinum-selling "Bodak Yellow" MC and "told her she had to do it."
"One of the big conversations we had was, 'How do you fill out this cast in a way that creates hype around the movie but also creates authenticity for the movie?'" Fogelson says. "Everything you see in terms of Cardi wasn't originally scripted, because she wasn't attached to the movie when we took it on."
Music created another viral marketing opportunity. "Having Cardi B's 'Money' song as the anthem for this film with the connection of her being in it was another huge element," he says. "I had the benefit of working on the marketing campaign for Eight Mile many years ago. And that Eminem song so clearly became the anthem for the film, you literally didn't even need to see an image to know that was what was being talked about or sold."
Where to Park the Trailer
While most movie trailers are unleashed on the internet four to six months prior to a film's theatrical debut, STX made the relatively risky move not to unveil promotional clips until just a few weeks before Husters' multiplex rollout. "We launched the trailer for this movie two months before it came out, which is, by all traditional measures, an impossibly short window of time to get a movie to reach critical mass in the marketplace," the STX chairman explains. "Along with the filmmakers, we believed that any longer than that, you were actually going to run the risk of running out of steam. Because there was so much interest and so much enthusiasm for what this film was, how it was being made and who was in it, we believed that compressing it down to this time frame was going to create some sort of maximum sustainable enthusiasm to reach opening day."
Clearly Positioning Hustlers as a Movie About Women by Women
Heading into opening weekend, studio executives correctly predicted the majority of Hustlers' audience would be women (on Sunday, STX put out an announcement confirming that 67 percent of attendees were female). The marketing team deliberately sidestepped marketing materials showcasing the actresses in barely-there outfits, instead choosing to emphasize the characters' full-fleshed humanity — even if that meant avoiding the kind of sexy spectacle that would, under ordinary circumstances, be a marketing go-to. "The movie is definitely shot from a female point of view," says Fogelson. "It does not gratuitously present the world of a strip club, while still actually presenting an authentic and sexy version of it. It's not a male gaze we are looking through."
"It would have been possible in marketing materials to have very specifically selected certain moments that would have risked not reflecting that vision," he continues. "And we wanted to be very careful never to err on the side of oversexualizing what this was."
No Reason to be Antisocial
Fogelson waves away the idea that stars with giant social-media followings can somehow translate Facebook friends into ticket sales. But it's impossible to ignore the principal cast's social clout: Lopez has 100 million followers on Instagram, Cardi B has 50 million on the platform, and Reinhart has 19 million. The trick, the executive explains, is harnessing the actresses' social engagement to get moviegoers more excited about the movie than they already were.
"We can go through a laundry list of people who have lots of followers who say, 'Come see my movie' and it doesn't work out," the chairman says. "There is evidence, however, that if you have a movie that people want to see and you have an incredibly sophisticated and socially engaged cast, you can amplify that message and meaningfully contain marketing costs — to the benefit of all the talent, who in one way or another will participate in the financial success of the film."
He adds: "But if we didn't have a movie people wanted to see, it wouldn't have mattered."