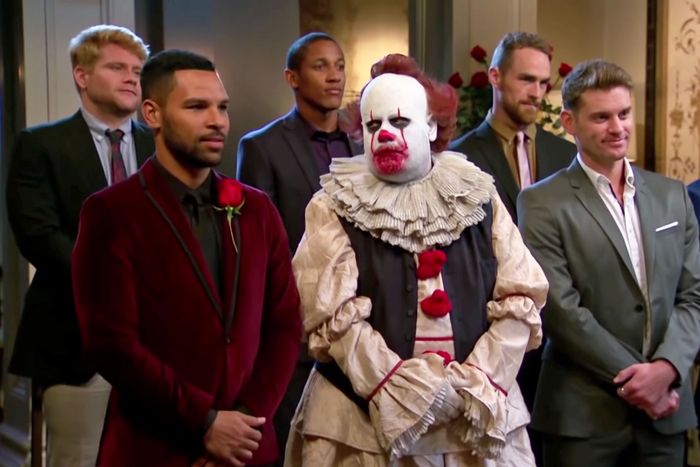 James Corden on
The Late Late Show.
Photo: YouTube
When you have a topical news show, the sheer amount of current events to cover can feel daunting. It's a tempting short cut to just smoosh two news items together and call it comedy. This week, the formula could go "[Dem Debate] + [Are You the One Finale] = Joke???" and create a sketch about whether or not Marianne Williamson and John Delaney used the boom-boom room. It wouldn't be satire, per se, but it'd be damn close. This week, not only did James Corden succeed with this mash-up comedy, life itself provided juxtapositions that nearly broke my brain. Let's look back at what worked best this week in late night.
5. Seth Meyers Interviews the Crane Wife
I wanted to include the latest "Jokes Seth Can't Tell" in this list, because it provided the very satisfying mash-up of "Lesbian Andrew Dice Clay Making U-Haul Jokes," but I needed to highlight this interview with CJ Hauser. It's not especially gut-busting, it just harkens to what late night used to be. Fiction authors (other than just Stephen King and John Grisham) used to get talk-show appearances. When all the talk shows were in New York, there was a literati glamour attached to late night. It rarely happens now. Instagram poet Rupi Kaur was on Jimmy Fallon last year, and the incongruity nearly gave me shingles. Bringing on the lady who wrote a viral Paris Review essay is a Dick Cavett move, and I'm here for it. Seth Meyers is definitely the most likely host to invite an author on, and other hosts should follow suit and bring some schmancy to their shows.
4. Jimmy Kimmel Documents the Many Hair Flips of Bachelor in Paradise
From a literary novel about field biologists to a different kind of exotic wildlife — the hunky dullards of BIP bring a different kind of glamour to TV, one that Jimmy Kimmel is obsessed with. John Paul Jones has swoopy hair that would make a Romeo + Juliet–era Leonardo DiCaprio quake with jealousy, and a hardworking editor on Jimmy Kimmel Live! documented every flip of those golden tresses. God bless Jesse the editor.
3. Kim Kardashian West Says Voice-mail Is Over
Any time you watch Kim Kardashian West on a talk show, it's to see cracks in the media-training veneer. One such moment occurred when Kim and Jimmy Fallon shared embarrassing phone secrets. Fallon had to share his voice-mail message (an obvious work, and excuse to show off his Lin-Manuel Miranda VM), which made Kim question if anyone even has voice-mail anymore. Surely everyone has let their voice-mail fill completely so no one can leave you another message ever again, right? No? That's just Kim? That's wildly selfish behavior? Cool, just checking.
2. James Corden Is the Bachelor-It
Just adding Pennywise to any old situation is nothing, but Pennywise being on The Bachelorette highlights the criminally negligent practices of the Bach Nation and their screening of bad dudes. Sometimes warning signs are all over the shop, yet somehow a creep of killer-clown proportions makes it to hometowns because he's good drama. And all the other boys in this sketch are personal trainers. Keenly observed, Corden!
1. Guy Branum and Bhad Bhabie's Meeting of the Minds
Bhad Bhabie and Guy Branum? Next to David Spade and Donnell "I'm rich biatch!" Rawlings? Surely this never happened. I am dying, and this is the last random firings of my neurons. Guy Branum makes a W.E.B. Du Bois reference not even 30 seconds into a discussion of Nicki Minaj's retirement. This is postmodern art akin to Richard Hamilton's seminal collage, Just what is it that makes today's homes so different, so appealing? It frightens me because it's so relevant, and Bhad Bhabie's edges frighten me because they look like the time I stained my scalp with an ill-advised Manic Panic experiment in high school.