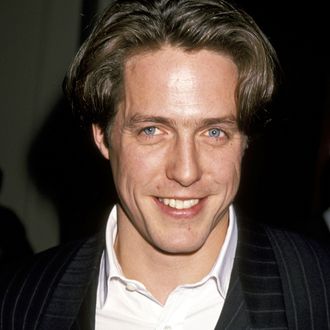 Are you stunned?
Photo: Jim Smeal/Ron Galella Collection via Getty Images
Don't hate Hugh Grant because he's beautiful. Typically the actor's kind eyes and stunning smile are the things that win him a role. No other face could spill a drink on a movie star outside his bookstore in Notting Hill and wind up married to her by the end of the movie. But his good looks were the only things keeping him from playing Professor Bhaer in the now-iconic 1994 Little Women, according to the New York Times oral history of the project. The casting director, Carrie Frazier, and producer Denise Di Novi explained what attracted them to the actor and why his beauty was a curse.
In Louisa May Alcott's book, Professor Bhaer is a German expat, living and teaching in the United States to help support his orphaned nephews. Boring and "not handsome" (Alcott's words!), it's a 151-year-old mystery why Jo March ends up marrying him. But if Hugh Grant were playing him, well, the answer would be all over his face. "We all had a huge crush on Hugh," said Di Novi, who is also an executive producer on Greta Gerwig's upcoming adaptation. "He sent in a self-tape, and he was actually quite good." But Frazier thought they had "gone off the rails." "It was so important to us to be true to the book in terms of Professor Bhaer's age and what he was like," Di Novi explained. "Hugh was too stunningly beautiful." John Turturro also "lobbied very hard for that role," but Gabriel Byrne won out. Sorry, Hugh Grant, go be hot elsewhere! Actually, why don't you come be hot over here?
This post originally misstated the actor who played Professor Bhaer.