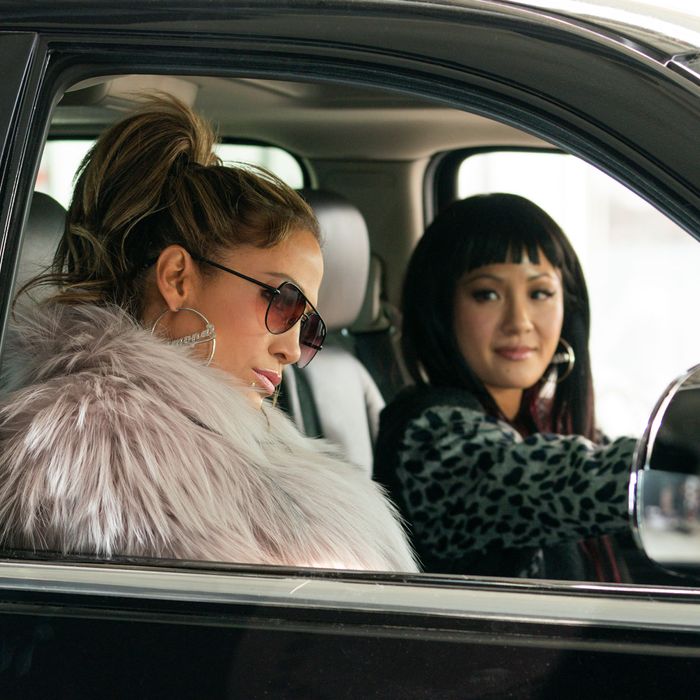 Jennifer Lopez and Constance Wu in
Hustlers
.
Photo: Courtesy of STX
In 1962, on the set of the beleaguered production of writer-director Joseph Mankiewicz's Cleopatra, Elizabeth Taylor gave Richard Burton a lesson on the power of a camera-lit star. As Sam Kashner and Nancy Schoenberger write in Furious Love, Burton was initially confused by what he perceived to be Taylor's lack of technique. "She's just not doing anything," he complained to Mankiewicz of their scenes together. So the director took Burton aside and showed him what Taylor looked like onscreen. "It took his breath away," the authors write. "Burton — trained to move, to speak, to act — was struck by Elizabeth's absolute stillness." Burton would later claim that he gleaned a lifelong skill from his time with Elizabeth: how to calmly acquiesce to the "camera's cool eye."
In Lorene Scafaria's glittering crime spectacle Hustlers, Jennifer Lopez barely needs to move before the camera's cool eye to pull our attention toward her. Consider her reintroduction onscreen, after she's just finished pole dancing to Fiona Apple's "Criminal." She's festooned by a magnificent fur coat, wearing towering Lucite platform heels and a silver-tasseled number that highlights her immense beauty and fine musculature. She's on a roof, carefully smoking a cigarette, the city around her drenched in darkness. Lopez barely moves in this scene, but she doesn't have to. The confidence she possesses is undeniable, in the posture of her body and the jut of her chin. Destiny (Constance Wu) recognizes this immediately. She stumbles onto that rooftop and into a deep friendship that will alter the course of her life in ways she's still trying to understand by the end of the film. Lopez is a goddess and a general, a woman in full control of her body and the story it tells. And the body never lies. It's this fearsome, layered, magnetic performance that Hustlers orbits.
Hustlers, which is based on a New York Magazine article, is ostensibly about a group of 2007–2008–era strippers, led by a woman named Ramona (Lopez), who begin drugging men with deep pockets after the financial crisis, maxing out their cards at the club and taking a cut for themselves. It's a raucous, glitter-coated treatise on the pulverizing nature of capitalism, stuffed inside a rich period piece whose soundtrack and costuming work in concert to create a bracing time capsule. The strippers' red-light-decked escapades are intercut with the individual story of Destiny, revealed through a series of prickly interactions with a journalist, Elizabeth (Julia Stiles, portraying New York's Jessica Pressler), who's interested in the scheme she hatched with Ramona. The strength of the film is in how it charts the fierce, complex, emotional relationship between these two women, as they alternately hustle to provide for their families and enjoy the luxury that the Wall Street suits they dance for take for granted.
Hustlers' profound vision of female friendship — physically intimate, occasionally uproarious, and always tangled up in power imbalances — dazzles in part because of the movie's casting. I was especially mesmerized by the small turns by Lili Reinhart as Annabelle, a stripper estranged from her family who tends to vomit under emotional duress, and Cardi B, whose signature cackle was made to be documented on film. Constance Wu brings a wounded, yearning quality to Destiny, apparent even before we learn of her mother's abandonment, casting in sharp relief why she's so drawn to Ramona. Beyond the cast, Scafaria proves to be an immensely intelligent writer-director, who never looks down on her characters, allowing them to be rough-hewn anti-heroes rather than bland paragons of empowerment. Scafaria wisely revels in the hard-edged nature of women, allowing them to be angry, untrusting, vindictive, loving, and glamorous, all at the same time. In essence, they have humanity.
Much can be said about the aesthetic delights of the film, too. The film deftly glides through time, owing to editor Kayla Emter, who balances the emotional, criminal, and cultural threads of the film. Mitchell Travers's wardrobe design is some of the best I've seen this year; the second-skin tight dresses, silver thigh-high boots, chinchilla coats, and Juicy Couture hoodies feel totemic. The sound design and music supervision are stealthily beguiling. At one point, Destiny abruptly turns off Elizabeth's recording device, ending the interview and plunging the film into silence. It's a cunning choice.
But days later, I keep coming back to Jennifer Lopez's performance. With a wave of her hand or a dip in her hips, light seems to change and move with her. Lopez has always been charming — even great — in films like Out of Sight (1998). But here she's doing the best work of her career, weaponizing an undeniable charisma and turning it into something hard, pointed, righteous, even angry. The way she trains her Kohl-rimmed eyes on a mark is thrilling and frightening. The way she walks into a room — and the film gives us ample opportunity to study her strut in fur, into a bar, toward a salivating man, sometimes in slow motion — communicates such self-possession and raw grace that I found myself craning closer to the screen, as if I could identify the source of such power and adopt it myself. There's a moment late in the film when we only see Lopez's back to the camera, dressed in that Juicy Couture hoodie and leather leggings. Scafaria's camera holds onto this image. We can't see Lopez's face, but her still back paints a picture of confidence, hard work, desire. It's a fleeting moment but one that stopped me cold, in awe of the story her body had to tell.