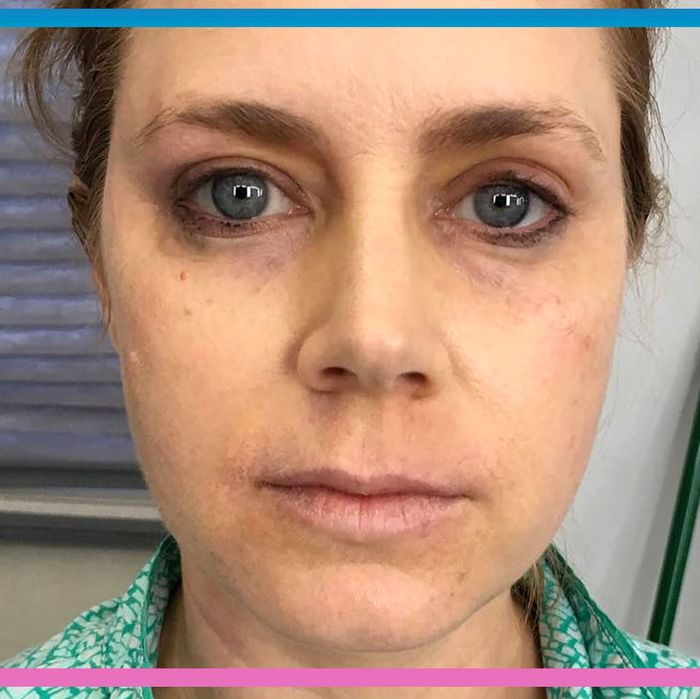 Photo-Illustration: Vulture/ Photo by @michelleradow
Sharp Objects was many things when it made its chilling debut on HBO last summer, which included, but wasn't limited to, an ode to dollhouses, a quest for hidden words, and a love letter to absurdly expensive stereo systems. But when Amma (Eliza Scanlen) and Camille (Amy Adams) begin to slowly succumb to the Munchausen by proxy inclinations of their mother (Patricia Clarkson), the makeup becomes an integral co-star. They're sweating and throwing up that force-fed "medicine" onto their nightgowns. Their eyes are cocooned in dehydrated despair. Their skin is begging for Crème de la Mer. They are, simply, dead women walking, unless the spoonfuls of poison stops.
Michelle Radow, who was the show's makeup department head, and her team — comprised of Erin Rosenmann, Kate Biscoe, and Karen Rentrop — have all been nominated for an Emmy for their work, and they'll find out if they reign supreme in the Limited Series or Movie— Non-Prosthetic category in a matter of days. Until then, Radow was nice enough to chat with us about crafting all of Sharp Objects' "poisoned" looks for the women and how it doubled as a master class in makeup subtlety.
Compared to a normal look or glammed-up look, what are your first steps for a poisoned aesthetic?
With my particular style of makeup, I never want it to come off obvious. There's nothing worse than watching a film or TV show and the makeup taking you out of it. That's what I strive for, and that's always the most challenging part of creating those looks. You're always trying to make the makeup look invisible. Viewers may look at something like that and say, Oh, that looks like nothing. I bet that's easy. In reality, it's exactly the opposite. We're doing many tests, we're testing many techniques — airbrushing, products, what's going to sink into the skin the best.
What questions run through your mind while testing?
Can we put a sheen on top of it? What's going to look like the most realistic sweat? How many hours has a person been injecting the poison? What type of poison is it? Me and my team all worked together to what that would look like in the timeline and how long they've been ingesting poison. In the script we get some hints, like, Camille took the hardest hit with the poison, because she wasn't used to Adora's poisoning over a period of time, like Amma was. It's all those things you take into consideration.
So do you always measure the success of the looks by their subtlety?
Yeah, it always making it look invisible to the audience. Often my family and friends will watch a project I worked on and go, "Well, what did you do?" And then I'll launch into a complete recap of everything that was required. And they'll be like, "Oh, wow." That's a compliment to me, when someone says it looks like nothing. To me, I take that as great — it looks 100 percent authentic.
Can you walk me through the process on how these poison looks are created?
First, I look at the script and break it down scene by scene, taking into consideration where the state of poisoning is in relation to the episode before and the episode after. I'll talk to the script supervisor to get her expertise of how much time has gone by. Whether it's an hour, two hours, or a full day. I have to cross-reference and double check and have my timeline in place before anything else gets done. Then, we approach the makeup. Essentially it's like any other makeup application — we prep the skin, we moisturize. With Eliza we would do a few layers with silicone makeup to lighten her skin. At her most poisoned, we lightened her skin by two levels. We used sponges and brushes to blotch it onto her skin in different layers. Then we'd go back in with alcohol-based colors and ripped sponges, with blues and reds, to give her skin a marbleized look. We'd go back in around her eyes with different cream colors and different shadows. We'd add a little bit of sheen, too.
Did you have any go-to products for Sharp Objects in particular?
I often used Elizabeth Arden Eight Hour Cream or Aloe Gator Sunscreen. It's a clear sunscreen, and we figured out that when you dab it on with a sponge, it looks like a very realistic sheen or sweat. It was actually perfect for the Georgia weather — the actors didn't get burned! We ended up using it a lot in the show with many characters. In between scenes we'd spray water on Eliza's chest and face, too. We'd up the level of intensity for what we needed. Revlon Colorstay was good for Eliza's body and chest to help pale her out. I'm one of those artists who thinks makeup is makeup. I should probably take that back, but it's all pigment and color.
If you find an eye shadow that works for bruises under the eyes or if you find a cream that doubles as a lipstick, and it's safe to use on the face, go for it. It's all just in the application and placement of it. There was one specific challenge for Sharp Objects, too, with the lighting. Jean-Marc Vallée's shooting style is so unique — he doesn't use traditional light. He uses whatever source of light is there. If there's just a hallway light on, that's it. That makes it very challenging with the makeup, since you need to be on set to adapt it to the lighting.
Time-wise, is creating this type of makeup more laborious than an average beauty look?
If we weren't doing Eliza's full arms and legs, it's about the same length of a beauty makeup application. It's anywhere from 30 to 40 minutes of someone sitting in my chair. We've gotta keep it moving! They need to get their hair done and get their costumes on! With a poison makeup, I'm more concerned about the entire body. The legs, the arms, the back of the neck. I have to make sure it's one full, complete makeup. You're not just worrying about her face. Are her nails starting to turn blue or yellow? Should her feet be dirty? I look at it as one makeup. You know what somebody looks like when they're tired. You know what somebody looks like when they're hungover. You see it every day — people with red noses and puffy eyes. It's not a monster or alien, where your imagination can run wild. This is something you see every day. There's no room for failure. The audience is smarter than that.
If you are a makeup or hair artist who has a great story to share, let us know at stories@vulture.com.