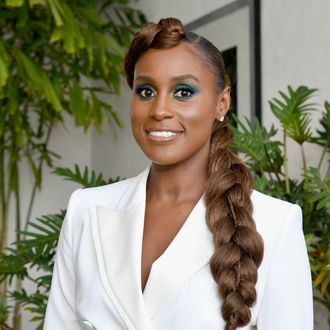 Photo: Amy Sussman/Getty Images for Women In Film
If it's crime thrillers starring an entourage of actresses the people want, then it is crime thrillers starring an entourage of actresses they will have. According to Variety, Insecure creator Issa Rae and New Line are reportedly developing a remake of F. Gary Gray's 1996 crime thriller Set It Off, in which Jada Pinkett Smith, Queen Latifah, Vivica Fox and Kimberly Elise star as four friends who team up to pull off a series of bank heists across Los Angeles. Syreeta Singleton and Nina Gloster are rumored to write the screenplay.
Rae will reportedly star in as well as produce the film, because who would pass up the opportunity to do so? The Hollywood Reporter describes the project as a "reimagining" rather than a straight remake of the original, though that doesn't mean you can't start guessing who the other three leads will be, because there are certain elements of a hit you just don't mess with.