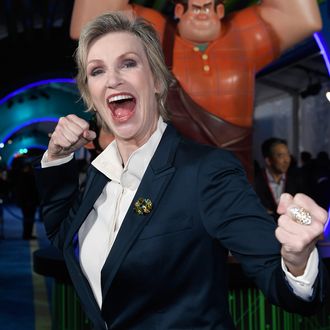 Photo: Kevork Djansezian/Getty Images
Get your ass off the lanai and read this extremely exciting television development. After winning a Creative Arts Emmy for Guest Actress in a Comedy Series for her work on The Marvelous Mrs. Maisel this weekend, Jane Lynch revealed she and Cyndi Lauper sold a show to Netflix that she describes at "a Golden Girls for today." According to Variety, Seinfeld writer Carol Leifer, most recently of A Little Help with Carol Burnett, is also working on the half-hour comedy with the pair.
"We're our age. I'm almost 60 and she's 65, and we're looking for our next act, without ever having had husbands of children," Lynch said of the show's premise. "And there will be two other people who haven't been cast yet. But its kind of a Golden Girls for today." And while we would never tell Jane Lynch what to do, Betty White better at least be getting a courtesy call.