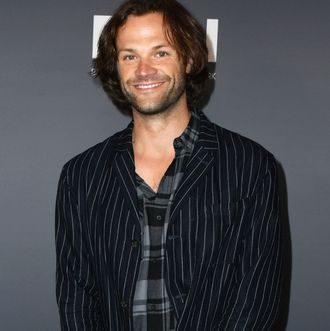 Jared Padaleck, Texas Ranger.
Photo: Jon Kopaloff/Getty Images
Supernatural, the show Jared Padalecki co-anchored for 15 seasons, is finally coming to an end, but the man is not taking a vacation! Deadline reported today that Padalecki will take the titular role in a reboot of Walker, Texas Ranger, which starred Chuck Norris in its original incarnation and ran for eight seasons. The idea of a series coming into existence right now and running for a decade is hard to fathom, but that's what a program like Walker and an actor like Padalecki are built for: longevity. He's got a ways to go before he laps the television endurance of David Boreanaz — who has starred in two shows that surpassed 100 episodes, and also there was that time he spent on Buffy — but Supernatural beat out even the Bones run by three seasons.
This new Walker doesn't have a network yet, but the show's original home, CBS, is said to be in the running for it, along with the CW, which has housed Padalecki's Supernatural for the past generation. In a very CBS way, the reboot will "explore morality, family, and rediscovering our lost common ground," and the noble Cordell Walker will be a "broken widower and father of two" with his "own moral code to fight for what's right, regardless of the rules." According to Deadline, he will also have a female partner. Together they are "the modern-day heroes our world needs." But the most important question is: What role will Jensen Ackles play? Because the Winchesters will definitely be together in a new form, right?