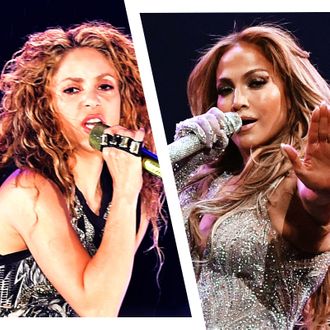 Shakira and Jennifer Lopez.
Photo: Getty Images
Finally, there will be a halftime show worthy of following Beyoncé's, though just a few years late. Jennifer Lopez, her abs, Shakira, and her abs will be joining forces at the Super Bowl LIV halftime show in Miami next year. Our abs will be over by the snack stadium. Each superstar shared a post of the other woman, eyes cut off, just to play tricks on us, "Beautiful Liar" style. But one thing is for sure, the Pepsi logo will not not be in the promo. It's wrapped around Shakira's bicep, on a ring on J.Lo's finger, and on J.Lo's belt. We get it! Thank you to our corporate overlords. And a special shout-out to Jay-Z, who, through a deal finalized in August, is a producer for the halftime segment. Jay-Z actually came through on this one! Someone let Blue Ivy know.
"Ever since I saw Diana Ross fly off into the sky at the Halftime Show, I dreamed of performing at the Super Bowl," J.Lo said in a statement. "And now it's made even more special not only because it's the NFL's 100th anniversary, but also because I am performing with a fellow Latina." Super Bowl LIV takes place on Sunday, February 2, 2020, which, if you need help remembering, is exactly a week before the Oscars — and Shakira's birthday!