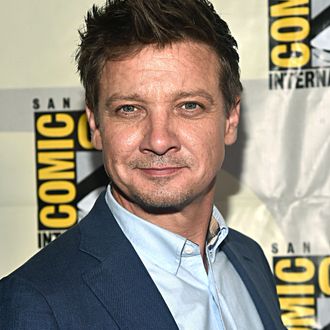 Photo: Alberto E. Rodriguez/Getty Images for Disney
The Jeremy Renner app, called "Jeremy Renner," is officially shut down for the foreseeable future, according to a note straight from the desk of the Avengers actor himself. In the note, (simply titled "Goodbye …") Renner writes: "The App has jumped the shark. Literally." It is unclear, as of the time of this reporting, what Renner means by "Literally." Closer investigation only conjures up more questions.
"Due to clever individuals who were able to manipulate ways to impersonate me and others within the app," Renner continues, "I have asked ESCAPEX, the company that runs this app to shut it down immediately and refund anyone who has purchased any stars over the last 90 days." Stars are the currency of the app, and cost real human money to purchase.
The note goes on to express Jeremy Renner the Man's disappointment at how Jeremy Renner the App "turned into a place that is everything I detest and can't or won't condone." Renner is here referring to trolls who have taken over the platform, including users posing as Casey Anthony and Jeffrey Epstein, purporting to be huge fans of Renner. Renner initially launched the app in 2017 as a way to "interact with [his] fans and share a deeper look into [his] life." Not long after the launch, the app was plagued with angry Renner fans and extremely committed trolls. Farewell, Jeremy Renner the App. Some ideas are simply too big for this world to handle.