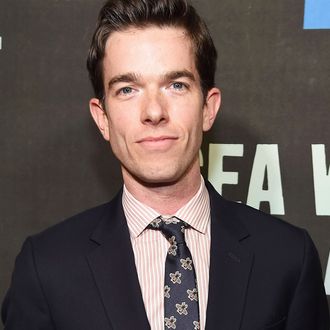 John Mulaney.
Photo: Gary Gershoff/Getty Images
The greatest joke writer of his generation has lined up his next comedy special, and it involves some help from a bunch of children. Esquire published a lengthy profile with John Mulaney today, and while the piece is jam-packed with tons of interesting information (Did you know Mulaney donated to Bernie Sanders during the 2016 primaries and is willing to get into a lengthy, meticulous, mathematical conversation about using the word "gay" in a joke?), the biggest bit of news is that, following his 2018 Netflix stand-up special Kid Gorgeous, Mulaney is shifting gears to a slightly different format: a children's variety show. From Esquire:
Mulaney, thirty-seven, is modeling the new special on the entertainment he loved growing up: 3-2-1 Contact, the eighties-era PBS after-school classic; Really Rosie, a 1980 musical by Maurice Sendak and Carole King; and, of course, Sesame Street. "It's been on TV how many — fifty years?" Mulaney tells me later. He's been rewatching old episodes recently, in thrall to their elastic approach to narrative. "It's modular, fast-paced. Bizarrely paced," he says. "They'll cut to a kid who blows up a balloon, draws a smiley face on it, and pops it. Like, 'Great, love it, moving on!'" With the new show, he wants to make something that will appeal to kids and adults alike. His thinking is twofold. "It's something I'd like to watch," he says. "And I don't wanna do anything anyone else is doing."
The profile includes moments where Mulaney and a group of child actors rehearse the special that will feature musical bits and sketches, like one where a kid does a book report on Joan Didion's A Year of Magical Thinking having thought it was a book of magic tricks. "Someone said to me, 'You know you mention Joan Didion three times in this special, right?'" Mulaney said. "We probably have to cut one of those."
Read the rest of the profile over at Esquire.