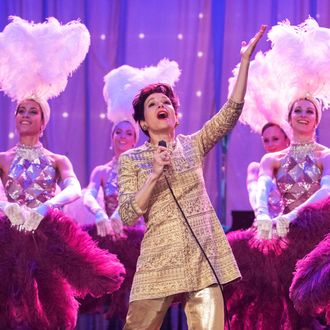 Photo: David Hindley/LD Entertainment/Roadside Attractions
The name on everybody's lips is gonna be … Judy. She's not gonna be all by herself anymore. She had us at … uh … Toto. Take your pick of monumental Renée-isms, and get ready add her performance in Judy to the list. On Tuesday night, Toronto International Film Festival audiences gave the festival's first screening of the Renée Zellweger Judy Garland biopic Judy a rapturous, two-minute standing ovation. That's one minute and 40 seconds longer than the applause they gave to Joker, which they didn't even stand for, but hey, who's counting? According to a video uploaded to Twitter by Canadian journalist Tara Deschamps, the audience probably would have gone on for longer, too, if Zellweger didn't implore them to stop. (We stan a humble queen!) This comes after the film's world premiere at Telluride back in August and before its wide release on September 27.
In the video, Zellweger bows and seems grateful and says in a very Texas-y way, "Y'all better quit! You're messing up my makeup."
After getting the audience to settle back down, Zellweger reflected on her appreciation for Garland:
"I just loved her, and I have to say, I took her for granted. Like a lot of people you love in your life, you know, she was just always there. And she was of course extraordinary, and of course she deserved that place in history that she carved out for herself among the greats of all time. It wasn't until we did this film that I properly came to appreciate how truly extraordinary she was […] it's not just iconic, but heroic, really."
Which is, of course, exactly how we feel about Renée.