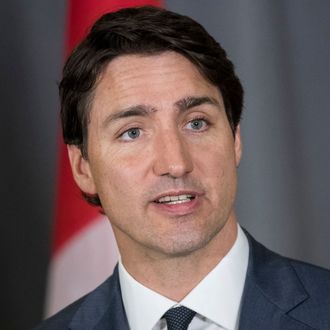 Photo: Drew Angerer/Getty Images
Just when you thought we were officially done with scandals involving racism this week, another one rears its ugly head. And this time? It's political! On Wednesday evening, Time released a photo of Canadian Prime Minister Justin Trudeau wearing brownface makeup to an event in 2001. Trudeau, 29 at the time the photo was taken, was attending an "Arabian Nights"–themed gala benefitting West Point Grey Academy, the private school at which he taught. The photo of Trudeau was published in the 2000-2001 edition of West Point Grey Academy's yearbook.
A spokesperson for Canada's Liberal Party confirmed that it was, in fact, Trudeau in the photo, saying, "He attended with friends and colleagues dressed as a character from Aladdin." In the photo, Trudeau is smiling directly at the camera while decked out in brownface, robes, and a turban. No one else in the photo appears to have darkened their skin for the event.
Let this unfortunate incident serve as a salient reminder while you pick out your Halloween costume. Sigh, can you believe it's only Wednesday?
Update: Justin Trudeau apologized on Wednesday night while onboard his campaign plane. He said the following:
"In 2001, when I was a teacher in Vancouver, I attended a gala. The theme was Arabian Nights. I dressed up in a costume and put makeup on. I shouldn't have done that. I should have known better, but I didn't and I'm really sorry.
I take responsibility for my decision to do that. I shouldn't have done it. I should have known better. It was something that I didn't think was racist at the time, but now I recognize it was something racist to do and I am deeply sorry."