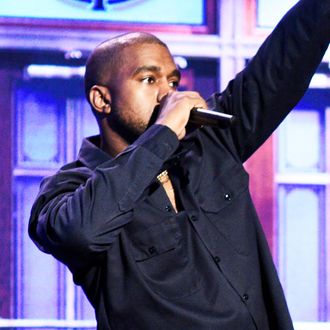 Kanye West.
Photo: NBC/NBCU Photo Bank via Getty Images
Still tired from staying up all night waiting for Kanye West's new album, Jesus Is King? Too bad, because now you need to head to Detroit, where he's throwing "Jesus Is King: A Kanye West Experience" at the Fox Theatre ahead of the album's (presumed) release. After holding a Friday Sunday Service at the Aretha Franklin Amphitheater in Detroit this afternoon, the Fox Theatre announced the Experience will take place there tonight at 8 p.m. ET. Tickets are free and can be reserved through Ticketmaster. A representative for the venue told Rolling Stone that whatever Kanye is planning tonight seems to be a "movie thing" but they don't have all the details yet. "We just found out about it, actually," the spokesperson added. "We usually don't [book any events day-of], but it's Kanye West, he can get away with anything."
Ain't that the truth? Just days ago, reports that Jesus Is King is unfinished broke, despite Kim Kardashian West retweeting a countdown set to expire today. Even if it's just by a few hours, the Jesus Is King delay is one in a long line of rocky Kanye album drops. Last year, all five of his releases came with their own drama and the mysterious Yandhi still hasn't seen the light of day. All we can say for sure is something is happening at the Fox Theatre tonight, even if it's just a bunch of Kanye fans staring at an empty stage.
Update: At just past 7 p.m. on Friday, Kim Kardashian West tweeted an updated setlist on Marriott stationary, suggesting we are down to the wire. Have faith, indeed.
Update: Only an hour late has to be a new Kanye West record, because according to Kim Kardashian's Instagram stories, the actual new Kanye West album, Jesus Is King, is currently being debuted for the attendees of tonight's event.
Meanwhile, West debuted new Jesus-themed merch on his website, where he's teased that the album's wider release is still very much up in the air: "ALL U.S. PURCHASES WILL RECEIVE A DIGITAL DOWNLOAD OF JESUS IS KING UPON RELEASE DATE." Also for sale is a T-shirt that might just double as a clue for a whole separate project. Jesus wept.
Pop Crave, which was in the audience, reported that Kanye debuted a short documentary about his Star Wars-inspired affordable housing project, which was recently torn down due to complaints from Kanye's neighbors and Calabasas code violations.
According to multiple tweets from audience members, the album features a reunited Clipse (Pusha-T and No Malice), Kenny G, Lauryn Hill, Young Thug, and Ty Dolla Sign. West reportedly told the crowd that Nicki Minaj will also feature on the previously leaked song "New Body," but only once she rerecords her verse … tonight. No pressure or anything!
Aaaaaand Kim has confirmed what absolutely no one saw coming: Jesus Is King is delayed yet again. After missing its Friday deadline, it'll now supposedly arrive on Kanye's favorite day — Sunday. Kim explained on her Instagram story that Kanye just needs to do a "few final tweaks to the mixes" and it'll be ready to go. Maybe! Until then, he'll keep extra busy with another listening session in Chicago on Saturday and a third one in New York City this Sunday to celebrate the new album release day. Let us pray.
Update: According to a listener at the Chicago show of "Jesus Is King: A Kanye West Experience," Kanye is apparently only making gospel music now. It's unclear right now whether this is substantiated.
Another tweet from rapper Consequence, who was in the audience at the Chicago show, revealed Kanye's intro to the new song "Use This Gospel." Check out the intro below, or remain unspoiled until the album's release:
Update, September 29: As confirmed by Vulture, West will be releasing an IMAX film to coincide with his new album, also titled Jesus Is King. Filmed earlier this summer at James Turrell's Roden Crater — the artist's never-before-seen installation in the Arizona desert — it'll give viewers a front-pew seat at one of West's Sunday Services. The film will also "feature songs arranged by West in the gospel tradition along with music from his new album," when it comes to theaters on Friday, October 25. Amen to that!
Update, September 30: Well, what a wild weekend it's been. If you remember any of 2018, you probably won't be surprised to hear that Sunday, September 29 has come and gone and Jesus Is King the album still has not arrived. Kanye did, however, stop by The Greater Allen A.M.E. Cathedral of New York in Jamaica, Queens, where he put on a very special Sunday Service. (It was followed by a listening party for the album at Washington Height's United Palace Sunday evening.) Not so special Kanye felt moved to drop Jesus Is King, but still, something to tide the fans over until, well, who knows at this point? Only time will tell.
See you again next weekend, Kanye fans! Probably.