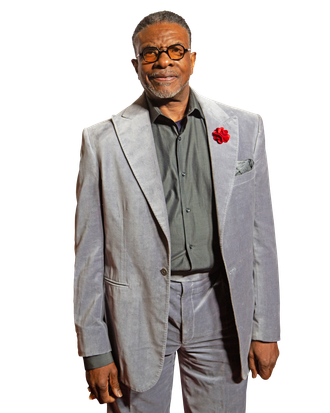 Keith David
Photo: Gabriel Olsen/Getty Images
To call Keith David one of the hardest working actors in Hollywood is hardly hyperbole. In 1979, the year he graduated from Julliard, David landed his first onscreen role. One year later, he began touring with John Houseman's The Acting Company, which put on productions of A Midsummer Night's Dream and Waiting for Godot. He hasn't looked back since.
In the past 40 years, David has logged more than 300 credits in everything from television series to movies and Broadway productions to video-game voice-overs. He was a series regular on Mister Rogers' Neighborhood, voiced the eponymous superhero in Todd McFarlane's Spawn, threw punches in the famously long fight scene in John Carpenter's They Live, and attempted to help Ben Stiller extricate his manhood from a sticky zipper situation in There's Something About Mary. This week, he returns to cable TV as Bishop James Greenleaf, the charismatic and often manipulative leader of a Memphis megachurch, for the fourth season of OWN's Greenleaf. Vulture caught up with the 63-year-old New York City native about his chronic prolificacy, getting cut out of Road House, and the uniquely tight bonds of his Greenleaf family.
You've been acting for 40 years. When you think back to the very beginning of your career, was there one goal that you most hoped to achieve?
One thing, which I still hold today: I wanted to work. My goal was to be a working actor.
Mission accomplished.
When I first came to Los Angeles, there was a restaurant that was owned by an actor and it was called Residuals. If you received a residual check for $1 or less, you got a free drink. They had a bulletin board of residuals with sayings on them, and one of the sayings was: "Fame is what they give you. Success is what you give yourself." I read that and I immediately went home and put that in my journal.
You're in a business where you're often defined by other people. I imagine that's more difficult to deal with if you haven't had the chance to define yourself first.
The cemetery is filled with people who let other people define who they are, both in the entertainment business and beyond. I'd like to say it's especially true in the entertainment business, but the deeper truth is that if you do not develop a strong sense of who you are, then you become a leaf to every wind that blows. It's easy to get lost. It happens to the best of us, even when you do have a sense of yourself.
Is working in so many mediums something you did consciously, as a way to challenge yourself and people's perceptions of what you could do?
We've all heard of that thing called typecasting. And that comes from what I would call "personality actors" — actors who just play themselves under the circumstances of the character. In this town, that has been rewarded for a long time.
If that's what you want to do, fine. Who am I to dog that? I don't have to agree with it, I don't have to like it, but people do that. People get called on to do it, and people get paid very well to do it. It's not what I have ever been interested in, because even if I'm playing the lead character, it's a character. I want to find within myself what is unique about the man that I'm playing that I can exploit and explore more than just what I would do.
You jump a lot between film, television, and theater. Do you have a preferred medium? 
Yes. Work. In whatever form it comes.
Though you began your work in the theater, your breakthrough role on the screen came in The Thing. What was it that attracted you to that project?
It was a job.
I was almost going to answer that for you.
It was a job. And it was my first movie job.
But it was a pretty amazing first movie job.
It was the coolest first movie that I could have ever thought I'd get to be in. With the exception of Kurt Russell, who grew up in the movies and TV, I was surrounded by theater actors: Richard Masur, Richard Dysart, Donald Moffat, Joel Polis, and Peter Maloney, whom I knew from New York. Tommy Waites and I spent some time at Julliard together. It was a phenomenal first experience.
The ending of the movie is famously ambiguous, though cinematographer Dean Cundey has said he and John Carpenter lit the final scene between you and Kurt Russell in a way to indicate who was infected and who was not. Can you end the decades of debate and share what they told you? 
As I remember it, we shot it both ways. With it being me, and then with it being Kurt. And then, you know, who knew?
That's not the answer I wanted.
All I can tell you is, it wasn't me.
You worked with Carpenter again on They Live in one of the greatest fight scenes in film history. Did you know what you were signing up for?
Are you kidding? That was one of the selling points for me!
You were fighting Roddy Piper, who was huge at the time. Did he teach you any pro wrestling tricks of the trade? 
He certainly taught me how to sell a punch and sell a hit. He was wonderful. He was very hungry to learn as much about acting as he possibly could.
What's the most unique skill you've had to learn for a role?
About four years ago, I did August Wilson's Ma Rainey's Black Bottom at the Taper in Los Angeles with Phylicia Rashad directing, and I had to learn how to play the bass guitar. I thought, "It's a great idea, but she's ambitious and this is never going to happen." Little did I know, for the four songs that I had to play, I learned how to play.
You logged a few seasons on Mister Rogers' Neighborhood in the mid-'80s, which seems like such a unique experience for an actor. 
Mr. Rogers was a phenomenal guy. I was privileged. It was my first real TV spot, and I felt really honored to be on Mr. Rogers because I loved the work that he did, and I loved the fact that he is an ordained Presbyterian minister and his ministry was to children. He was one of a kind.
Before we talk about Greenleaf, but I have to ask you about Road House. You're one of the first credited actors on the film and originally had a much bigger role. What happened?
Road House was great. Road House got me into my new car and it moved me into a new apartment. It was a four-week job that turned into 11 weeks. I had a great role. I got to fight with Terry Funk and a couple of other guys. I had a really good time. The day after the wrap party, [the director] Rowdy Herrington called me. He said, "Keith, I've got three and a half hours of movie that I've got to cut down to 2:15, so I'm sorry, buddy, but you've got to go."
What was your reaction?
What do you say? I'm like, "Oh, shit, okay."
At least you got your car and your apartment. 
Not only that, but I got fifth billing on a single card. And I still get residuals. I also got to meet Sam Elliott, who I admired greatly. We got to do another movie [2001's Pretty When You Cry] years later.
You're kicking off the fourth season of Greenleaf. How do you keep challenging yourself when you're playing the same role for so long? 
Well, it's certainly easier when I get to work with actresses like Lynn Whitfield and Merle Dandridge. I'm blessed because of all the actors on the show. It's an exception, not a rule, because we all got along wonderfully. It's almost cliché to say that we became a family, but we really did.
Which is important with a TV series, as you're sometimes spending more time with your co-stars than your own actual family.
Not just sometimes. For these four seasons, I did spend more time with them than I did with my own family. That's some sacrificial time, but it was time well spent. My wife and my children got to visit.
When you start a series, you have no idea how far it's going to go or what road your character might take. Is it important to you to create backstories for your character beyond what's on the page?
I do create backstories, but the writers' room is the writers' room and sometimes you have to change your backstory because they've written something that totally goes against it. From the very beginning, we've had wonderful communication with the writers on Greenleaf. But sometimes, I had to give up something I made up in order to support what was on the page.
Beyond Greenleaf, if IMDb is to be believed, you've got more than 15 other projects happening between this year and next. Do you just not like to sit still?
You sound like you've been talking to my wife.
How do you view your career and body of work?
I'm a working actor. I think that I'm certainly thought of as great support; I'm a great team player and I love to be. But I'm also a team player when I'm playing the lead. I was taught that in the theater. In fact, Lloyd Bridges taught me that. Would I welcome more opportunities to lead in the film? Of course I would, but it would all depend on the story and the circumstances.
I have nothing but gratitude for the opportunities that God has given me in my life. I have played some great parts. I've played with some great people. I've done some wonderful projects, and the best thing is that I've gotten to meet, and in some cases gotten to know, some really wonderful people. That's a gift.