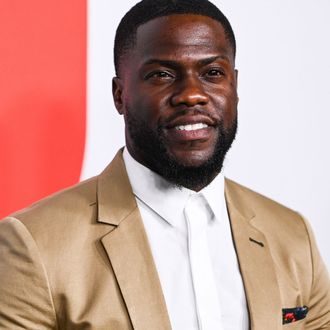 Photo: James Gourley/Getty Images
California Highway Patrol issued a statement on Sunday confirming earlier reports that Kevin Hart suffered serious injuries during a car accident early Sunday morning. According to The Hollywood Reporter, the actor and a female passenger named Rebecca Broxterman were being driven by a man named Jared Black in Hart's 1970 Plymouth Barracuda in Calabasas, California. At around 12:45 a.m. Sunday morning, the car reportedly veered off the road and flipped as the driver attempted to turn from Cold Canyon Road onto Mulholland Highway. "Black immediately lost control of the vehicle and the Plymouth left the road and rolled over down the northern embankment," the CHP told NBC News.
Both Hart and Black sustained "major back injuries" in the accident and were treated at nearby hospitals. Broxterman's injuries reportedly did not necessitate hospitalization. In photos of the crash published by TMZ, the car's roof appears to be crushed in. According to the California Highway Patrol, Black was not driving under the influence at the time of the crash.
Update: Kevin Hart will reportedly continue to be hospitalized after undergoing back surgery Sunday evening, but his wife said the comedian is doing well. "He's great," Eniko Hart told TMZ on Monday. "He's going to be just fine," she confirmed, adding "He's awake" when asked about the comedian's recovery.