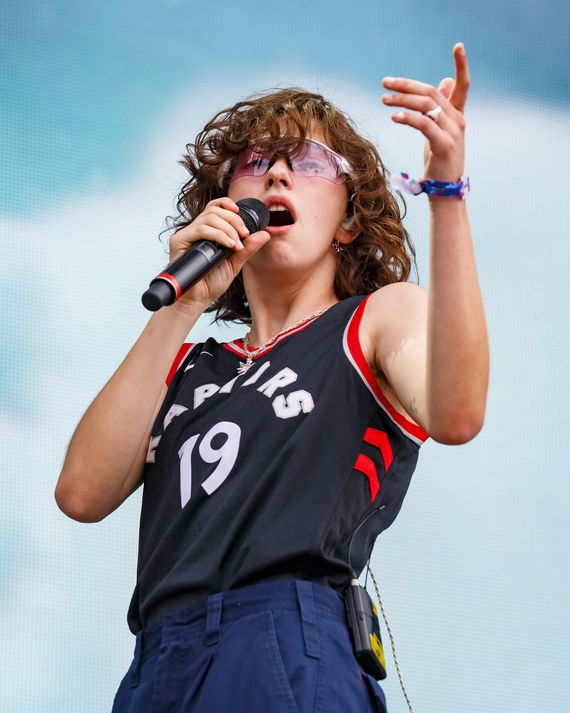 Photo: Mark Horton/Getty Images
Mikaela Straus is upstate, riding a horse. She'd been scheduled for an interview right now, yet the information didn't make its way to her. "I'm quite literally still at the barn," she apologizes moments later over the phone, "but I could FaceTime you from my grandma's house in 45 minutes?" The 20-year-old singer-songwriter who records as King Princess lives in L.A., and she's currently visiting family in Saratoga Springs.
Straus was raised in Brooklyn. Her father, sound engineer Oliver Straus, has a recording studio in Williamsburg, and her family is a storied New York one (her great-great-great-grandfather co-founded Macy's and went down on the Titanic); she attended the private high school Avenues, next to the High Line. Straus grew up around music recording, so it's a lucky thing she's super-talented at it too. (She once told NME, "I was such a fucking loud, obnoxious kid who was singing and writing my Grammys acceptance speech in the shower.")
After school, she would record backup vocals for artists who passed through her father's space. When she was 11, Virgin dangled a record deal. (Prewritten Grammy acceptance speech aside, she turned it down.) Her first single, "1950," a soulful pop confection in the vein of Lana Del Rey and Billie Eilish, was released last spring by Mark Ronson's new label, Zelig, and became a viral hit after Harry Styles quoted it on Twitter. Straus's EP, Make My Bed, soon followed.
In the months since, she has had a remarkable rise for an artist with only a few singles to her name — touring the world, gracing the cover of V magazine, and starring in a Gap campaign. Now comes her first LP, Cheap Queen, a melancholy work that lingers on the women who have broken her heart. Straus has a sense of humor about it. "The album is fucking sad, girl," she deadpans, when we connect from Grandma's place.
First, we must address your incredible remix of Meryl Streep's Big Little Lies scream. What does it take for a pop culture moment to be worthy of one of your remixes?
I'm looking for timelessness, something that's 1000 percent going to be revisited in two years. You mark your calendar, Meryl's scream is gonna come back. I have one with Katy Perry singing in Simlish. I have Tyra Banks's iconic epic meltdown. I have Kim Cattrall scatting. Every once in a while you watch something and see it happen in real time. I was watching that [Big Little Lies] episode as it aired and was like, Oh fuck! That's my next remix.
Do the remixes bring the joy back to the music-making process while you've been under album pressure?
I've always been a SoundCloud queen. I knew I wasn't popular so I never fucked with social media. SoundCloud was my place to experiment. Now it's my haven. As I put out music officially everything is so fucking serious. And my music is predominantly sad. The remixes are salty and joyful.
The first song on the album is called "Tough on Myself." Are you?
I'll tell you the story of that song. Mark [Ronson]'s such a fucking asshole. He goes, "You should write some more songs because you only have '1950' and 'Talya.' No other hits." I started crying, like, Fuck you. Then I wrote "Tough on Myself," and he went, "There you go!" It was for him.
When is having Ronson on the team most helpful?
At the end. He's the fire wall. I'm like, "Mark, what do you think about this?" He said something along the lines of, "Mikaela, none of these songs are bad, but sometimes you need someone like me to tell you to turn the high-hat up. Now, if that was a different snare, it would be a hit." That's what I love about him. He is honest. There are moments when I feel like I know everything.
There are moments when I feel lost in a sea of talented people. He is that grounding presence.
You come off as so confident. What fuels that? Is it self-protective?
I know I'm really good at music. Doubting your art is the hardest thing, and I don't doubt my art. Humor is a defense. I have absurdity, and I have talent. That's it.
From "1950" to now, what have you learned most about yourself?
"1950" blew up in three days. It was daunting. You can either let that dictate how you write the next half of your catalogue, or you can write whatever the fuck you want. I decided to write whatever I want. I wrote this album chronologically with what was going down in my life. Efforts are often made in the industry to clean up [real] moments like that. I've been struggling with it, but I've come to the conclusion that this is the record I wrote, these are the songs, and I don't care if they haven't had as many plays as "1950."
The album contains so much distress. On "Watching My Phone," you sing, "And I know / I can't be the million girls you're going to meet." Do you pick up the pen in the moment, or do you sit with a feeling?
There's different days. "Watching My Phone" was in the moment. That shit pops off because I was like, I'm gonna die. But before I die, I'm gonna write this.
People might assume that song is about a famous ex of yours. Was that ever a concern?
Here's the thing: My second single was called "Talya." She's not the queen of subtle! You could start to cleanse shit to make sure that it's protected but do you think fucking Fiona Apple thought about that when she was like, I'm gonna destroy this man in one sentence? Whether a relationship is public or not, it's real. Your heart gets decimated. This is my therapy. What the fuck else am I gonna write about? Going to the club? No. I'm gonna write about getting my heart smashed.
When did the song "Cheap Queen" arrive? You sing, "All of my girls get up early and stay out late (queen) / They drive all the way to the west side to see my face / … That's good love." To me, it's an ode to your friends.
It's very much an ode to my friends. "Cheap Queen" was an interlude. I was going to name the album after the interlude because it was so cute. And [my team] was like, "No, bitch. It's a song." So I made it a full-length song. It's an homage to my community. We are all cheap queens. It's a drag term for someone who is resourceful, who makes something out of nothing, who is a creator on a budget. That's how I feel.
It seems as though you've had big opportunities presented to you. Is the idea of being a cheap queen despite that a mantra for you?
Yes, it's clout versus family. The biggest thing I learned this year is who my people are. Being critical of who's in your life is essential. I will take any free shit you have to give me. That's some cheap-queen shit. But it is a fucking mantra.
Why create your own vernacular — words like juj and gak?
Black people and gay people created vernacular. That's the most fun part of language: You have these code words with your friends. Me and my gay friends are the gickity-gak. We say shit no one else understands. There was a reason for coded language in history; now it's become mainstream. What better way to unify your community than to use language to familiarize yourselves with each other?
In "You Destroyed My Heart," you say, "I'm a better fag, and you're an amateur." Why did you decide to use that word?
I've been called a faggot. I'm a fag. My friends are fags. We are faggy. To me, that word is not dirty. It's prideful. For me, to say "I'm a better fag and you're an amateur" is gay prowess. It's about being queer and understanding that you are that dirty thing and that clean thing and that special thing. You are everything. That's my favorite line on the record.
Do you feel strength in numbers with the amount of queer art being made?
I have never felt an issue with my queerness in the music. But I do feel a detachment now from my queerness when it comes to how I feel personally in my relationships versus how I have to champion the queer community when I'm talked to like I'm in a bundle package with six other people. I'm not a fucking package, and neither are those people. I will talk about being gay till the sun comes up. But I'm only interested in good music. I don't care if it's gay or straight.
Now that you're letting this record go, who is it for?
This shit is for no one but you and the fucking gay kids. Listen to my heart break, honey. It gets worse! Listen to my sadness, and it will reflect your own sadness. We'll be less alone together. My grandma says hi, by the way.
Cheap Queen (Columbia/Zelig Records) is out October 25.
*A version of this article appears in the September 2, 2019, issue of New York Magazine. Subscribe Now!