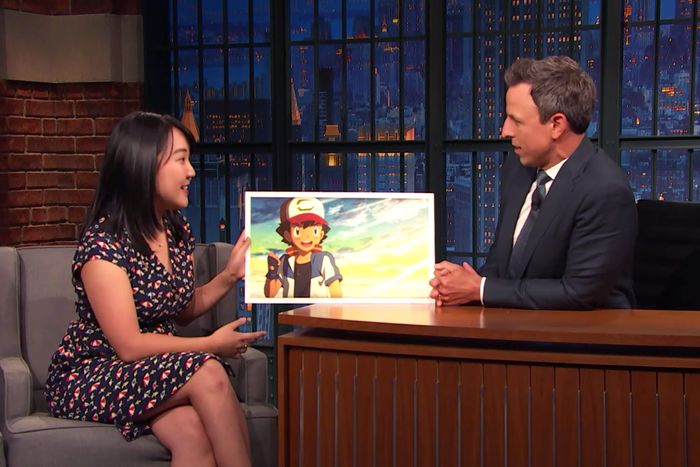 Karen Chee and Seth Meyers on
Late Night.
Photo: YouTube
A Little Late With Lilly Singh ostensibly airs at 1:35 a.m., but really exists in a timeless, deathless state of eternal return on YouTube. Singh not only just had her first week of shows; she guested on her late-night uncles' shows and had a primetime special on Wednesday night. It was a week for bold swings and standing in your truth. Sometimes your truth is that you think Dude, Where's My Car? should have won an Oscar; sometimes it's that you don't know who Ash Ketchum is. Let's look at what worked best on late night this week.
5. Billy Porter Makes an Entrance on The Late Late Show
The Late Late Show With James Corden does entrances a little differently. Guests come out at the same time, having to negotiate stairs as well as fans clamoring for high fives. Reggie Watts always plays them on with an up-tempo, James Brown–esque backbeat. Until now, the most rad thing a person had done in that entrance was jump a few steps. But in swans Billy Porter. Literally. Dude had wings. And not only did he serve a look, he did a walk and a runway turn. He approached the couch, immediately turned around, and took another lap through the adulating crowd. That's how you have fun with late-in-life fame.
4. Seann William Scott Would Like to Thank the Academy
Seann William Scott says he and Ashton Kutcher thought Dude, Where's My Car? was Oscar-worthy, and after Bohemian Rhapsody won for editing, who's to say he's wrong? Apologies to Mr. Scott, but his actual most underrated performance is in Southland Tales, when there are two Seanns William Scott and if they touch, it will end all of existence.
3. Tracee Elliss Ross Shares Her Instagram Tips
Like most of us, Lilly Singh is in awe of Tracee Ellis Ross. How can she be that pretty? And have hair that lustrous? And take solo vacations without spiraling into an anxiety K-hole? We know the answer to at least the third question: Ross uses her vaycay time to take endless selfies. She props her phone up with towels, abuses the ten-second self-timer and burst function, then spends the rest of her time scrolling through for the one usable pic. Nobody can say "Get of your phone and experience all this nature!" when you're traveling alone.
2. Seth Meyers I-Don't-Know-Her'd Ash Ketchum
The "What Does Karen Know?" segments can be a little lopsided. Late Night writer Karen doesn't know about things that happened before she was born, naturally. But Seth Meyers is at least somewhat plugged into things that are happening now when he is, technically, alive. But he didn't know who Ash Ketchum was. And what's more, he didn't care that our boy is finally a Pokémon Master! Okay, in Alola, but that's not nothing. Karen, meanwhile, did not realize that Seth was quoting the lyrics to "Ice Ice Baby." We all learn something when the generations have dialogue.
1. Jena Friedman Listed All the True-Crime Podcasts on Conan
Jena Friedman's set on the true-crime industrial complex was one of the bravest things I've seen on late night. Conan shoots in the middle of the afternoon, which is not the time of day most conducive to laughing at our country's fetishization of dead white women. The audience awww'd Jeffrey Epstein, that's how unready they were for this material. But we're not in a great place when Kavanaugh has a Supreme Court seat and, as Friedman pointed out, Ted Bundy has two Netflix specials.