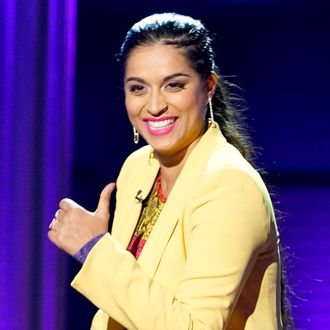 Photo: Scott Angelheart/NBC
A hearty congrats are in order to Lilly Singh, who, two weeks into her new NBC late-night show A Little Late With Lilly Singh, finally gets to apologize for a joke that has been collectively declared bad by viewers. Let's celebrate this milestone together! Per People, an episode from earlier this week found Singh and Jessica Alba bantering about their recent meeting at Alba's home, where her two young daughters wore hair towel wraps to say hi to Singh ⁠— as they recently took a shower and had wet hair. "They're really good at being cool, especially with people that they geek out over like you," Alba reminisced. "They're trying to be cool about it." Singh, noting their hair wraps, jokingly responded: "They look like my Punjabi friends. It's fine." Following the episode's airing, Singh was apparently bombarded with a decent amount of social media criticism for the joke, and she offered a "important and heartfelt" apology in response.
"In a recent episode of my show, I stupidly made a comparison about turbans that I'd like to apologize for," she wrote. "In the moment, my thought process was 'don't be embarrassed! I think that's dope.' But in hindsight I recognize that was a disrespectful and problematic joke to make that has a lot of painful history behind it. And I'm very sorry."
A Little Late With Lilly Singh replaced Carson Daly's long-running show on the network, Last Call, after nearly two decades. If you happen to be up at 1:30 in the morning, give it a try.