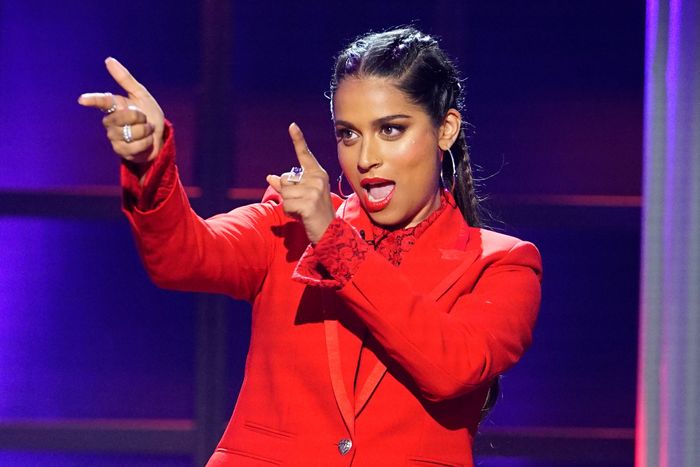 Lilly Singh.
Photo: Scott Angelheart/NBC
Seth Meyers. Jimmy Fallon. Lilly Singh. One of these things is not like the others (and she's proud of that). NBC welcomed new late-night host Lilly Singh and her show A Little Late With Lilly Singh last night. She's taking over Carson Daly's 1:35 a.m. slot and making it something entirely new. As the only woman, member of the LGBTQ community ("I put B in LGBT, I'll take Sansa and her brother," she rapped), and person of color on network late night, Singh is happy to be unique. She tells the jokes Seth can't tell. Here's what her new show is all about, complete with clips from the premiere.
On her YouTube channel, IISuperwomanII, Singh does musical and sketch comedy, so it makes sense that her first show kicked off with a sketch … that morphed into a musical number. It served as an introduction to who she is, but also the tone the show is going to take: inclusive, progressive, and cheeky. It's a Donald-free zone, "unless his last name is Glover," she rapped.
Okay, in case the rap wasn't clear, this is not Carson Daly. He's off doing earlier things. For her first monologue, Singh addressed the woman of color in the room (herself) and the women of color who paved the way for her. She emphasized that, yes, she's different than all the other late-night hosts and, yes, she's going to lean into it. Her first monologue shied away from the regular news breakdown, which is a nice reprieve from hearing the same Trump jokes across late night.
Ladies and gentlemen, her first guest of the night: Rainn Wilson! (Wow, Lilly, if you ever need a Steve Higgins, I am available.) Instead of coming out and doing the normal chitchat segue to a promo, Wilson brought Singh a white noise machine that plays all sorts of things: the sound of Birkenstocks hitting the floor as you step, a police siren, "brunch at a farm-to-table restaurant in a quaint neighborhood in Brooklyn," and Wilson's podcast Metaphysical Milkshake. You know, white noise. The tiny sketch packs in jokes and promotion for the guest before you know it.
The bulk of the show focused on celebrity guest and Wilson's fellow Office alum Mindy Kaling. While they did chat (more on that later), Singh had also prepared some little bits that weren't unlike a YouTube-video premise. First, they recreated Euphoria eye-makeup looks because Kaling is a fan. And later, they played "What's the Word?" where Kaling had to guess internet slang. (That's absolutely a YouTube-video hole I've gotten lost in before.) The bits are familiar to younger viewers, but they're based within the context of the conversation and not too wild so older viewers can get a kick out of them, too.
It wouldn't be a talk show without an interview component, right? Despite switching up the late-night routine, A Little Late stays rooted in the basics. She still sits behind a desk; it's just modern and cool as opposed to … brown. We learn more about Mindy Kaling's new Netflix show and the fact that she would love to see Michael Scott dab if The Office were still on the air. All the fun fan service you know and love, now served with diversity and inclusion. Just like any TV show, it's going to take a few episodes for Singh to get into the swing of things, but A Little Late is already a colorful addition to the late-night lineup.