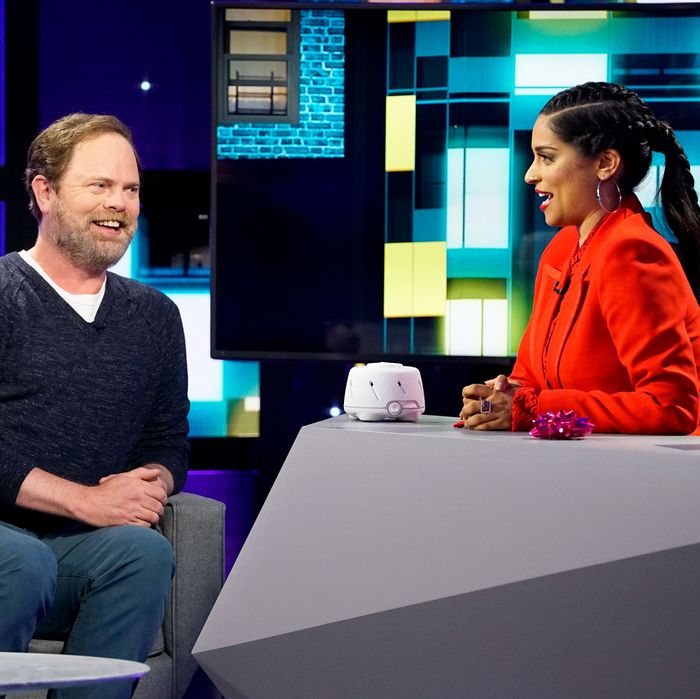 Rainn Wilson on
A Little Late With Lilly Singh.
Photo: Scott Angelheart/NBC
In April, it was announced that Canadian YouTuber Lilly Singh would be joining the late-night NBC family, taking over Carson Daly's 1:35 a.m. time slot. Singh then went on her late-night big brothers' shows to pitch herself to the NBC viewing audience: She's going to be youthful, she's going to be a proud bisexual woman of color, and she's going to have very cute suits. And she kept all her campaign promises in her first episode last night. The show started with a rap about being a woman of color in late night — in which she bragged about being the only woman in late night with control of the thermostat, as well as boasting that she'll offer paid parental leave for staffers of any gender. But, you know, in a gangsta way.
Already, A Little Late With Lilly Singh is outperforming Last Call on YouTube, which makes sense since it's essentially Singh's home court. Following the premiere episode, Vulture spoke to A Little Late head writer and Late Late Show With James Corden alum Sean O'Connor about Singh's endless energy, staying away from Trump, and deprogramming the part of himself that wants to roast the Kardashians.
From the way the show is rolling out, it seems like it's almost as important that it work as stand-alone YouTube clips as it does as a show on NBC at 1:35 a.m. Does that change anything in the writers' room?
Not really. In a way, it feels kind of similar to how it felt at Corden. We put an emphasis on the next day on YouTube, a little bit, in losing the topicality. When it comes to actual desk pieces or even monologues, it is a bit harder. We are essentially, as you'll come to see, writing five-to-seven-minute stand-up sets about one topic.
That's close to some of the videos Lilly would do on her channel, besides the raps and the vlogs.
Exactly. We had a pretty steadfast rule of "no politics" because of this block shooting schedule that we have. It felt important to me to take what she does on her channel and make that the first thing you see every night. So it's a perfect combination of all the things that got her here, in a way. It's vlog, sketch, interviews.
What makes you excited about working with Lilly?
Honestly, she's the most positive person I've ever worked with, and I don't just mean from a talent standpoint. The level of positivity is something I've never experienced in comedy. It's beyond bizarre. Normally, on every job I've had, you go home and you feel kind of jaded about something in the day. And I have not felt that there, because of the positivity. It turns out, I don't think I've had a normal life until now.
She's also bringing in a unique tool set. How involved is the writing staff with stuff like the raps?
On the rap that was in the premiere, it was a combination of two people's pitches. But Lilly had her friend produce the track, and then she wrote all the lyrics. Coming from the YouTube world, she's used to doing everything herself. She is very involved in the writing process, which I don't know if I've ever truly experienced with talent. Like, she's actually typing. Which is unheard of.
As opposed to having the writer's assistant take dictation?
Yes. Most of the time, you pitch things and they give their tweaks out loud. But she's actually typing behind a computer, and that's interesting to see.
Which isn't shade against anyone you've worked with before. It's just that hosting is an incredibly busy job.
Truly. Especially at the launch of a show. It's crazy that the most important part of your job is to not be there, because you're promoting the show. We taped ten shows last week, and she also did 12 interviews around that schedule, while also doing her passes on monologues.
And keeping up the vlog schedule.
I think she has a different scale of time than the rest of us. She is the hardest worker I've ever seen. I've been staying up till 11 because of how many things we're shooting in advance, and she's there as late or later.
I want to talk about Rainn Wilson's White Noise Machine. How did Rainn come into the guest sphere?
For the first show, we go out to a bunch of talent, and he was interested. You wind up pitching like ten things, and we narrow that down to three. And we let Rainn pick which he wants to do of that three.
How did the list of white noises come together?
It was fun. It was written by Jonathan Giles and Jen Burden. It was interesting because Jonathan is a person of color and Jen is a white woman. And it was fun to see what white people think their noises are and what Jonathan thought our noises were. I think that's where you got the harder jokes, like the police siren and the vacation braids. Although I think Lilly might have pitched the vacation braids.
So the noises that white people pitch for themselves are cuter?
That's where you might get the farm-to-table restaurant.
You said earlier that there's a "no politics" rule on the show, and Lilly rapped that there'd be no Trump talk either. Is that just to keep the content evergreen, or are there other motivations?
It's a perfect storm of a few things. The timeliness, but also — being the last show that airs, every joke has been made, whether it's been on Twitter all day or on the 25 other late-night shows. And I feel like Lilly wants to talk about things that only she can talk about.
It would also be hard to stay the most positive person alive if you had to weigh in on the news today.
Absolutely. The thing that I've liked about the monologues we've taped already is that they've had edgier topics, and she's putting all of that through her point of view, but she still remains positive. So maybe in the future we'll take politics to task … I don't think we'll ever do that, actually.
What monologues have you been taping?
Tonight [Tuesday]'s monologue is exciting. It talks about something that I don't think any late-night host has ever talked about: how Indian culture suppresses sex from their children. It's this great deep dive into all of the thoughts Lilly had about sex based on how much she didn't learn from her parents. It's a very interesting monologue, but it has pretty hard jokes in it.
Not to overgeneralize, but I'm guessing that wasn't a topic already near and dear to your heart.
No. It's wonderful Lilly does this. This is how in-the-shit she is. With something like that topic, she makes us a ten- to 12-minute voice memo at like one in the morning, to write based on her point of view. She lays out every thought she has on a topic, which is the most helpful. She's basically guiding us and giving us a road map before we even put pen to paper.
That way, when you're pitching jokes, it's not like playing Battleship.
Exactly. We're not just guessing where she's coming from on this.
But in a way, we shared some commonality. Being an Irish Catholic boy raised in New Jersey, my parents never had a sex talk with me. I could relate.
Going further on that, what has it been like heading a room that is majority women and majority people of color?
Honestly, it's great! Everyone has this very distinct point of view, and I'm learning a lot, which I like. The women writers were soaring immediately, but myself and our two male writers had a bit of a learning curve. We've all gotten together because we've had ten weeks now, but it's been this great process where there isn't a point of view left on the sidelines.
How would you describe that learning curve, personally?
It comes down to, like, little phrasings of what you talk about. We do a monologue about detox teas. My instinct is to skewer the people selling those teas on Instagram, but I feel like Lilly is all about girl love. So we're not into roasting the people who are selling it, we're taking down the corporation [making it]. When you're in a male-dominated world, you're like, "Let's make Kardashian jokes!" But this is not that show. And I like that.
What can we expect from the show in the immediate future?
We have the prime-time special on Wednesday. Launching a show is the most adrenaline-pumping thing in the world, but when you add a prime-time special that's going to air that same week, it gives you double that. It's stressful, but it's also fun to arrange the best things twice. I think what I love is organization. I like putting together a show a lot.